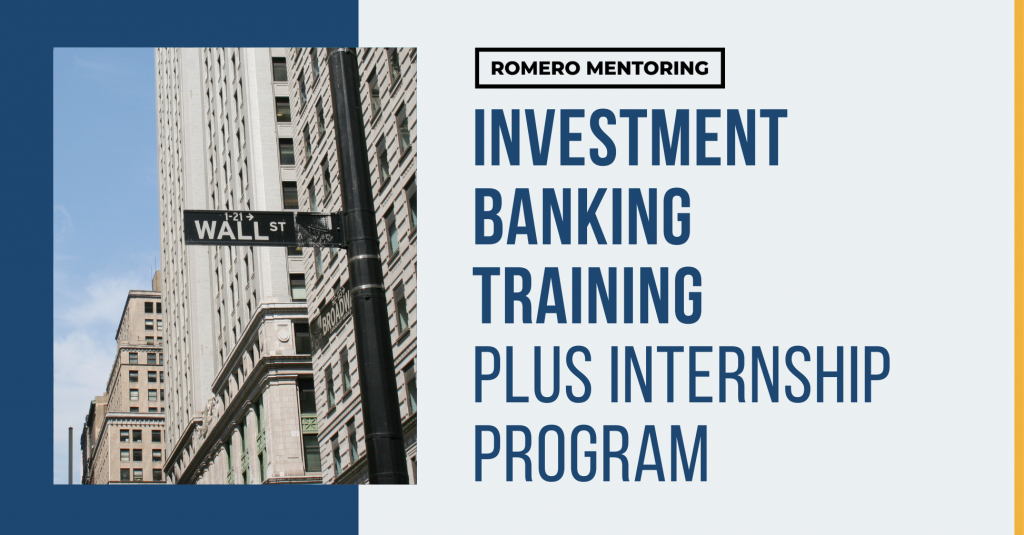 Are you struggling to find a job or internship? Here's why!
The Typical Candidate Problem. We mentored and trained hundreds of Wall Street professionals, and here are the challenges they faced early in their careers:
Lack of technical finance skills
No relevant finance or investing work experience
Poor resume format, weak interviewing skills, and no professional career coaching guidance
65% of college graduates believe they are not prepared for a career.
89% of employers believe college doesn't prepare students for the workforce.
Our Solution
A 15-week fully immersive program. In just 15 weeks, you can become a world-class finance professional with our internship and Investment Banking Training Programs.
Who this program is for: Pre-MBA professionals, job seekers, and graduate and college students.
Program Introduction
VIEWING REQUIRED TO MOVE FORWARD: The program introduction video provides a detailed description of the investment banking training plus internship experience. If you are a candidate looking to learn professional analyst skills, gain relevant work experience, and become a top candidate, then you are in the right place.
---
Timestamp
1. Program Overview: 0:00:00-0:16:00
2. Career Mentoring & Coaching: 0:16:00-0:24:46
3. Program Cost & ROI: 0:24:46-0:36:29
4. Investment Strategy: 0:36:29-0:40:00
5. Student Reviews & Benefits: 0:40:00-0:41:34

Program Description
The program is 15 weeks and includes a 6-week investment banking training boot camp followed by a 9-week investment analyst internship. In just 15 weeks, you can become a world-class finance professional with our fully immersive internship and Investment Banking training experience.
About Us
Since 2016, Romero Mentoring investment banking training and internship programs have been delivering career mentoring to job seekers, professionals, and college students pursuing careers in finance. We've helped hundreds of students start their careers on Wall Street through our Analyst Prep and Associate Investment Banking Programs. Our graduates work at top-bulge bracket banks and consulting firms, including Goldman Sachs, JP Morgan, McKinsey, and many more.
Want to know what it's like to work on Wall Street?
We help open doors for success with a 15-week fully immersive experience in our Analyst Prep and Associate Programs. Our internship programs have placed professionals on the career express lane. Our student's average starting salary is $120,000, well over the national average of $56,000.
Internship Description
The internship offers a high degree of responsibility, including evaluating investment opportunities in stocks and company acquisitions. The experience will also help to prepare you for full-time recruiting for Hedge Funds, Private Equity, and Investment Banking careers. Students who complete our training and internship have an average starting salary of over $100,000.
Program participants receive placement in a nine-week Investment Analyst internship performing high-level financial analyst tasks.
You will help support our research team and platform as an Investment Analyst Intern. The interns will have hands-on experience with projects allowing them to utilize valuation methodologies. Interns will have the opportunity to work directly with the founder.
The environment is both collegial and entrepreneurial. Teamwork is essential to the firm's success. At the same time, creativity and new ideas are welcomed.
The ideal candidate should be motivated, creative, outgoing, and possess a strong background or interest in finance and investing.
Internship Responsibilities
Serve as a critical resource for senior team members to create client deliverables and meet ad-hoc client requests.
Assist the research team in reviewing investment ideas by performing industry and company due diligence and listening to quarterly earnings calls, reading SEC filings, and reading management presentations.
Analyze investment opportunities by building scenario-based financial statements models with supporting schedules, spread industry comps to perform company valuations, including discounted cash flow, comparable trading, and precedent transaction analysis.
Play a key role in supporting and evaluating opportunities on assignments across multiple sectors.
Draft and prepare investment presentations and memorandums for potential deal transactions.
Training & Career Mentoring
The program is 15 weeks which includes a 6-week investment banking training boot camp followed by a 9-week investment analyst internship.
You'll receive training in Excel, accounting, financial modeling, leveraged buyout analysis, mergers, and acquisitions modeling, discounted cash flow analysis, company valuation, investment analysis, investor presentation, and more.
Candidates receive internship placement after completing the Investment Banking Training boot camp.
Benefit from one-on-one mentoring and career coaching from industry professionals and program alumni.
Access weekly live lectures and participate by asking questions about your analyst training materials.
Qualifications
Currently pursuing a Bachelor's degree (finance or business-related degree is a plus).
Currently holds a Bachelor's degree (finance or business-related degree is a plus).
A minimum of 1 to 3 years of work experience if already graduated.
No finance experience is needed. We will provide all learning materials through the Romero Mentoring program.
Strong quantitative, analytical, Microsoft Excel, and PowerPoint skills.
Professional maturity and a serious attitude are must-have.
Demonstrate strategic and creative thinking and distinguished communication skills.
Ability to manage several projects at once and work effectively as an individual and as part of a team.
Strict attention to detail with demonstrated ability to take initiative.
Should possess interest and understanding of financial markets, aptitude to learn, and demonstrated history of strong academic performance and professional drive.
Strong public speaking skills and comfortable with leading large group conference calls.
Next Steps
Watch the Program Introduction video above
Book your Round 1 – phone interview using the "Yes, I want to Continue!" button below
Complete the Excel modeling assessment test (will receive after Round 1)