Author, Contributor: Xinfeng Huang, Analyst Prep Program, 2023 Alum
Why pursue a college education? What are the benefits of pursuing post-secondary education? What is the cost of a college education? It is customary to pursue a college education after high school. However, your college education is an important business decision. Is the return on investment in pursuing a degree worth it? What program provides the best return on investment? Considering the costs and starting salaries with a college degree, it is important to perform due diligence to figure out whether college is a wise financial decision considering its return on investment.
Topics Discussed:
Benefits of a college education
The cost and considerations of college
The job market
The starting salary with a degree
Online finance training program
Why Consider A College Education?
In 2023, there are 6,271 total active U.S. colleges with 2,830 four year colleges. Between 2019 and 2021, the U.S. population with a college degree increased by 2.5%. As such, college graduates are expected to increase at a 1.3% to approximately 4 million as many high school graduates continue to pursue postsecondary education for upper mobility for higher earnings. With a rising demand for upskilling to expand earning opportunities as automation is increasingly deployed, many careers require a college degree such as being a doctor, engineer, or investment banker. According to Forbes, the average starting salary of college graduates is $62,799 while those without a bachelor's degree earn nearly $30,000 less than their peers. In addition to gaining a higher earning profession, obtaining a college education can also:
Increase Job Security: College graduates are less likely to face unemployment, especially in periods of economic turmoil. According to BLS data from December 2021, the unemployment rate for workers with a degree was 2.1% compared to high school graduates of 4.6%. A college degree can set yourself apart from your peers, helping you gain a competitive advantage to achieve your career goals.
Opportunity to pursue niche interests: College provides access for you to explore new passions and develop essential skills in your career journey, allowing you to gain a deeper understanding in your chosen field and become a more knowledgeable professional upon entering the workforce.
Expand your network: There's a common saying: your network is your net worth. So people you know can impact your professional standing, including how much you earn. College provides access to many professionals in your chosen industry such as professors writing recommendation letters or college alumni you can reach out to if you're looking for a job.
What Is The Cost Of A U.S. College Education?
Going to college has many advantages since it can assist you in finding a high paying job at a large, prestigious firm. However, the cost of a college education is a factor to consider when deciding whether a degree is worth it. A college education is usually more than the sticker price, with rent, food, leisure, and other expenses that come with the tuition cost. As shown in the graph below, 50% of the college student's education is funded through family income and savings. In the academic year 2022-2023, families report spending an average of $28,026 on their children's college education, a 11% increase from $25,313 from the previous year.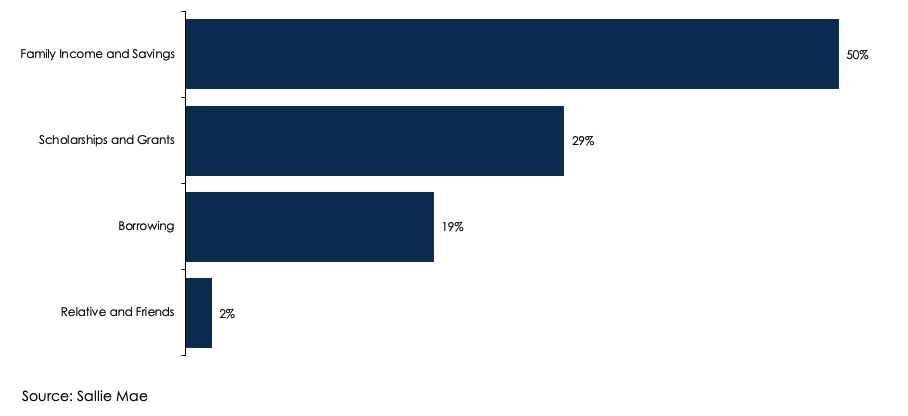 Despite the availability of various forms of financial aid for college students, obtaining a college degree still incurs a significant expense. In 2022, the average government's per pupil spending on public education alone totals $1,458,674 across the U.S. with approximately $14,000 spent per student annually in the form of federal grant and loan aid. Yet, as of March 2023, the average student debt is $39,294 with a total student loan debt of $1.8 trillion spanning 45.3 million borrowers. As a result, the ability to take on student debt is another crucial factor to consider when deciding to pursue a postsecondary education.
Some factors that influence the cost of a master's degree:
On-campus vs. Online
In-state vs. Out-of-state
Public vs. Private
Full-time vs. Part-time
Profit institution vs. Non-profit institution


Source: Niche
The top 10 public universities have an average in-state tuition cost of $13,943 and out-of -state tuition cost of $42,028, costing $197,898 on average for a four year education.
The top 10 private universities have an average tuition cost of $59,054, costing $310,248 for a four year education.
Majors with the highest average median salary of $63,438 include computer science, computer engineering, finance, economics, construction services, business analytics and physics.
Majors with the lowest average median salary of $38,500 includes music, the arts, cosmetology, culinary, theology and religious vocations.
To determine if college is a wise choice, financial literacy can enable you to make informed decisions about your finances and avoid common pitfalls such as accumulating unsustainable debt burdens. According to the Teachers Insurance and Annuity Association (TIAA) Institute's personal finance index, the level of U.S. financial literacy has decreased over the years, leading to unnecessary financial costs that Americans have to take on. With the notable year-over-year growth in the cost of pursuing higher education, being financially literate can help you decide the value of a college degree and how to best fund your career development journey.
The Job Market
There has been a steady increase in employment over the 2014 to 2022 period, a 2.2% overall increase in the employment rate for recent college graduates. Shown below is the unemployment rate from 2014 to 2022 by degree level.

Source: FRED
According to the National Association of Colleges and Employers, job prospects are positive as demand for college graduates in the following industries is projected to increase.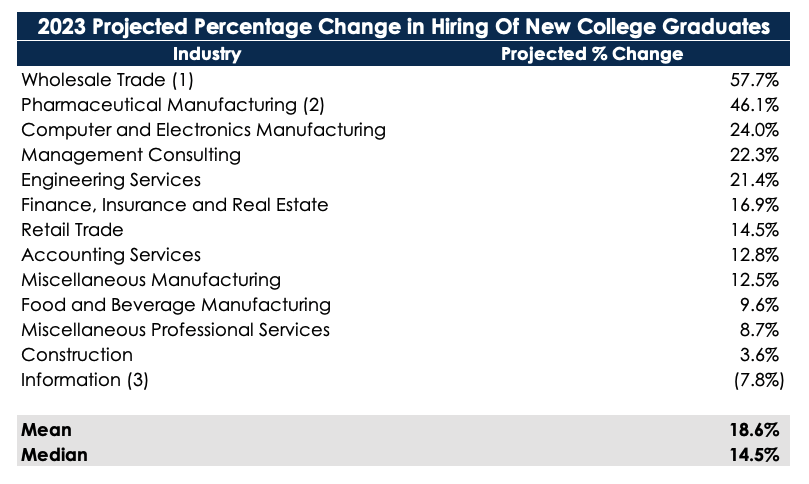 Source: Forbes and NACE Job outlook 2023 Survey
The Wholesale Trade and Pharmaceutical Manufacturing industries dominate the job market with the highest projected increase in hiring of college graduates
Careers in the information industry such as word processors, data entry keyers, telephone operators are expected to decline at a 7.8% with increased automation
What Is The Expected Starting Salary for U.S. College Students?
When choosing a college to go to, your expected starting salary after graduation is the most important factor. Yet, many of the college degrees are not worth the investment as the starting salary depends heavily on the degree you pursue. The expected starting salary for math and science majors is $66,760 whereas the expected starting salary for humanities majors is only $50,681. STEM majors such as computer science and engineering generally have the highest average starting salary upon graduation.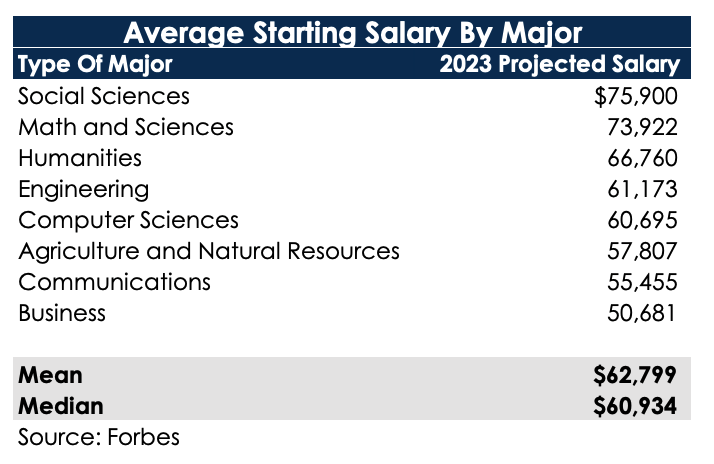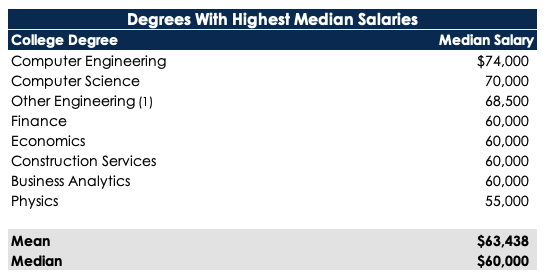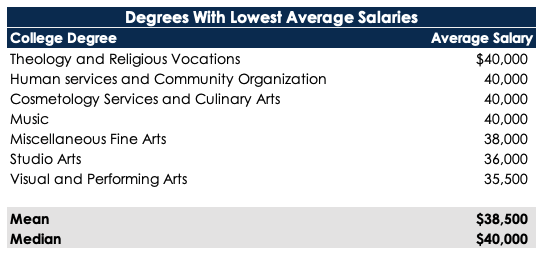 Source: Glassdoor, Fortune, and Bankrate
Alternative Online Finance Training Program
With advancements in technology and changes in academic environments, an increasing number of students are opting for online degree programs. Online graduate programs typically cost about half as much as their traditional counterparts. Alternative online training programs not only offer the same level of knowledge and skills as graduate schools, but also provide practical professional experience and personalized mentorship. Compared to traditional online graduate programs, online finance training programs are more cost-effective and can be completed in less time. These programs are particularly beneficial for industry professionals seeking a swift transition into the finance industry, equipped with essential technical skills and professional experience.
For individuals seeking to pursue a career in finance, Romero Mentoring's Analyst Prep Program or Associate Program offers expert-level training. In addition to training, Romero Mentoring provides career counseling, internship opportunities, and job prospects with partner companies. The average starting salary for a Romero Mentoring alumnus exceeds $100,000. In terms of return on investment, we outperform the majority of college universities.
Conclusion
Generally, people with a college degree earn more than their high school graduate counterparts. A college degree can help you specialize in your desired career field and advance your career. Additionally, college programs provide opportunities to gain in-depth knowledge, improve soft and hard skills, gain practical experience, and expand your network. However, college education can be expensive and the return on investment may be slow. It is important for applicants to carefully consider their options before making a decision.
If you are an undergraduate, graduate, MBA student, or working professional looking for an affordable and high-quality career training program that can boost your career in 4-6 months, you may want to consider Romero Mentoring's Analyst or Associate Program. This program not only teaches essential skills but also provides one-on-one mentorship and a unique financial internship experience. By joining the community, you can network with students from top universities and alumni who now work at top investment banks and financial institutions.