Author, Contributor: Rose Prevost, Analyst Prep Program, 2023 Alum
Have you ever wondered about the American post-secondary educational system and the growing population with a college education? What is the cost of getting a bachelor's degree? How to pay for a college education? Will your hard work and sacrifice pay off with a rewarding and well-paying career? Will your investment in a bachelor's degree yield positive returns?
Topic Discussed:
The post-secondary educational system
The cost of a bachelor's degree
The starting salary with an undergraduate degree
Source of Funding
The Labor Market
The Post-Secondary Educational System
Higher education in the United States has come a long way. College has come from being accessible to only a few to more people choosing to get a college education. According to Inside Higher Ed, nearly 90 percent of millennials who graduate from high school attend college within eight years, but only 40% of students complete a bachelor's degree in four years and 60% in six years. Between 2019 and 2021, the population with a college degree increased by 2.5%. In 2021, there were 69 million people with a college degree compared to the 67 million in 2019. Between 2017 and 2022, the total number of graduates increased at an annual rate of 1.7%. From 2023 to 2027, there is a projected increase of 1.3% to approximately 4 million college graduates.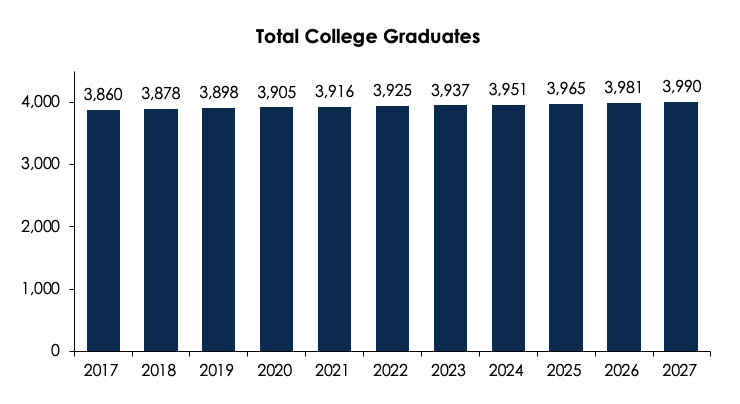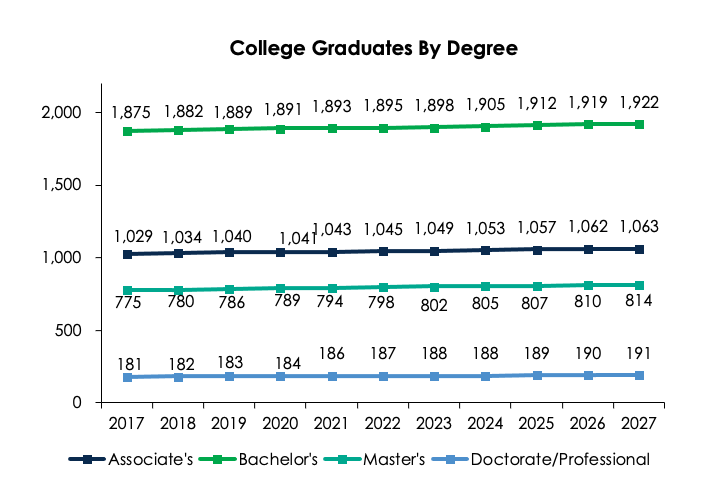 The Cost of a Bachelor's Degree
More often, when budgeting for college expenses, students and their families tend to focus only on tuition and fees. Even though tuition makes up the majority of the overall college cost, attending college also comes with additional expenses, such as books and supplies, meal plans, and housing costs. It's necessary to take into consideration all possible expenses.
The cost of a bachelor's degree can be influenced by various factors:
Public vs Private
In state vs Out-of-state
Federal financial aid and Scholarships
On campus vs Online
According to Niche.com, the average annual tuition at the top 10 private universities in the United States is $59,054 for both in state and out of state students with a total 4-year cost of $310,248.

The top 10 public universities in the United States have an average state tuition of $13,943. The total cost of attendance at a public university for out of state students is $197,898 and the annual out of state tuition is $ total cost over 4 years.

Source of Funding
At first glance, the rising cost of college may seem like a financial burden or difficult to afford for many Americans. However, there are many ways to make these costs more manageable for students and their families. For instance, by choosing to attend an in-state university, a student can lower the price drastically. The big question when students are about to go to college is how they be paying for that education. There four main source of fundings for college students:

Scholarships, grants, loans, and work-study funds help make college more affordable and accessible. Grants and scholarships account for approximately 29% of college cost, with scholarships accounting for 61%. Financial aid may come from federal, state, university, and / or private sources. Between 2011 and 2022, the US. government has been decreasing federal loans and increasing federal grants, which has kept the average total federal aid per full-time undergraduate student at the $14,000 mark. According to Sallie Mae, families reported spending an average of $28,026 on college in the academic year 2022-2023 an 11% increase from $25,313 in 2021-2022.
The Return on An Undergraduate Degree
Many people choose to get a college education in hopes of greater earning potential over a lifetime. A bachelor's degree is considered to be a great investment in the future, and one of the most common degrees earned by high school students after graduation. College helps people build their skills and prepare them for high-skilled jobs. On average, a college degree has a big financial payoff. However, not everyone receives the average payoff because earnings correlate with college majors. The choice of college major plays an important role in future revenue potential. According to Fortune and Bankrate, the top college majors with the highest median salaries and lowest average salaries among college graduates are the following: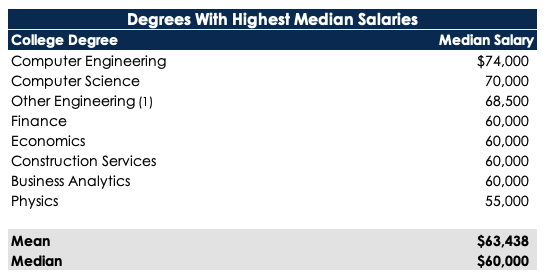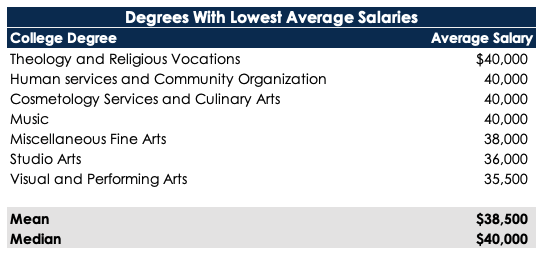 Despite the high cost of getting a bachelor's degree, the expected return after graduation may be lower than expected. Most students have to take out loans to obtain their undergraduate degree. As of March 2023, the total student loan debt was approximately $1.8 trillion with 45.3 million borrowers in the United States. On average, students will graduate with student debt of approximately $39,294, which they will be responsible for paying starting six months after graduation.

The Job Market
Securing a job in the workplace after graduation may be the most difficult part. Our analysis reveals that historically, unemployment rates for recent college graduates have been high since the reported 3.6% in 1990. At the same time, underemployment, which involves working in a job that doesn't require a bachelor's degree, has been close to the 40% mark since 1990. According to the U.S. Census Bureau and the U.S. Bureau of Labor Statistics, as of June 1st, 2023, the unemployment rate for recent college graduates was 4.2% and the underemployment rate was 40.2%. Since 2020, the unemployment rate for the population with a college degree has decrease drastically over the years reaching 2.1 % in 2023. This is primarily due to people going back to work after the pandemic and the growing trend in remote job opportunities which opened more doors for workers. Nevertheless between 2014 and 2023, there has been a 3.2% increase in employment rate for recent college graduates.

The Class of 2023 is graduating in a strong labor market with many available job opportunities for young workers. NACE reported that the job market for new college graduates is expected to increase more than in previous years.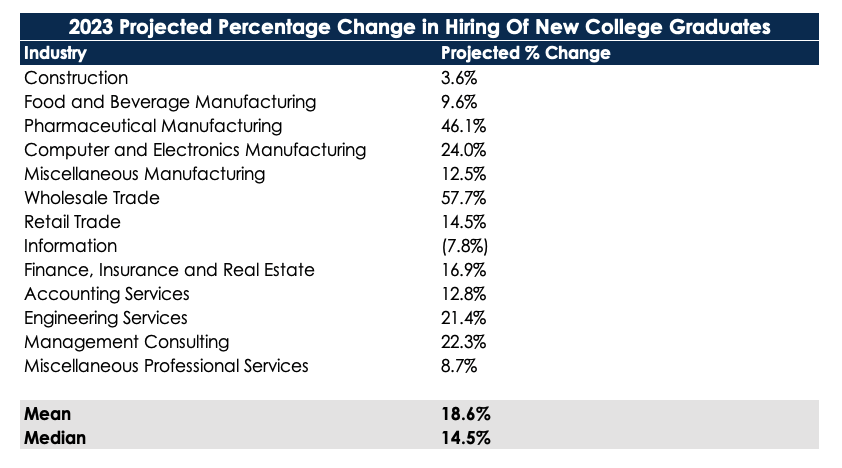 Conclusion
The American post-secondary educational system has come a long way with more people being able to get a higher education. The population with a college degree increased by 2.5% between 2019 and 2021; and is expected to grow at 1.3% from 2023 to 2027. The job market is expected the be stronger than in previous years with a median of 14.5% and an average of 18.6%. Choosing the right college major plays a crucial role in expected potential earnings and returns. Obtaining a bachelor's degree is costly; hence, the necessity of doing extensive research before deciding what field of study to pursue. It's important to take into consideration the expected return of a bachelor's degree in the chosen major and compare it with the opportunity cost of choosing that major. If you are a professional looking to boost your career, or a college student trying to improve your skills and gain valuable work experience in the financial industry, you should consider the Romero Mentoring Analyst / Associate Program. This program provides one-on-one mentorship, in-depth technical analysis, and valuable internship experience that will help you stand out in the workplace.
Sources: