Welcome to our Alumni Chat Series. This chat series is designed to address some of the burgeoning finance and investment banking industry questions that students may have and also provide valuable insights into the overall field from industry professionals.
In this segment, we speak with our Analyst Prep Program alum, Devapriya Vadhera. Devapriya is currently working at Ernst & Young as a Technology Risk Analyst after graduating from NYU Stern. Prior to joining EY as a full-time consultant, she worked in Advertising, Social-Impact Consulting, and Sales & Trading. Devapriya's experience across industries helped her weed out options and commit full-time as a consultant. Consulting provides a great job structure and is more project-oriented unlike Advertising and Sales & Trading. As a consultant, her day is divided between client-meetings, documenting and analyzing the evidence, which their clients provide them with, and assisting the business development team. Through consulting, she developed key soft skills like time-management, organization, and communication.
Devapriya's journey through recruiting helped her understand the importance of networking and focusing more on the quality of the conversations with each contact. She also recommends students to fully understand their job description, the exit opportunities, and company culture instead of going for status and other external factors. Additionally, Devapriya advises students to get hands-on experience in Excel and coding while simultaneously learning about taxes, credit scores, and other life-skills. Romero Mentoring helped her gain a competitive advantage over other applicants and colleagues as she was able to hone her Excel, financial modeling, presentation, and communication skills before entering the consulting industry.
➝ Stay tuned for more in our Alumni Chat Series!
Romero Mentoring's Analyst Prep Program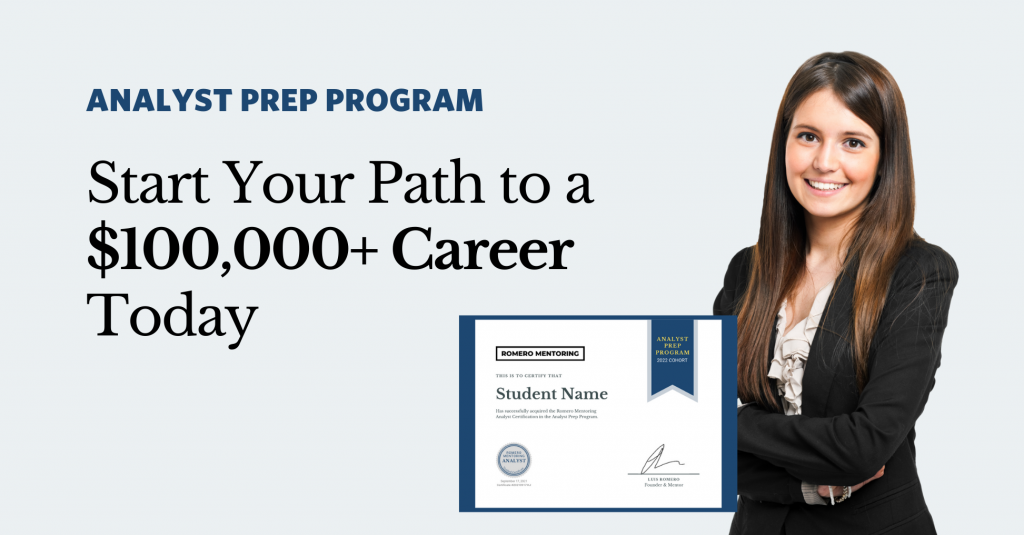 The Analyst Prep Program teaches the technical and practical skills that investment banks, hedge funds, and private equity & consulting firms look for in a candidate. Students begin with little to no technical skills and develop into fully prepared professionals who can perform as first-year analysts from day one through the program's training and internship.
---
Our Story
Luis Romero, founder of Romero Mentoring, spent five years developing an analyst training program that he wishes he had when he was in college – especially one that gave him access to a complete training and finance internship experience that could advance his career. Since no opportunity like this existed to him at the time, Luis went through a stressful recruiting process like so many others have. He successfully landed a full-time job offer upon graduation and worked as an M&A analyst at Credit Suisse in NYC for two years. He then moved to the buy-side as a junior trader and analyst. After gaining experience there, he created his own fund, Romero Capital, and later become an instructor in financial modeling and valuation. After working with hundreds of professionals and analysts, Luis became committed to creating his own mentoring program because he understood the crucial need for a hands-on, personal experience in the competitive world of finance.