Welcome to our Alumni Chat Series. This chat series is designed to address some of the burgeoning finance and investment banking industry questions that students may have and also provide valuable insights into the overall field from industry professionals.
In this segment, we have with us, Julio Contreras. Julio was born and raised in Venezuela and moved to the US at 15 years of age. Double majoring in Economics and Finance at Florida International University, Julio has worked at Santander International Bank as a Private Banking intern and is also an alumnus of the Romero Mentoring Analyst Prep Program.
Julio is currently an incoming Summer Analyst at BNP Paribas and will be joining their Global Credit Markets Division. His interview process at BNP Paribas started with a first round phone call and was followed by a super-day, which included a series of technical and behavioral questions.
To better prepare him for his interview, Julio did his due diligence for BNP Paribas by researching company websites and related news, got mentally accustomed to speaking with a high-profile senior banker, and received advice from Mr. Luis Romero (Founder of Romero Mentoring).
Julio owes a huge part of his success to the projects assigned to him at Romero Research. The projects allowed him to foster his creative brain, advance his technical skills, and improve his communication and presentation skills. Funding the entire program by himself, Julio thinks that the ROI was tremendous as the technical skills and knowledge he developed through Romero Mentoring really helped him secure his internship at BNP Paribas and paved the way for his future endeavors.
Julio advises incoming freshmen and sophomores to always maintain their curiousness, become a voracious reader, and continue learning.
➝ Stay tuned for more in our Alumni Chat Series!
https://www.youtube.com/c/RomeroMentoring
Romero Mentoring's Analyst Prep Program
The Analyst Prep Program teaches the technical and practical skills that investment banks, hedge funds, and private equity & consulting firms look for in a candidate. Students begin with little to no technical skills and develop into fully prepared professionals who can perform as first-year analysts from day one through the program's training and internship.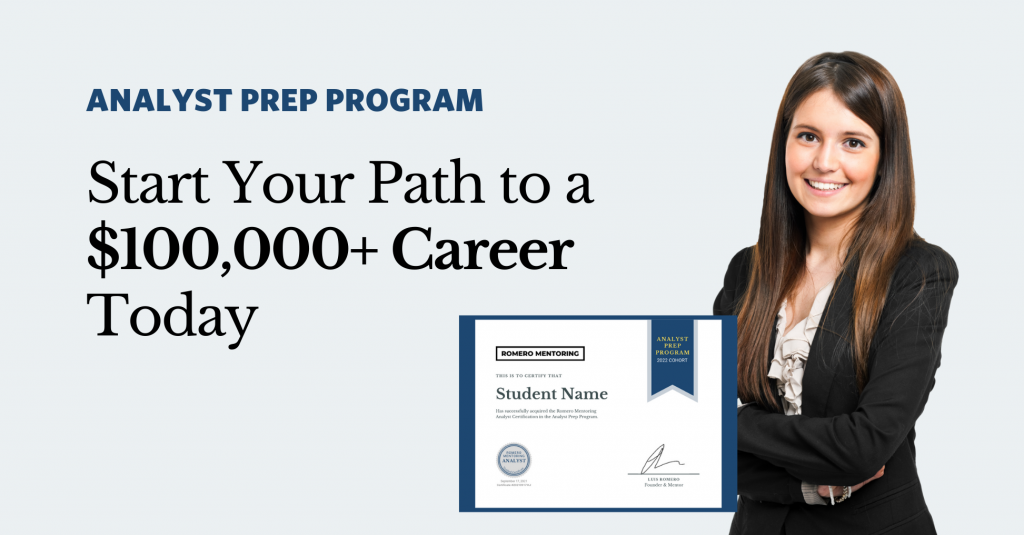 Our Story
Luis Romero, founder of Romero Mentoring, spent five years developing an analyst training program that he wishes he had when he was in college – especially one that gave him access to a complete training and finance internship experience that could advance his career. Since no opportunity like this existed to him at the time, Luis went through a stressful recruiting process like so many others have. He successfully landed a full-time job offer upon graduation and worked as an M&A analyst at Credit Suisse in NYC for two years. He then moved to the buy-side as a junior trader and analyst. After gaining experience there, he created his own fund, Romero Capital, and later become an instructor in financial modeling and valuation. After working with hundreds of professionals and analysts, Luis became committed to creating his own mentoring program because he understood the crucial need for a hands-on, personal experience in the competitive world of finance.