How difficult is it to break into private equity?
I often get asked by undergraduate students pursuing careers in private equity and hedge funds, "How do I break into the industry?"
Opportunities for those looking to break into finance can pave the way for a lucrative career with plenty of upside. However, to enter the field, students need to be prepared for the enormous level of work and have a tough mental approach for rejections.
I compared the process to a high school student looking to play for a NCAA D1 college followed by professional sports leagues like the NFL, MLB, or NBA.
Comparing the numbers
Is this comparison too extreme? Well let's look at the numbers. Less than 1% of the US population will play professionally in any of the professional sports leagues.
Let's take basketball for example.
For eligible men playing NCAA basketball the chances of playing at the NBA level is 1 in 362 or 0.3%,1 according to 2019 NCAA stats. Our calculation is as follows, NCAA participants of 18,816 divided by total NCAA picks of 52.1 To put it into perspective, you are more likely to fall to your death (1 in 1272) than play in the NBA.

Your odds at landing a Private Equity job at a top 10 firm is 1 in 300
As of October 2019, the US college population size of students pursing business degrees is 3.9 million,3 according to the National Center for Education Statistics.
For a student looking to break into one of the top 10 PE firms, your chance is 1 in 300 or 0.33%. To break into one of the top 10 hedge fund firms, your chance is 1 in 147 or 0.68%.
Our numbers are calculated by taking the total student population majoring in business divided by total work force within top 10 leveraged buyout or hedge fund firms.
The chances would be far worse if we used number of job openings per year within our top 10 focus firms. These odds are similar to or worse than playing any of the professional sports.
Less than 1% of the population size pursing any competitive field is likely to compete at the elite level. In the highly competitive world of finance like hedge funds or PE, less than 1% of students break into one of the top 10 firms. The total workforce size at the top 10 hedge funds based on assets under management is 27,5004 vs top 10 private equity firms' 14,000.4
It is extremely difficult to break into the NBA. So why would it be any different for competitive positions in finance like investment banking, hedged funds or PE?
Top 10 PE firms with largest AUM
Apollo
Thebalckstone Group
The Carlyle Group
TPG
KKR
Warburg Pincus
Cvc Capital Partners
Advent International
Excap
Top 10 Hedge Fund firms with largest AUM
BlackRock
Millennium Management
Bridgewater Associates
Two Sigma
Man Group
Citadel
AQR Capital Management
Elliott Management
Davidson Kempner Capital
Renaissance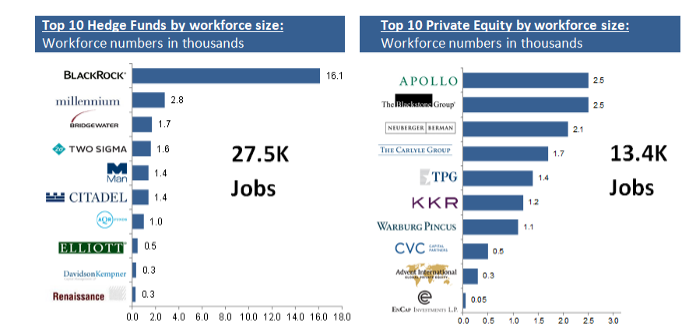 The solution: Start early to address the skill gap
College students studying business or finance need to be aware of the reality and level of competition he or she is facing. Being self-aware of this reality should help them understand the level of work, preparation, commitment and responsibilities that are required if they aim for highly competitive positions.
Like in professional sports, you have to start early and have the proper coaching and mentoring. For college students, it is important to prepare as early as freshman level.
You'll need to learn the proper technical and soft business skills that the job requires. Some of these skills include accounting, excel, industry knowledge, financial statements modeling, and presentation skills among many others.
One of the reasons many undergraduate students are not prepared is because these skills are not taught at the college level. We find that many recent graduates have skill gaps that usually take 12 months on the job to learn and develop.
The first 6 months on the job are highly crucial because during this time you begin to build a reputation among your colleagues. Not being equipped with the proper skills early in your career will cost you time and money because your performance review may provide average or low tier marks.
This can cost you thousands of dollars in missed performance bonus. Average or low tier performance ranking can become an impediment to promotion and exit opportunities. Similar to sports, if you don't perform at the elite level, you either get cut or sent down to the minors.
Romero Mentoring's Analyst Prep Program
In just 15-weeks, you can become a world-class finance professional. The Romero Mentoring Analyst Prep Program is an all-inclusive internship, mentorship, and training experience like no other. Learn the in-depth principles of finance and apply what you learn through an extensive internship led by a finance professional with over 12 years of experience. Learn more here.
The Analyst Prep Program teaches the technical and practical skills that investment banks, hedge funds, and private equity & consulting firms look for in a candidate. Students begin with little to no technical skills and develop into fully prepared professionals who can perform as first-year analysts from day one
---
About Romero Mentoring
Since 2016, Romero Mentoring investment banking training and internship programs have been delivering career mentoring to job seekers, professionals, and college students pursuing careers in finance. We've helped hundreds of students start their careers on Wall Street through our Analyst Prep and Associate Programs. Our graduates work at top-bulge bracket banks and consulting firms, including Goldman Sachs, JP Morgan, McKinsey, and many more.
In just 15-weeks you can become a world-class finance professional with our fully immersive internship and Investment Banking Training Programs.
---
References:
NCAA reference: http://www.ncaa.org/about/resources/research/estimated-probability-competing-professional-athletics
National Safety Council: https://www.nsc.org/work-safety/tools-resources/injury-facts/chart
National Center for Education Statistics: https://nces.ed.gov/programs/digest/d17/tables/dt17_303.40.asp
Hedge Fund & Private Equity labor force size: Company website, SEC filings, SEC.gov, Wikipedia