My Background
Hi, my name is Vishal Walia. I grew up in Edison, NJ, and attended NYU Stern, where I studied finance with a second major in mathematics. I chose NYU for three primary reasons: (1) they have a strong business program, and I was always interested in a career in finance (2) being located in NYU gave me the opportunity to do internships while studying, and (3) I was given a position on the men's varsity tennis team.
Was Private Equity & Investment Banking Always the End Goal?
I like to believe that my career path is very different from my colleagues in investment banking. I initially wanted to go into trading and received an offer at a volatility trading firm in December 2019, my junior year. However, when coronavirus impacted the globe, the firm I was going to work for lost more than 50% of its capital and shut down. This left me without an offer. I used this time to assess my career goals and quickly came to the realization that Stern had given me a strong business acumen and a career in trading would be a waste of this knowledge. It was at this point that I participated in the Romero Mentoring program and developed the investment banking analyst skillset. The program allowed me to transition myself and my resume towards corporate finance. The skillset allowed me the opportunity to work in private equity at PurpleRock Capital Partners, now Varma Capital.
Why Move Into Investment Banking After Private Equity?
The general path for most professionals is several years in investment banking, then several years in private equity, followed lastly by pursuing an MBA or going to a hedge fund or corporate development job. Varma Capital is a small private equity firm, and as a result, I was given significant responsibility and developed strong technical skills. My decision to go into investment banking, specifically restructuring, is because (1) restructuring groups are industry agnostic (2) every deal is unique as the capital structure, players in the capital structure, and what brought a company into a distressed state are all different and (3) the opportunity to work at a larger institution meant that I would work on more deals and larger companies. Given that I am still very young, I made the switch because investment banking will teach a professional so much. Like many of you, I also have a general idea of what I want to do but am not exactly sure. I hope that investment banking will provide a clearer picture of the challenges I want to address in my future career.
Recruiting & Networking Advice
This is objectively the most challenging part of getting a job. My advice is to network with anyone that you can. Whether at events hosted by your school or cold-emailing or even reaching out to a few professionals on LinkedIn, do what you must to get your foot in the door. At the end of the day, business is run by people, and culture is important, especially if you will be working +80 hours with others.
How to Prepare for Interviews
There are two main parts to the interview: technical questions and behavioral questions. Romero Mentoring will provide you with a strong technical background which can be further developed for interviews by studying general guides like Breaking Into Wall Street and Wall Street Oasis. Keep in mind that anything is fair game and always be ready. I also highly recommend looking into group or sector-specific questions and the type of work they do. For behavioral questions, understand the group that you are interviewing for, any large deals that they have worked on, and why you want to work for them. A tip for these questions: there will be an opportunity, or you can find an opportunity to highlight what drives you. Investment bankers want someone that is capable and hungry to progress.
When Things Don't Go Your Way
As someone that has been in countless interviews, the most important thing that I can say is not to get disheartened. If you aren't able to land an offer in investment banking immediately after graduation, don't worry. Work your way up and build your skills as you go. I have always been an advocate of the fact that if you work for something hard enough, you will eventually get it. Before working at Varma Capital, I recruited for investment banking, and the process was unsuccessful. Given that I had only participated in the Romero Mentoring program, I knew that I had to still develop my skillset and professionalism before an investment banking group would see me as a good fit. When the opportunity to work in private equity came, I immediately took it because it would set up a strong base for my next round of investment banking recruiting.
Romero Mentoring's Analyst Prep Program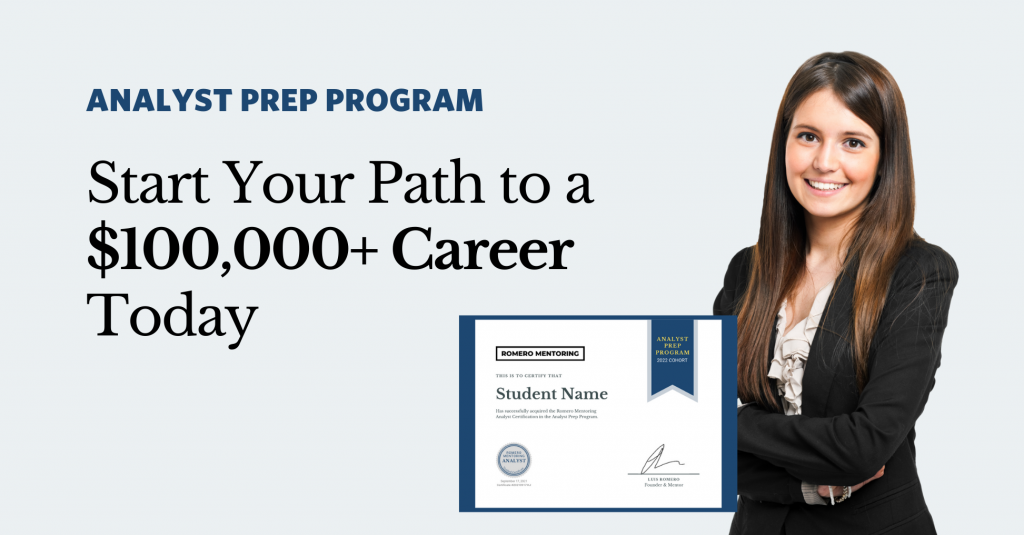 The Analyst Prep Program teaches the technical and practical skills that investment banks, hedge funds, and private equity & consulting firms look for in a candidate. Students begin with little to no technical skills and develop into fully prepared professionals who can perform as first-year analysts from day one through the program's training and internship.
---
About Romero Mentoring
Since 2016, Romero Mentoring investment banking training and internship programs have been delivering career mentoring to job seekers, professionals, and college students pursuing careers in finance. We've helped hundreds of students start their careers on Wall Street through our Analyst Prep and Associate Programs. Our graduates work at top-bulge bracket banks and consulting firms, including Goldman Sachs, JP Morgan, McKinsey, and many more.
In just 15-weeks you can become a world-class finance professional with our fully immersive internship and Investment Banking Training Programs.
---