Most college students will have a negative return on education on the money they're spending for college.
Introduction
Every decision you make in life will lead you somewhere. View that somewhere as the investment you get from making any said decision. Deciding where to pursue your college degree is one of the most significant investments you will make in your early adult life. Understanding the importance of performing proper due diligence and research on such a topic is key in ensuring that this decision leads you somewhere extraordinary.
Topics discussed:
College education cost
College graduate starting salary
College education return on investment
What is Your College Education Return on Investment?
Your college education return on investment refers to many factors that can be viewed as a whole to tell whether or not a degree from any particular school would benefit you. These factors may include but are not limited to IRR, debt, loan interest, scholarships, location, room and board, on-campus food options, facilities, global rankings, student orgs, size of the school, etc. Of course, the most integral factors are the mathematical figures that will allow you to comprehend how an education, for example, at the University of Pittsburgh, compares financially to the education offered by NYU. We will look into the short and long-term benefits mathematically and theoretically.
For parents and student consideration
Most college degrees have a negative return on education ("ROE").
In 2020, the average starting salary for a college student was $58,355.
The average college cost for a bachelor degree in the U.S. is $103,456. The college cost is double for international students.
After payroll taxes and living expenses, most students end up with only $4,000 of annual savings. Within five years, the average graduate would have saved $20,000, less than the $103,456 college cost of their education. This results in a negative ROE.
Our students go into competitive careers in finance and consulting with a six-figure starting salary.
You can think of our Analyst Prep Program as an insurance policy on your child's education. You will give them a competitive advantage which puts them in the career express lane.
Complement your college degree and academic education with a professional career mentoring program like the Analyst Prep.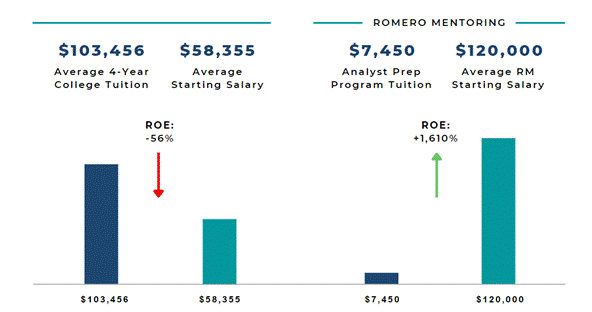 What is The All-In Cost of a College Education?
Over the last 40 years, the cost of education has increased drastically, even when adjusting for inflation. The all-in cost of a college education includes more than the cost of attendance. However, college tuition and fees make up the bulk of most college students' educational expenses.
On average, an in-state student attending a public 4-year institution spends $25,864 in one academic year or $103,456 over four years.
An in-state student pays an average of $9,580 in college tuition; an out-of-state student pays an average of $27,437.
The average traditional private university student spends $53,949 per academic year ($215,796 over four years), of which $37,200 is spent on college tuition and fees.
Just 39% of students graduate within four years, and students unable to work full-time lose roughly $40,000 in yearly income.
Students pay an average of $1,334 annually on books and supplies at 4-year public institutions. Additionally, these students spend an average of $3,493 on other annual expenses.
If you factor in interest on student loans and the potential loss of income, a bachelor's degree can exceed $400,000 (worst case scenario*).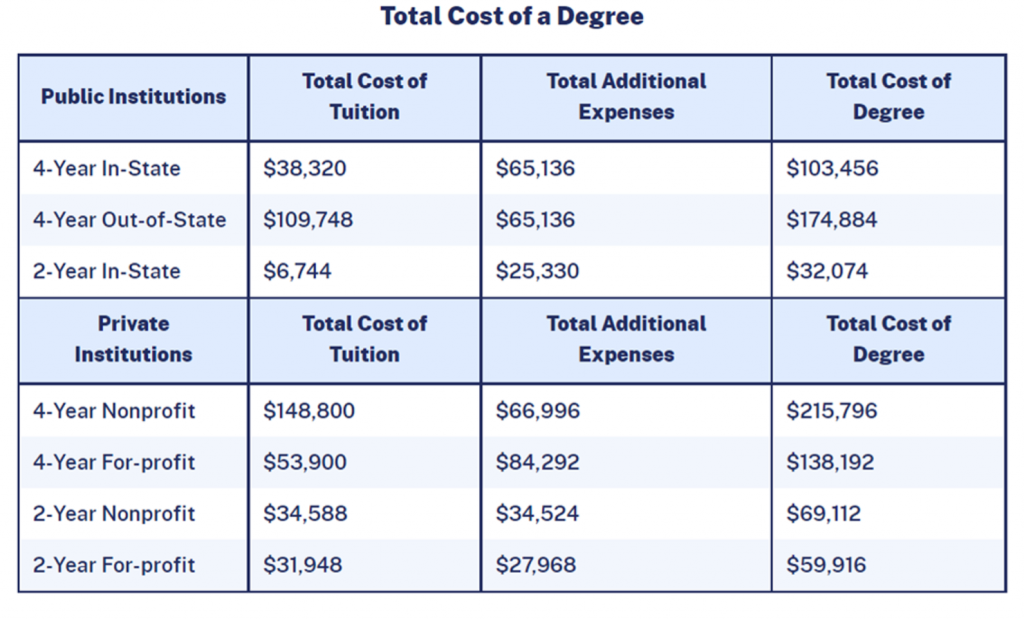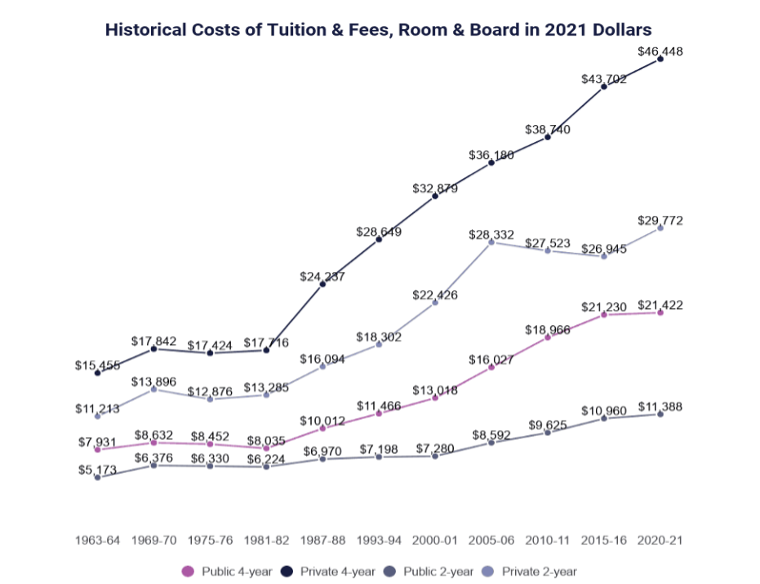 Are You Betting on The Correct Major?
Like the college you choose to attend, the college major you choose is essential. Your major will determine the path you take in college and will directly affect your path after that. Forbes reports that 62% of recent college graduates work in jobs requiring a degree, but only 27% work in jobs related to their majors. This data illustrates that you need to be sure about your major and committed to the work it takes to achieve success in that field of work. Likewise, your major will inherently determine a portion of your income (i.e., higher education leads to wealthier, more independent lifestyles). Different degrees call for different skill sets, different skill sets call for different skill levels, and different skill levels call for different pay ranges. Apart from your worth as an asset of human capital to a company, the major you choose will play a large part in determining your starting salary in an industry. In terms of business, the top 10 business-focused bachelor's degrees can be found below, emphasizing how much your major can affect your starting yearly salary straight out of college.
2020 – 2021 Avg. Starting Salary For A Top 10 Business-focused bachelor's degrees
| | |
| --- | --- |
| Bachelor's in Marketing | Avg. Starting Salary – $49,844 |
| Bachelor's in Accounting | Avg. Starting Salary – $50,700 |
| Bachelor's in Economics | Avg. Starting Salary – $54,000 |
| Bachelor's in Health Management | Avg. Starting Salary – $56,000 |
| Bachelor's in Business Administration | Avg. Starting Salary – $58,166 |
| Bachelor's in Finance | Avg. Starting Salary – $58,464 |
| Bachelor's in Supply Management | Avg. Starting Salary – $59,180 |
| Bachelor's in Statistics | Avg. Starting Salary – $60,153 |
| Bachelor's in Management Information Systems | Avg. Starting Salary – $63,445 |
| Bachelor's in Actuarial Science | Avg. Starting Salary – $73,601 |
Betting on most of these degrees will yield a negative education IRR in the first five years out of college, regardless of whether you picked the best choice for yourself or not. Additionally, pursuing further education such as an MBA or master's after your bachelor's will most likely yield a negative return as well.
From 2000 to 2016, the average cost of an MBA degree was $55,720.
A two-year MBA program at Harvard Business School costs $226,880.
A two-year MBA program at Binghamton University costs $34,880.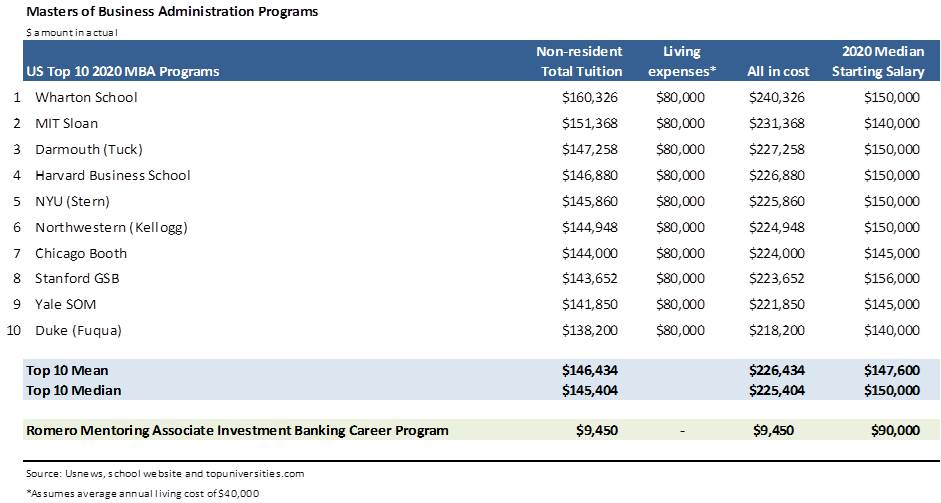 One of the most popular graduate degrees is a master's degree in Business Administration. The process of obtaining financial aid is highly competitive due to its popularity.
The cost of a master's degree typically ranges between $30,000 and $120,000 depending on the school, the major, and the length of the program.
On average, a top master's degree in a business-related field costs around $66,340.
A top 13 master program from the table listed below costs around $113,217 with a median starting salary of $95,255.
On average, people with a master's degree owe $46,798 in student loans.
Master's degree holders had, on average, 21% more credit card debt than the general public.
Graduates with a master's degree held on average 31% more student loan debt than the general population.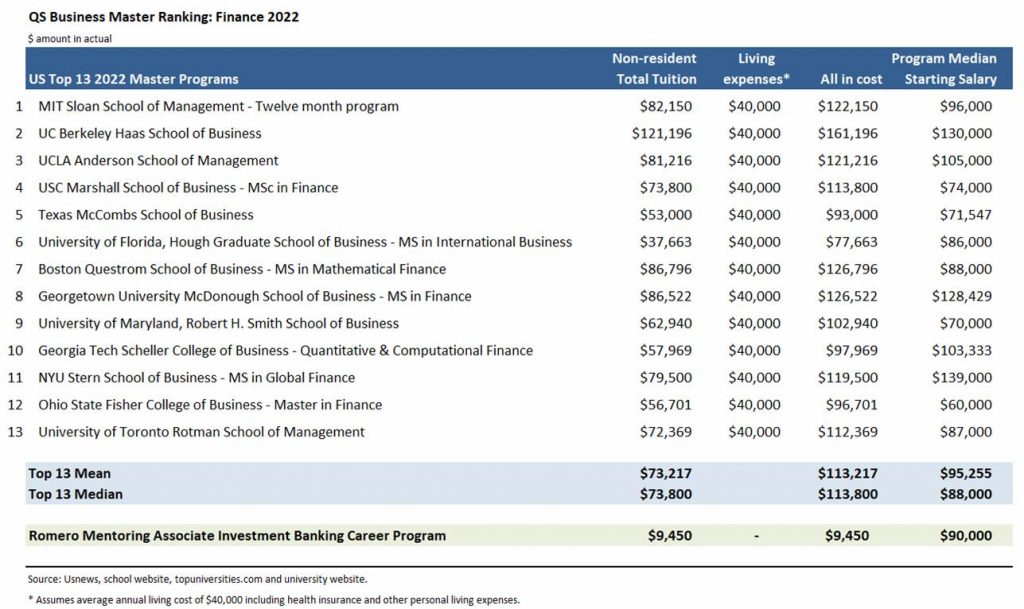 Romero Mentoring Associate Investment Banking Career Program delivers the same result of a $90,000 starting salary for approximately 90% less cost than a top 10 Masters in finance program.
Calculating your Return on Education
The financial chart below illustrates the estimated earnings potential for five years after earning a bachelor's degree while living in New York City. We also accounted for the all-in cost of $103,456 for a public 4-year institution. For many students with an average starting salary of $58,355, will have to pay taxes on a portion of this income, followed by other expenditures such as food, rent, fun, and miscellaneous expenses. The financial burden of their student loan will not allow them to see a positive return on investment in their first five years after graduating. You will also most likely be indebted to your college and must make interest payments and pay back the principal on your loans.This student group will experience a -195% ROE on their college education. In some extreme cases, if the all-in cost for a bachelor's degree exceeds $400,000, parents need to consider an alternative option to educate their children.
The return you received for all that time and money will feel silly whether your education costs $100,000 or $400,000.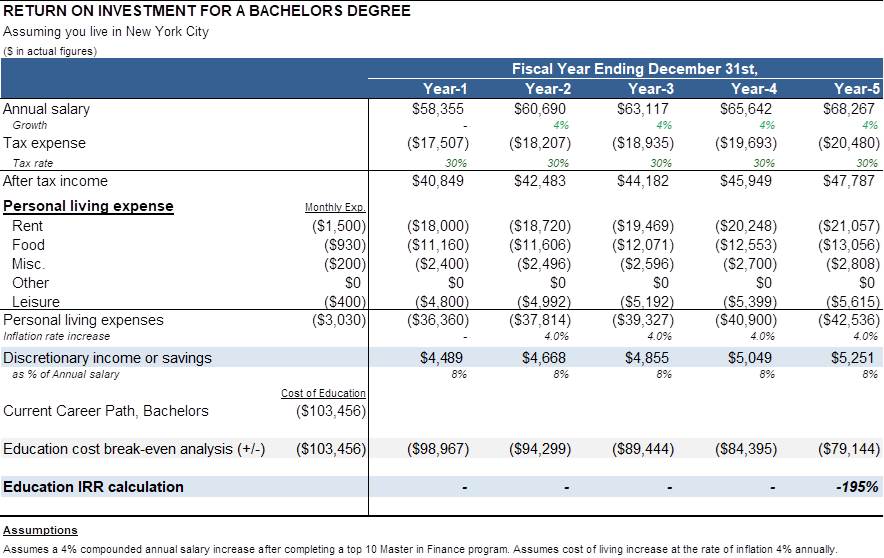 Diversifying your Starting Salary Risk
Despite the fact that attending university seems to consistently yield a negative return, it is admittedly necessary for numerous job opportunities and can serve other benefits apart from monetary ones. With this in mind, you should take university seriously while also diversifying your skillset through as many avenues outside of the set curriculum as possible. Ask yourself some of the questions below to get an idea of where your head is career-wise and see what it takes to accomplish!
Majors + Minors – How does your minor affect your ability to use your major?

Minors or double majors can expand the number of careers you are open to.
For example, you can major in finance and get a minor in BIS. Having BIS as another major or your minor will open numerous career paths in finance that you would not have had the skill set to access before.

What is the breadth of your given major as it relates to immediately accessible industries?

Think about what jobs will immediately take you on once you graduate.
How much training will you receive relating directly to the position?

Is your major static vs. dynamic?

Can you transfer your skills to another career path?
For example, an accountant can work at technically any company, but not every company needs a statistician.

What is the salary range for your major vs. the salary average?

If there is a large salary range, it may be difficult to access the upper echelons of the major.

How quickly can you expect to field an offer after graduating?

Is the job market healthy? Is it growing?
What will get you an offer quicker?
Is your degree in a field that requires much less on-the-job training?

Does your field include expected/required certifications in addition to your degree?

Speak with recruiters on what they are looking for in a candidate.
Numerous companies offer free certifications in thousands of subjects and skills such as CRM or Financial Modeling that will elevate you above your peers.

Does your major have a concentration of careers in a given part of the country?

For example, the finance industry in New York.
Does your field have a school preference?

Do you have a mentor?

A mentor can shorten your path to success greatly, allowing you to avoid all the mistakes they made.
They can help you identify your strengths and weaknesses.
At Romero Mentoring, we offer one-on-one sessions with industry professionals in the world of Wall Street, along with premium financial analysis and modeling programs to get you the career in business you deserve.
Conclusion
In modern times, choosing a career path such as a Physician's Assistant would most likely result in a six-figure salary. This is due to the intense hands-on and experiential training throughout their college careers compared to other academic paths. Using this ideology, one would logically surmise to follow a career path that forces the individual to perform intense training exercises leading up to their eventual hiring with an established employer (ex. lawyer, accountant, etc.). Unfortunately, this is rarely the case with most business degrees offered at any university. The ROE is feeble, and the need to develop one's skills outside of the classroom is essential for success in any capacity.
You can think of our Analyst Prep Program as an insurance policy on your child's education. You will give them a competitive advantage which puts them in the career express lane.
The U.S. national average salary is $56,310, while the average starting salary was $58,355 for the college class of 2020 with a top 10 business degree. Investment bankers make roughly $165,000 their first year out of college, including bonuses. Investment banking is not a major; it's a career path. Explicating how not only what major you choose matters but also how what training you do outside the classroom matters even more (i.e., mentorships, certificates, fellowships, competitions, etc.). Experiential and hands-on learning is a critical stepping stone in forming solid foundations for any application-based skill.
Romero Mentoring drives home these ideas by homing in on the best-paying career paths accompanied by intense hands-on training. The insightful one-on-one sessions with industry professionals will open up new trails and higher paths for your career.
Romero Mentoring's Analyst Prep Program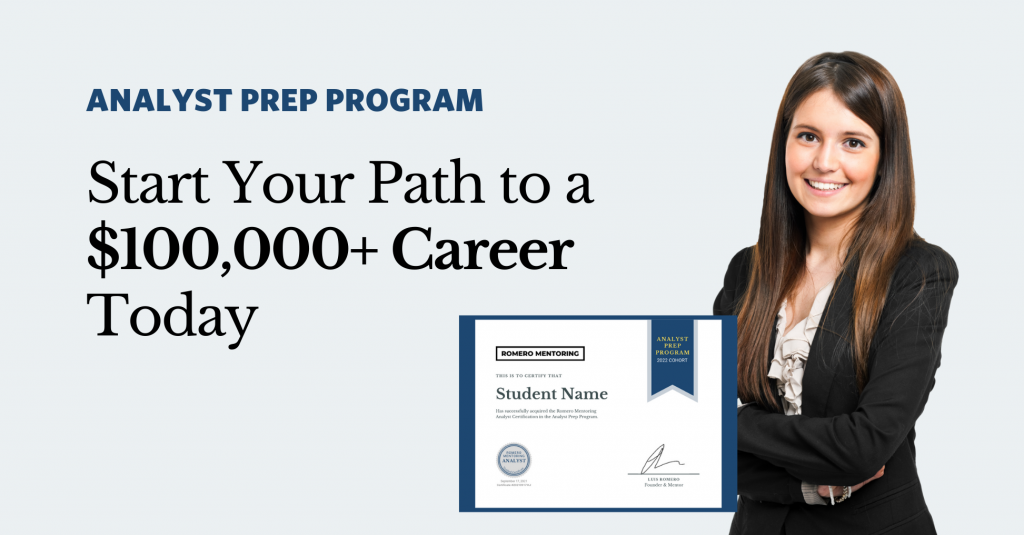 The Analyst Prep Program teaches the technical and practical skills that investment banks, hedge funds, and private equity & consulting firms look for in a candidate. Students begin with little to no technical skills and develop into fully prepared professionals who can perform as first-year analysts from day one through the program's training and internship.
About Romero Mentoring
Since 2016, Romero Mentoring investment banking training and internship programs have been delivering career mentoring to job seekers, professionals, and college students pursuing careers in finance. We've helped hundreds of students start their careers on Wall Street through our Analyst Prep and Associate Programs. Our graduates work at top-bulge bracket banks and consulting firms, including Goldman Sachs, JP Morgan, McKinsey, and many more.
In just 15-weeks you can become a world-class finance professional with our fully immersive internship and Investment Banking Training Programs.
---
References
https://www.indeed.com/career-advice/finding-a-job/highest-paying-business-majors
https://educationdata.org/average-cost-of-college
https://www.bestcollegesonline.org/highest-paying-jobs/top-10-business/
https://www.forbes.com/sites/forbescoachescouncil/2019/12/26/how-choosing-the-right-major-can-lead-to-more-success-and-less-college-debt/
https://www.ownyourownfuture.com/highest-paying-business-degrees/
https://www.bls.gov/
https://www.degreequery.com/15-top-degrees-highest-paying-business-careers/
https://work.chron.com/much-finance-majors-make-right-out-college-23789.html
https://www.salary.com/research/salary/alternate/entry-level-actuary-salary

https://www.naceweb.org/

https://www.unomaha.edu/college-of-business-administration/economics/career/index.php