The role of a financial analyst is one of the most sought-after roles for college graduates in the finance field. Financial analysts can work in many different industries and the role can further expand into future opportunities within a company.
This field is highly competitive and calls for extensive knowledge on finance methodologies and principles to succeed at the job. Read on to learn more about what the role of a financial analyst entails.
What Is A Financial Analyst?
Financial analysts research the economy and possible events that may occur that affect investing decisions and future projections within a company or industry.
With this research, analysts often develop a plan to buy or sell a company's stock based on their analysis of the market and future projections. Analysts may also work in other sectors that are separate from buying and selling stocks such as analyzing marketing efforts and their return on investment.
To break into finance, incoming finance majors must possess technical skills and soft skills to succeed in your finance career.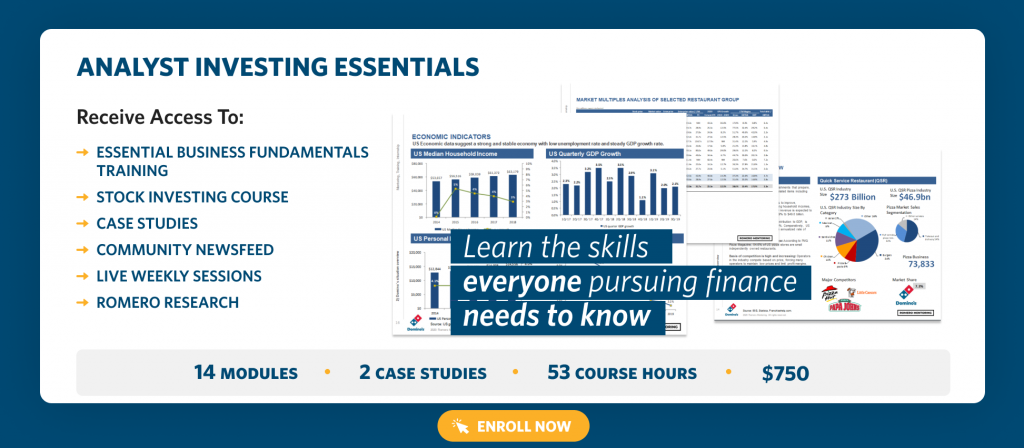 What To Expect On The Job
Financial analysts must be in-sync with the news and constantly update their projections for specific industries or companies as new information is published. Analysts read major news publications such as The New York Times, The Wall Street Journal, and The Economist as well as other financial websites.
Analysts spend the majority of their time on spreadsheet and presentation programs to provide reports to senior officers both during and after the work day. These reports normally consist of forecasting, trends analysis, risk analysis, and a course of action. Analysts must also be aware of the financial regulations and abide by these regulations to ensure the company is not engaging in unregulated activities.
Analyst Job Outlook
The role of a financial analyst may seem complex, but the compensation is well-worth the number of late nights preparing forecasts and reading about the economy.
The Bureau of Labor Statistics states that the median salary for analysts in 2018 was $85,6601; well above the national average income in the United States. The role of a financial analyst continues to grow at a constant 6% increase annually making more positions available for finance majors post-college.
The financial analyst field is highly competitive with hundreds of people competing for the same lucrative opportunity. The work is difficult, and analysts have a large amount of responsibility at a company due to their analyses directly impacting the final course of action for a company to invest in a certain stock or fund.
In just 15-weeks, you can become a world-class finance professional. The Romero Mentoring Analyst Prep Program is an all-inclusive internship, mentorship, and training experience like no other. Learn the in-depth principles of finance and apply what you learn through an extensive internship led by a finance professional with over 12 years of experience. Learn more here.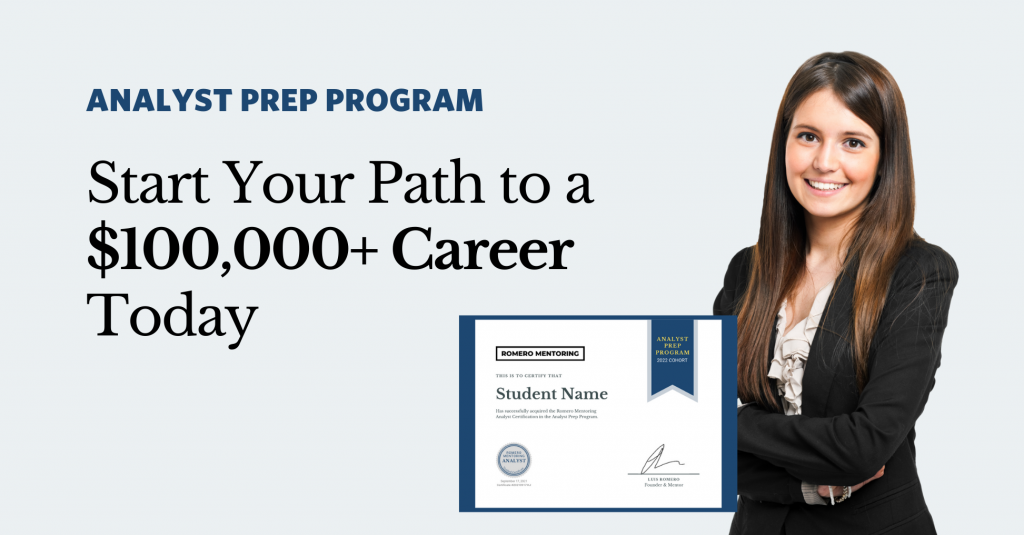 ---
Our Story
Luis Romero, founder of Romero Mentoring, spent five years developing an analyst training program that he wishes he had when he was in college – especially one that gave him access to a complete training and finance internship experience that could advance his career. Since no opportunity like this existed to him at the time, Luis went through a stressful recruiting process like so many others have. He successfully landed a full-time job offer upon graduation and worked as an M&A analyst at Credit Suisse in NYC for two years. He then moved to the buy-side as a junior trader and analyst. After gaining experience there, he created his own fund, Romero Capital, and later become an instructor in financial modeling and valuation. After working with hundreds of professionals and analysts, Luis became committed to creating his own mentoring program because he understood the crucial need for a hands-on, personal experience in the competitive world of finance.
Reference:
Bureau of Labor Statistics, U.S. Department of Labor, Occupational Outlook Handbook, Financial Analysts: https://www.bls.gov/ooh/business-and-financial/financial-analysts.htm
---