If you're a business owner or part of a Human Resources department making hiring decisions, it is crucial that you understand the true cost of hiring talent for your business. Two essential factors that impact your cost of hiring include 1. employee retention/turnover and 2. productivity. Making the wrong hiring decision often results in reduced employee morale, disruptions in your work processes (which affect clients), and a negative impact to your business's bottom line.
Topics of Discussion
The cost of hiring talent
Employee retention/turnover
Ways to increase productivity
How to improve talent retention
How Much Does it Cost to Hire An Employee?
The cost of hiring talent varies from industry to industry and depends on job title, skill level, and company size. According to the National Association of Colleges and Employers, it costs a company with 500 or less employees an average of $7,645 to hire someone new. A study by the Society for Human Resource Management (SHRM) found, meanwhile, that the average cost to hire an employee is $4,126, or six weeks of pay at $15 an hour. For more competitive careers like investment banking or technology, that cost can skyrocket to 10x higher than the average.
Hiring the right talent is a challenging and expensive process that can significantly reduce your company's profit margins. According to Employee Benefit News, employers spend an average of 33% of a worker's annual salary replacing just one employee. Let's put that into perspective:
Here's the total cost breakdown for a $60,000 position:
HR Manager, 30 hours of effort – $8,969
Job ad that runs for one month – $290
Basic background check – $58
IT equipment – $699
Training courses – $466
Employee support, 20 hours of effort – $6,989
New employee signing bonus – $2,330
Total hiring cost – $19,800, or 33% of the employee's annual salary.
If we examine a finance industry professional with an $85,000 annual salary, for example, it will cost an employer approximately $212,000 to replace employees in that role over a five-year period. Romero Mentoring can save employers 70% on talent management cost over that same period.
Finding and Hiring New Talent is Costly and Stressful
For many HR professionals, the high turnover rate is a headache. One-third of new employees quit after about six months. Recruiters spend, on average, six seconds reviewing candidates' resumes to determine if they are the right fit, which is not enough time. According to SHRM, 47% of HR managers believe employee retention/turnover is the top talent management problem.
Consider all the steps that employers must take to hire an employee. You have to:
Create an engaging and accurate job description
Post job ads in multiple places
Review hundreds of resumes
Select the top candidates to interview
Plan and schedule the interviews
Run background checks and call references
Make the job offer
Negotiate the compensation
Complete all the legal documents
Onboard the new employee
Provide training and career development
Depending on your industry, the average time it takes to fill an entry-level vacancy is 25 to 46 days.
The Employee Productivity Challenge
Congratulations, you've found the perfect employee for your organization. Now you need to consider your onboarding process and provide the proper training. Failure to do this right will mean that it takes one to two years before your employee is "fully productive" in their role. On average, employees receive 42.1 hours of training per year. It's just not enough. Employers lose anywhere from 30% to 60% of an employee's annual salary in their first year on the job because of the amount of time it takes the new hire to learn all of the skills necessary to be effective in the role. Consider our 196-hour career mentoring program, which includes certification. We ensure that your accounting and finance department hires are equipped with the right technical skills to be fully productive on day one.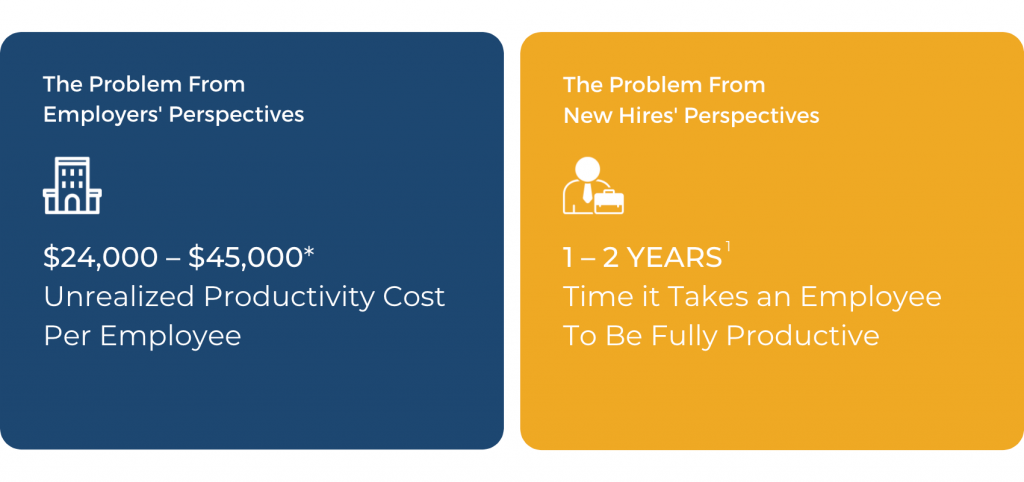 Part of the problem is the lack of professional training at the university level, which doesn't properly prepare students for the labor force. A survey conducted by the Lumina Foundation found that 65% of recent college graduates believed they were not ready for a professional job, while 89% of employees agreed. Also, consider distractions at the workplace, which leads to low productivity. Research suggests that the average worker is only productive for two hours and 53 minutes in an eight-hour day. According to the Bureau of Labor Statistics, the average American "works" over eight hours a day. Yet a study of nearly 2,000 full-time office workers revealed that most people aren't actually working most of the time they're at work.
Some of the unproductive activities listed were:
Reading news websites – one hour, five minutes
Checking social media – 44 minutes
Discussing non-work-related topics with coworkers – 40 minutes
Searching for new jobs – 26 minutes
Taking smoke breaks – 23 minutes
Making calls to partners or friends – 18 minutes
Texting or instant messaging – 14 minutes
Why Does It Take So Long To Be Fully Productive?
Time spent getting acclimated and understanding new tasks
Time spent asking questions and trying to figure out where things are
Time spent feeling uncomfortable about whether they're doing their job right
Time spent experiencing new hire feelings of "not wanting to bother" someone or "I feel stupid or embarrassed, so I'll figure it out eventually"
Or feelings of "I didn't know I was doing it wrong" and "I want to impress you by doing it myself," leading to a loss of productivity
Why Employee Retention Matters
Retaining your talent is a matter of protecting your human capital and your business. Failure to invest in your employee development will result in a high employee turnover rate, which, without a doubt, will negatively impact your company's bottom line.
Employee retention/turnover varies by industry. As previously stated, 47% of HR managers believe employee retention/turnover is their top talent management challenge. Our research looked at the finance industry's employee retention/turnover rate. We found that the average tenure for an investment banking analyst and associate nowadays is 17 months compared to a 26-month average a decade earlier (The Wall Street Journal, 2017). The tenure in tech is 1.8 years (Paysa report).
To determine the actual cost that high employee turnover has on a company, we looked at the expense of replacing an employee in the same position over a five-year period. We estimate that during this period it costs approximately $212,000 to replace a finance professional making over $85,000. The cost to replace your talent becomes stunningly significant at scale. For example, replacing 100 employees will cost a company approximately $21 million over a five-year period.
Let's put this into perspective. Consider an accounting or finance employee with an $85,000 salary.
The average turnover period in the finance industry is 18 months. This means that employers need to fill the role every 18 months.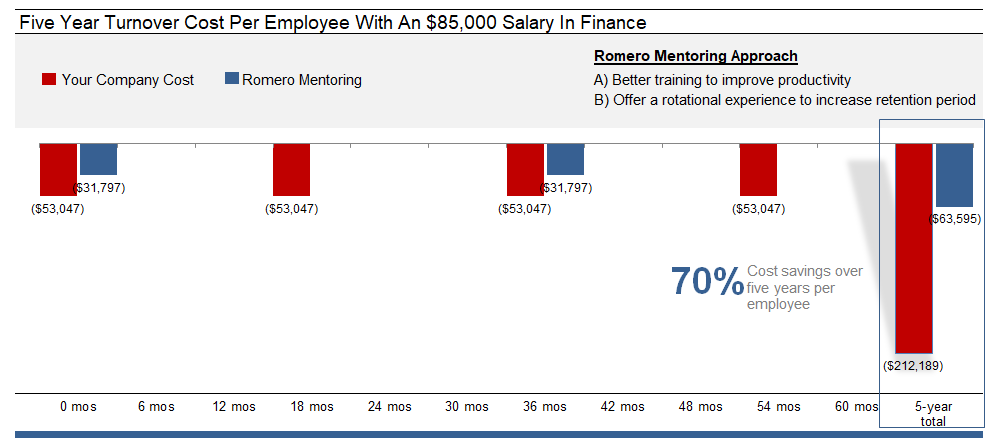 Romero Mentoring can save employers 70% on talent management over a five-year period.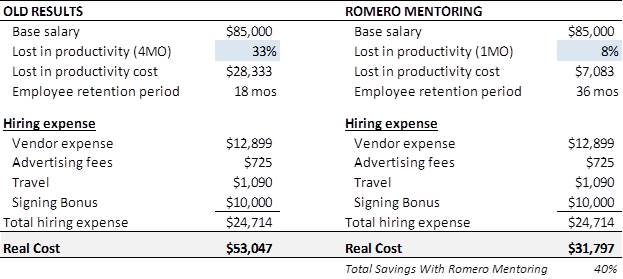 Vendor expenses include third-party background checks, external recruiter partner fees, fingerprinting, legal documents, drug testing, pre-screening fees, campus recruiting, and other related administrative costs.
Romero Mentoring can boost your employee productivity and save you 40% on your hiring costs. We save you time and money with our career mentoring program.
What Does This Mean for Your Bottom Line?
Short employee retention periods slow down progress and increase recruiting costs which hurts your bottom line. We can address this challenge by providing effective training early on that reduces the learning gap so employees are fully productive on day one.
The Association for Talent Development (ATD) reports that companies that offer comprehensive training programs enjoy 218% higher income per employee than companies without formalized training. These companies also enjoy a 24% higher profit margin than those who spend less on training.
According to Just Capital, firms that provide opportunities for advancement, comprehensive training, and tuition reimbursement programs earn, on average, 7% more return on equity in their index.
Our Career Mentoring Program Solution
Through our career mentoring program, we increase talent productivity and reduce wasteful unproductive time by equipping candidates with the right professional skills for the job. Start early by giving your new hires exclusive access to a structured career mentoring program that offers 194 hours of professional training and certification. Increase employee retention by matching based on a candidates' sense of purpose, mission, and culture fit.
We developed our formula after working with hundreds (700+) of college students and professionals and accumulating over 15,000 mentoring hours.
Our Framework to Boost Your Employee Productivity:
Mentoring
We provide candidates with a long-term view of their careers and explain how they can make meaningful contributions within your organization. This approach has been found to improve employee retention.
Training
The skills taught in our program will enable your new hires to complete tasks faster, making them more efficient. Our training will increase their levels of productivity, saving your business money.
Practical Experience
We assign practical hands-on projects to simulate on-the-job tasks. Candidates make mistakes on our time as they learn in a judgement-free environment – instead of on yours.
Certification
The program includes 194 hours of training and a final certification that prepares your talent by equipping them with the technical and professional skills required to excel in their roles.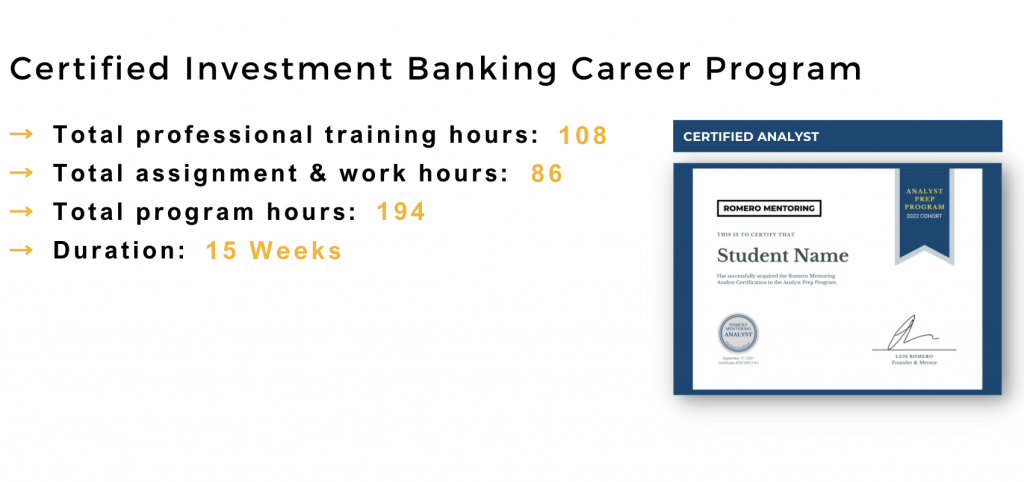 What Your New Hires Will Learn in Our Program:
Microsoft Excel
Accounting
Industry and financial due diligence
Financial statements – forecasting
Company valuations
Mergers & Acquisitions (M&A) analysis
Leveraged buyout analysis
Investment analysis
Drafting management presentations
Presenting investment analysis
Corporate spin-offs
Strategic considerations
And more
To learn more about how we can save your business time and money, schedule a demo today. We can't wait to help you overcome your employee retention and productivity challenges!