It is no secret that a finance career pays well with prestigious entry roles in hedge funds, private equity firms, and investment banking salaries reaching six figures right out of university. Many people aspiring for a finance career often wonder how much those finance jobs pay, so in this article, we discuss exactly much can you expect to earn with a career on Wall Street.
Investment Banks
Starting with one of the most competitive finance jobs, investment banking salaries are attractive. It is one of the few entry finance jobs that offer a six-figure salary right out of college. As a first-year investment banking analyst at bulge bracket firms such as Goldman Sachs, JPMorgan Chase, and Morgan Stanley, and middle-market banks such as Jefferies, William Blair, and KPMG, the average starting investment banking salary is $90,000 with bonuses bringing total average compensation to $165,000.[1] If you wish to continue a finance career in the bank, the next position would be associate, followed by vice president (VP), director/senior vice president (SVP), and finally managing director. You can expect base salary and performance bonuses to increase substantially as you move higher up. The average total compensation for each position is shown below.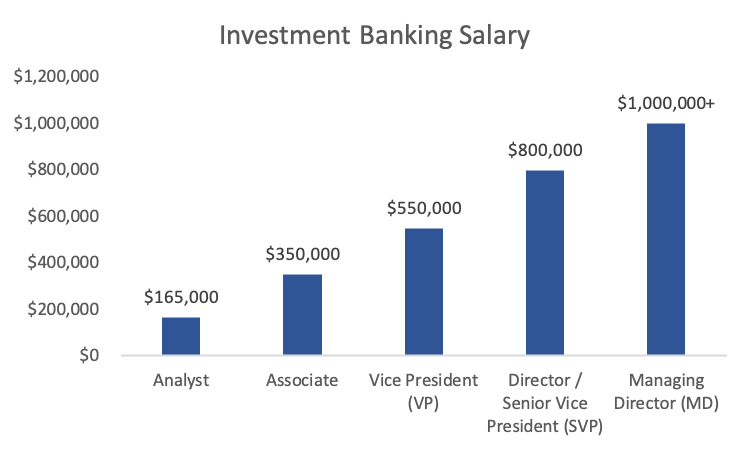 Management Consulting
If the intense work hours of a finance job are not for you, management consulting is an alternative career path that can provide a six-figure salary with better work-life balance. Total compensation for top-tier consulting firms such as Boston Consulting Group (BCG), McKinsey & Company, and Bain & Capital ranges from $100,000 to $120,000 annually. You typically gain valuable experience and financial skillsets as a management consultant, so exit opportunities to hedge funds and private equity firms are not uncommon.[2]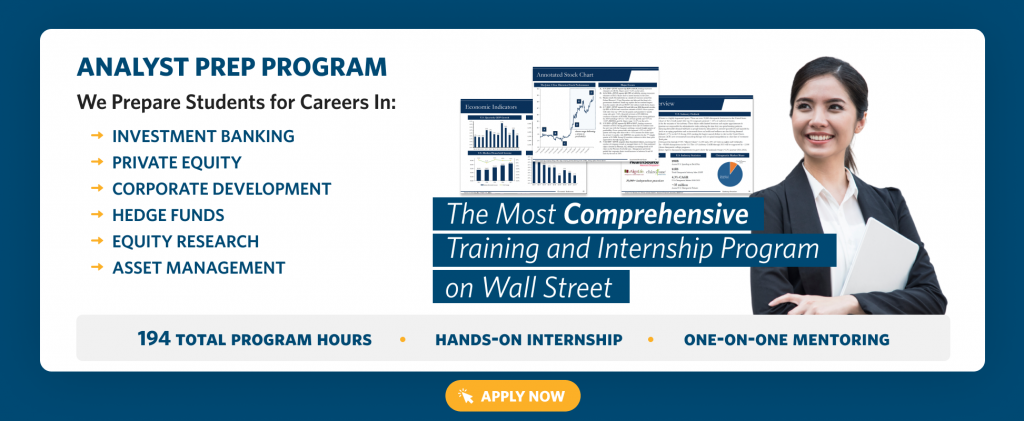 Hedge Funds
Moving on to other finance jobs and finance careers, hedge funds are one of the most attractive exit opportunities for investment banking analysts and management consultants looking to go to the buy-side. Not only are their salaries higher than investment banking salaries, but the work hours are also typically better. But to work at top hedge funds like Bridgewater Associates, BlackRock, and Citadel requires experience and detailed financial knowledge and skillsets, which is why they typically hire investment banking analysts who have 2-3 years of experience working at investment banks. A hedge fund analyst with 2-3 years of experience can expect an average base salary of $85,000 and performance bonuses to be in the similar range, resulting in an average total annual compensation of $165,000.[3] Salary increases are common and expected, so within 5 years at the fund, an investment banking analyst can see his total compensation increase to $250,000 – $300,000.[4]
Private Equity
Another promising finance job on the buy-side is to work at a private equity firm. Similar to hedge funds, private equity firms typically recruit investment banking analysts and management consultants with 2-3 years. Salaries are also comparable to investment banking salaries, and top private equity firms such as Blackstone, Carlyle Group, and KKR pay anywhere from $100,000 – $150,000 for analysts.[5][6] The finance career path of private equity firms is similar to that of investment banks, with a promotion to associate after 2-3 years as an analyst, followed by senior associate, VP, director, and finally MD. The average total compensation for each position is shown below.[7][8]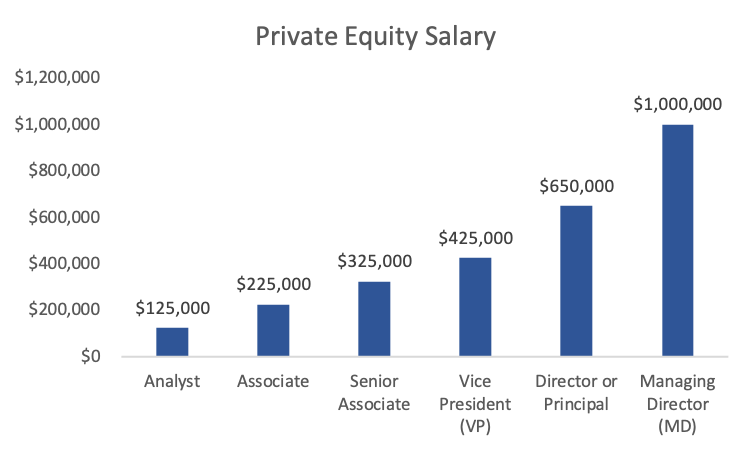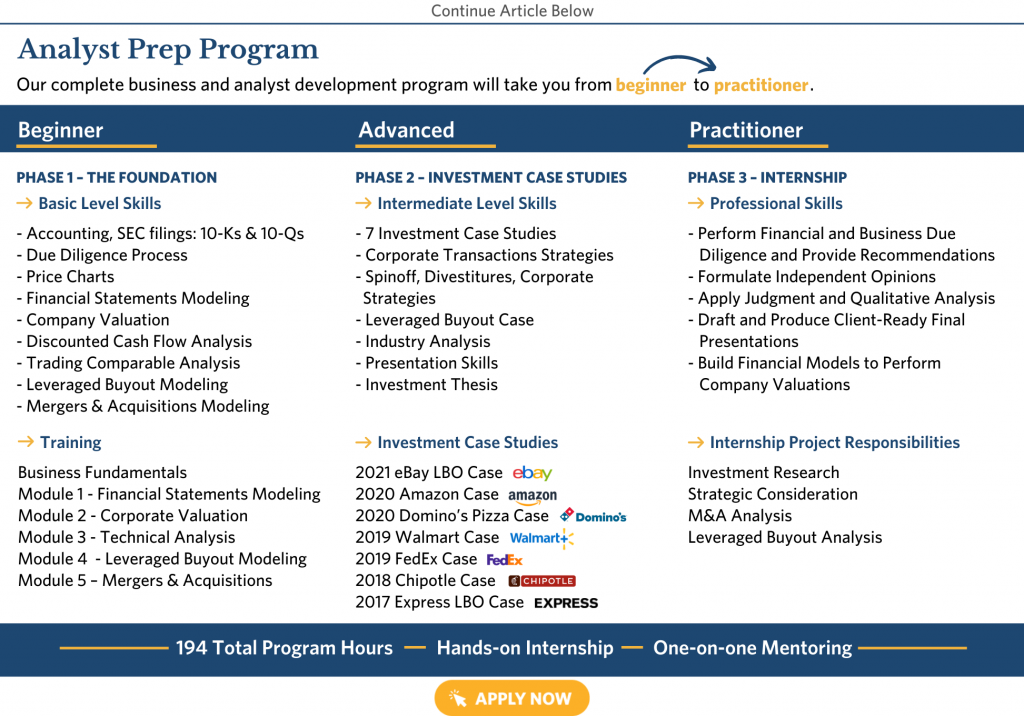 Conclusion
With investment banking salaries being six figures right out of university and various exit opportunities paying even more, a finance career is a lucrative one, but also extremely competitive. The intensity of the jobs is comparable to that of playing a professional sport, and only about 5% of applicants receive an offer from investment banks each year. So in order to be a competitive candidate, you must develop strong relevant skillsets and have extensive industry knowledge. Relevant work experience and training such as our Analyst Prep Program is a must when it comes to developing the fundamental as well as technical skills needed for a successful career on Wall Street.
Sources: