My Background
My name is Skye Luo, and I am currently a senior at NYU who is majoring in economics. I transferred to NYU two years ago from Northeastern University. When I was at Northeastern, I found my first co-op at MFS Investment Management, an investment management firm. After completing that co-op, I was determined to pursue a career in finance and decided to transfer to NYU because New York City is the center of finance.
After transferring to NYU, I started to prepare for recruiting. But, as everyone knows, investment banking has a pipeline and there's a very specific timeline you should follow in order to land an internship or full-time job at investment banks. Because of the co-op program at Northeastern, I never had to worry about recruiting. Consequently, networking and interviewing are not my strengths. The worst thing is that I was in my junior year after transferring and my major changed to economics from finance. As a result, I was more than one step behind others and could not follow the standard recruiting process.
I decided to join the NYU chapter of Smart Women Securities, an organization that educates young women about finance. I networked with many members within SWS and learned basic modeling skills. I also landed several part-time internships that strengthened my resume and actively participated in companies' on-campus events. My advice for all non-finance major students who want to pursue a career in banking is to learn as much as possible outside of the classroom because the skills that are essential to have during internships and interviews are not taught in class. Lastly, preparing early is always better than later. Early insights programs that are held by firms are incredible opportunities to seize.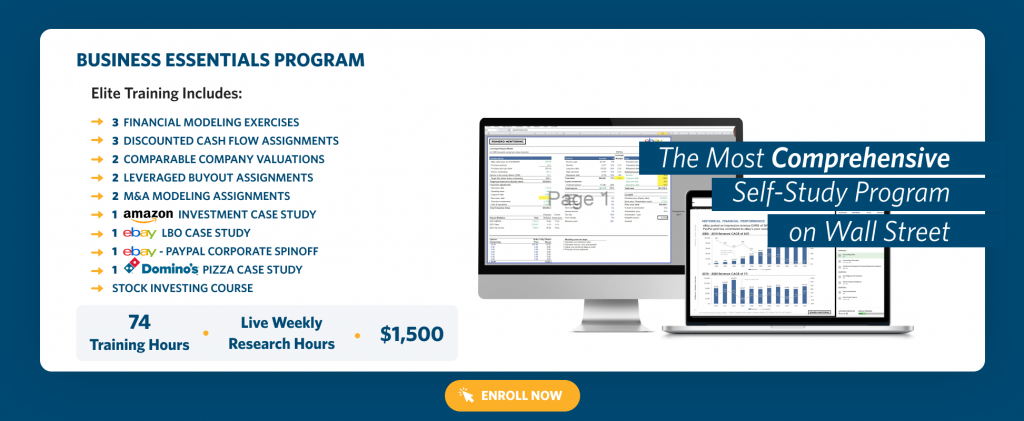 Content Preview
Why Capital Markets?
I did not initially have a preference among all the divisions within banking. But after doing some research, I narrowed my target to the front office because it includes the revenue generating departments and I find it intellectually stimulating. I networked with people who worked in both investment banking and capital markets divisions, which gave me a clear understanding of their day-to-day work. From this I realized that I find the investment banking division to be too stressful and that it doesn't fit my lifestyle. As a morning person, it would be difficult for me to work late at night. But in capital markets starting the day early is a requirement, which will suit me.
Besides the lifestyle aspect, I also love to learn and research new things. Keeping track of the ever-changing market is the kind of work that excites me. Furthermore, as I already invest in stocks myself, I satisfy prerequisites to work in capital markets which include passion for the stock market and an original understanding of market movements. Compared to focusing on a single project for months, I prefer to work on new things every day. The best part about capital markets is that the market grades you on a daily basis, so you can continually evaluate and improve your work.
My Recruiting Experience
As an international student, I eventually gave up on the idea of applying for positions in the U.S. – the immigration policies are not exactly friendly. As a result, I only applied for positions in Asia Pacific, Hong Kong, and Singapore. I received Superday from Goldman Sachs, JP Morgan, and Credit Suisse and found the interviews for all of them to be relatively similar: a Zoom 1:1 interview. Since I interviewed for sales and trading, I was asked many market-related questions, like, "please recommend a stock to me," and, "what happened in the market today?" The key takeaway is that the interviewers are not just evaluating your technical skills but also you as a person and how you might approach problems at work.
Once you've reached the final stage of the recruiting process, the focus shifts more to the company finding a personality match. Take JP Morgan for example: I had six 30-minute interviews with folks from different desks. Although I believe I performed equally well, only one of them decided to extend me an offer. That interviewer told me that he likes my personality and believes I will fit well with his team.
I've been asked very tricky questions during interviews including being asked my opinion about specific transactions and their impacts. It is crucial to have your own analysis of the market and to dig deeper while researching.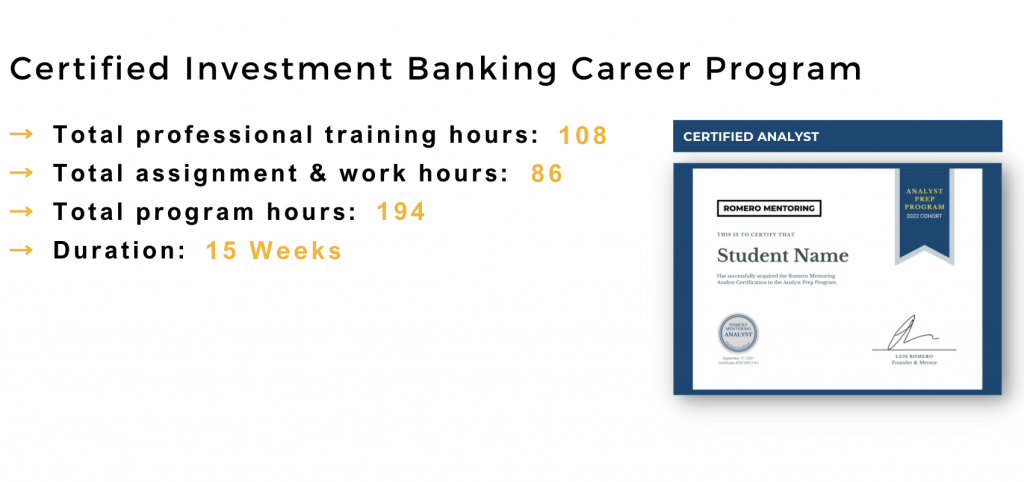 Preparing for Interviews
The Romero Mentoring Analyst Prep Program has helped to improve my technical skills. The training program is designed to teach financial fundamentals from the ground up. I have learned how to conduct due diligence and research specific companies, both of which are very important skills to have when working in the capital markets. I didn't practice much when it came to preparing for behavioral questions. Instead, I went over my resume and previous experience carefully. In my opinion, the interviewers could ask a thousand behavioral questions without repetition so there is no point in preparing for specific questions. However, if you understand yourself well and prepare several stories about yourself to tell, you will be able to answer most questions. After engaging in some introspection, I was able to answer all the behavioral questions honestly. I believe my interviewer felt my sincerity which helped in my interview evaluation.
Final Tips and Advice
If you are an underclassman, congratulations – you have sufficient time to improve your technical and interviewing skills. You can follow the standard procedure of investment banks, attend early insights programs, land an internship the summer of your sophomore year, land another summer internship your junior year, and then get a return full-time offer.
If you are a student who started to prepare late like I did, you do not have much time to waste and must act immediately. You may defer or gap one semester so that you have one more chance to apply for a summer internship. Either way, it is important to seek help from others. Networking with people, improving your technical skills, and conducting mock interviews with friends or advisors are all great ways to prepare you for the recruiting process.
Romero Mentoring's Analyst Prep Program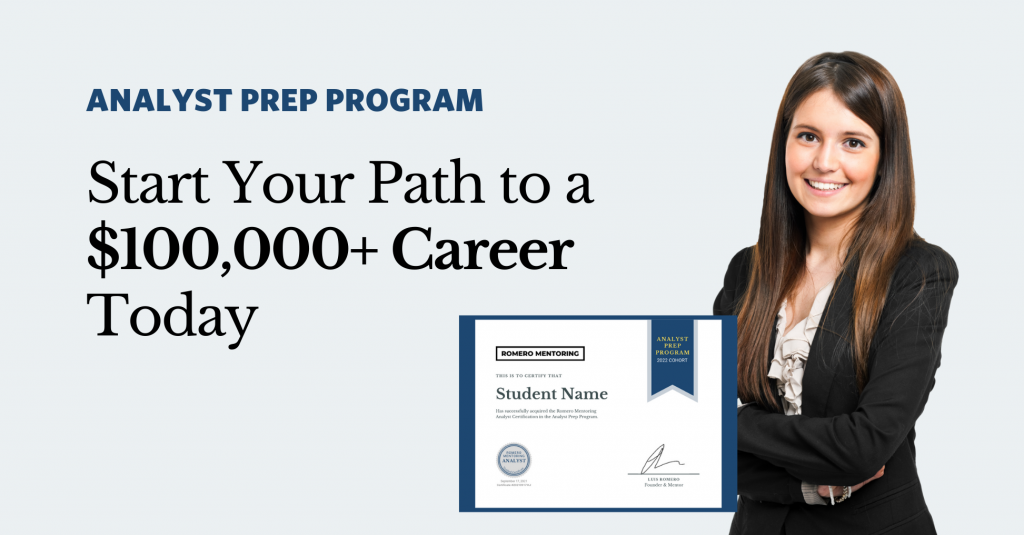 The Analyst Prep Program teaches the technical and practical skills that investment banks, hedge funds, and private equity & consulting firms look for in a candidate. Students begin with little to no technical skills and develop into fully prepared professionals who can perform as first-year analysts from day one through the program's training and internship.
---
Our Story
Luis Romero, founder of Romero Mentoring, spent five years developing an analyst training program that he wishes he had when he was in college – especially one that gave him access to a complete training and finance internship experience that could advance his career. Since no opportunity like this existed to him at the time, Luis went through a stressful recruiting process like so many others have. He successfully landed a full-time job offer upon graduation and worked as an M&A analyst at Credit Suisse in NYC for two years. He then moved to the buy-side as a junior trader and analyst. After gaining experience there, he created his own fund, Romero Capital, and later become an instructor in financial modeling and valuation. After working with hundreds of professionals and analysts, Luis became committed to creating his own mentoring program because he understood the crucial need for a hands-on, personal experience in the competitive world of finance.