My background
My name is Helen Chen and I am from Toronto, Canada. I'm currently a sophomore at Duke University and am thinking about studying statistical science, chemistry, and finance. I chose to come to the U.S. for college because I value the liberal arts education that many U.S. schools offer. Duke appealed to me, in particular, because it has great programs in all of the fields I am interested in. It is also a school that encourages students to study different things (many Duke students are double majors) and to go outside their comfort zones to explore subject areas they may never have considered before.
            While I have only been at Duke for about a year, I have learned a lot about many different things. For instance, in my first year, I participated in the FOCUS program, an interdisciplinary learning program for freshmen in their fall semester that offers small classroom learning. I was in the Science and the Public cluster, where I took classes on Science, Law, and Policy and on Patient Advocacy and Activism. As someone who went to a very STEM-oriented high school, I had never been exposed to public policy before. Those two classes gave me the opportunity to explore the intersections between science and public policy, write policy memos for the first time, and conduct interviews with scientists and patient advocates to learn more about science policy and advocacy. While the FOCUS classes were not central to my major, they have helped me develop valuable critical thinking skills and improve my writing and communication skills, in addition to challenging me to analyze issues in light of their ethical, economic, political, environmental, and social implications. I recommend that all freshmen take a few classes that are outside their field of study in order to broaden their mindsets, challenge them to think differently and more deeply about various subjects, and provide them with valuable insights into issues that they may never have thought about otherwise.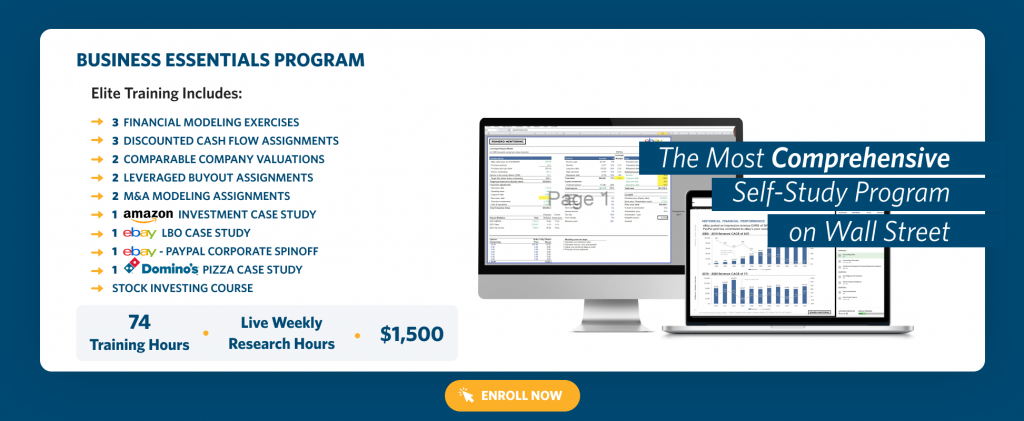 Content Preview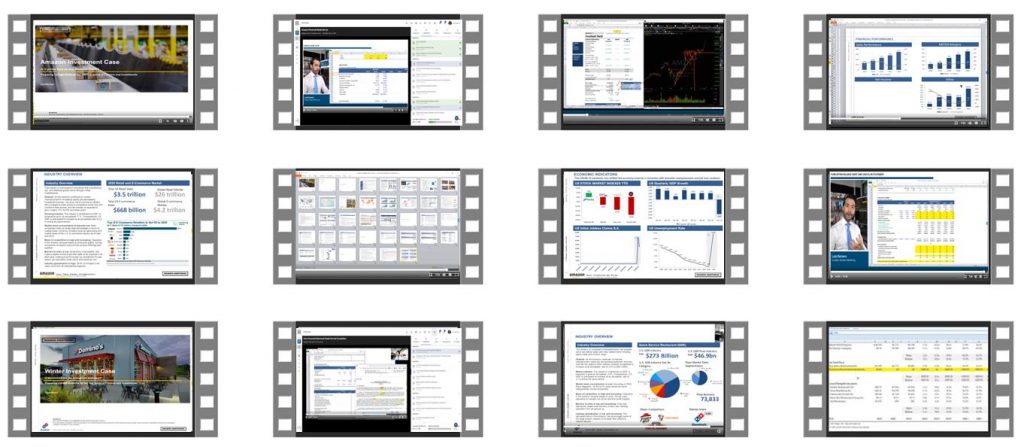 Courses and ways to prepare outside of academics
A lot of people ask me: what are some classes I should take in college to prepare me for a job in finance? One class that I have found to be very helpful in my finance journey thus far is financial accounting. Accounting is offered at most universities and is a class that I recommend to anyone, regardless of their major. Not only will a class in accounting help you better understand the financial statements and the reasoning behind the steps in building a financial model, but accounting is also useful in your day-to-day life. 
Outside of academics, I have found speaking to upperclassmen and alumni to be extremely helpful in my career research and exploration. I strongly encourage underclassmen to connect with alumni through their school's or club alumni networks. This is a great way to learn about what a certain job entails and is like in the longer term, to find out more about the alumni's career journey and what they have learned along the way, and to get tips and advice for your own journey. It is also beneficial to speak with upperclassmen who are working in the fields that interest you and at the companies you'd like to work with in the future. Upperclassmen are only a few years older than you and were recently in your shoes, so they will likely understand the recruitment process and what a first job in a certain industry is like. Reaching out to alumni and upperclassmen is a great place to start your exploration and research, as you automatically have commonality (i.e. going to the same school, being in the same club, etc.) which makes it much easier to connect with them.
Why I applied for an investment banking internship and the takeaways from my experience
To be honest, I entered Duke not knowing much about finance at all. If you had asked me what a bond was a year ago, I would not have been able to give you a great answer. However, after I participated in Duke Investment Club's Investor Training Program (ITP), a 10-week program that introduced me to the fundamentals of investing, the financial markets, and valuation, I became a lot more knowledgeable about and interested in finance. From attending the club's general meetings and listening to various stock pitches to creating my own stock pitch on Biogen for ITP, I realized how interdisciplinary finance is – it extends into many interesting sectors, such as healthcare, technology, energy, etc. That was when I realized I could combine my interest in STEM, especially healthcare, with business.
Last spring, I joined the Duke Investment Club as a junior analyst, and I had the opportunity to work with a team to pitch Zillow Group as an event driven trade. I really enjoyed the research component of the pitch process and loved digging deeper to really understand the business and the real estate industry. This year, I am sitting on the executive board of the club as the Chief Correspondent Officer and Treasurer. Duke Investment Club definitely sparked my interest in finance, and from there, I decided to participate in the Romero Mentoring Analyst Prep Program to further my knowledge and skills in the field. The Analyst Prep Program has been highly influential in my decision to apply for an investment banking internship, as it has shown me what analysts do every day, helped me develop my financial modeling skills, and through the case studies, assisted me in learning about the entire process of making a sound investment decision and a professional pitch presentation.
Now, as for why I decided to apply for Rothschild & Co's internship program, I first learned about Rothschild & Co last fall when a few members of the bank came to Duke University for a luncheon event. I became interested in the bank after connecting with the bankers, so I decided to explore its opportunities online. I came across the Spring Insight Program and decided to apply to it my freshman year. I was very lucky to be one of the 52 students selected among 3,500+ applicants to participate in the program, through which I had the opportunity to learn about the different business operations of Rothschild & Co, network with several junior bankers, and work on a team to develop a presentation on an acquisition opportunity between Shell and Orsted, and even present our case to senior bankers. I really loved the welcoming, collaborative, supportive, and collegial atmosphere of Rothschild & Co – in a way, it reminded me of Duke. Rothschild is also very invested in its people, and junior bankers have access to senior bankers early on. That was important to me and was indeed one of the reasons why I chose to come to Duke too, as Duke also has an emphasis on community and connection with students and faculty. I am very glad that I applied for the Spring Insight Program and Internship Program with Rothschild & Co, and I'm really looking forward to working for them in London next summer!
How I prepared for the interview
The Romero Mentoring Analyst Prep Program helped me prepare for my interview, as through their multiple modules I was able to learn many technical concepts and how to create financial models. The program offered a very hands-on and interactive approach to learning finance that I found that to be extremely helpful and stimulating. The one-on-one sessions with the founder, Luis Romero, were also beneficial, as he provided me with great advice, guidance, and mentorship throughout the program.
In addition, I read the M&I guide and looked for common interview questions online to prepare for my final round interview. It is definitely very helpful to do mock interviews with your friends, upperclassmen, and alumni too!
Tips and advice for other students
I find that a lot of people focus too much of their time on the technical part of the interview and not enough time on the behavioral part. I believe that in addition to knowing that a candidate has a fundamental understanding of finance, banks want to know more about you, your interests, your unique skills, and why you would be a good fit for the position and for their bank. I recommend that students conduct thorough research into why they would like to work at a certain company or bank when preparing cover letters and for interviews. Don't just talk about why the bank is incredible – talk about why you personally like the bank, the ways that the bank's values and mission align with your values and interests, and discuss what you can bring to the bank. Always remember to relate it back to you and your experiences! Connecting with current bankers is also a great way to learn more about a bank – don't be afraid to reach out. During the process of thinking about why you like a certain bank, you will also be able to decide whether or not you can really see yourself working at that bank in the near future.
            Finally, if you are not studying business or economics in college, do not worry! Many students who go into finance are not studying business, including me, and that is perfectly okay. Just be able to speak on what you might bring to the table as a math, computer science, history, political science, biology, or chemistry major, for example, and how your interest in finance might be linked to your interest in another field. Be confident and show the bank/company why you're a unique individual who they would like to work with in the future!
Romero Mentoring's Analyst Prep Program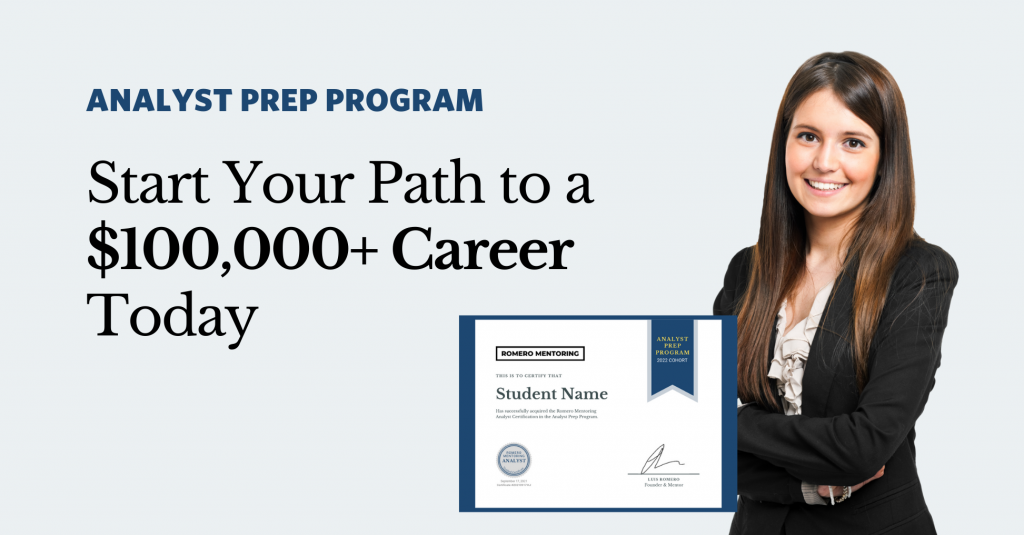 The Analyst Prep Program teaches the technical and practical skills that investment banks, hedge funds, and private equity & consulting firms look for in a candidate. Students begin with little to no technical skills and develop into fully prepared professionals who can perform as first-year analysts from day one through the program's training and internship.
---
Our Story
Luis Romero, founder of Romero Mentoring, spent five years developing an analyst training program that he wishes he had when he was in college – especially one that gave him access to a complete training and finance internship experience that could advance his career. Since no opportunity like this existed to him at the time, Luis went through a stressful recruiting process like so many others have. He successfully landed a full-time job offer upon graduation and worked as an M&A analyst at Credit Suisse in NYC for two years. He then moved to the buy-side as a junior trader and analyst. After gaining experience there, he created his own fund, Romero Capital, and later become an instructor in financial modeling and valuation. After working with hundreds of professionals and analysts, Luis became committed to creating his own mentoring program because he understood the crucial need for a hands-on, personal experience in the competitive world of finance.