The Origins of Honey
Honey: we've seen their ads everywhere – running at the start of YouTube videos and plastered on the walls of big city metros. The company, which was recently acquired by PayPal for $4 billion, is very well known for their web browser extension. The add-on, which is completely free to download and use, scans for potential coupon codes to use while online shopping and will automatically apply the best discount if it finds one. It's a win-win for shoppers and Honey, because users save money and Honey grows their user base. And, when members use Honey to buy from merchant partners of the company, Honey gets a commission from that sale. That's how they were able to generate an impressive $250 to $300 million of expected revenue in 2019.1 What's even more inspiring is the origin of the company. Founded in 2012, Ryan Hudson had the idea for Honey after wanting to find a way to get his kids cheaper pizza. That night, he designed the browser extension, and with the help of his partner George Ruan, the extension now has over 5 million downloads and has saved its users hundreds of millions of dollars.2
Why Did PayPal Acquire Honey?
Part of the reason PayPal was so eager to acquire Honey was because of the large base of over 17 million monthly active users that the company has been able to attract.3 More importantly, Honey has also shown a strong track record of growth, and their mission matches closely with PayPal's. Both businesses seek to improve their users' quality of life by providing helpful services. At the end of the day, their products are a financial win-win for both the companies and the consumers. Citi Ventures, which valued Honey in 2018, priced it at $700 million. Surely, the value of the company has risen since then, but most analysts would disagree with a $4 billion valuation. So why was PayPal willing to shell out so much money, making it their largest acquisition to date? The high purchase premium comes down to the fact that PayPal saw many valuable synergies between themselves and Honey, that they believed would still make the deal profitable for them even with such a high price tag. For example, Honey will now be pushed to PayPal and Venmo's 275 million users. Additionally, Honey will source exclusive offers from PayPal's 24 million merchants.4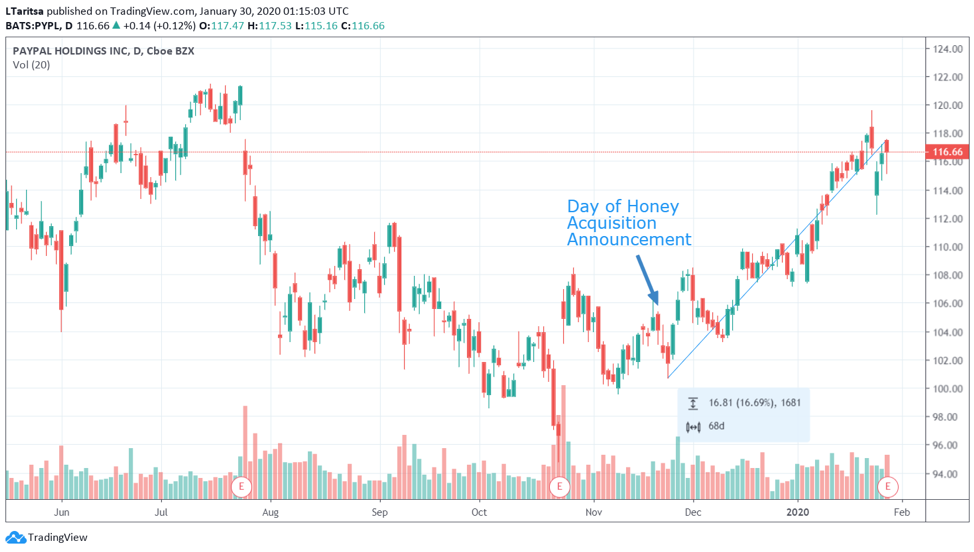 The Market's Reaction to the Acquisition
Following the news that PayPal intended to acquire Honey, which was announced on November 20th 2019, the stock took a small downturn. PayPal Holdings (NASDAQ: PYPL) dropped almost 5% within the next two days. However, the stock has performed strongly since then, rising more than 16%. This may reflect the initial drawback investors had towards the high price tag of $4 billion, and then the gradual realization of the value that Honey would provide once integrated into the PayPal network. Time will tell if the acquisition will be enough to push the stock over its previous all-time high of $121.48, but the future of PayPal and its holdings is looking promising.
What Does the Future of Honey Look Like?
For the users of Honey, your experience should remain very similar. The company is not changing its brand or logo or website. The significant changes will be taking place behind the scenes, in the number of people working for the company, their offices, the resources they have available, etc. As mentioned before, PayPal will be integrating Honey into their other services and pushing it to those users. Honey has already shown itself to be a major player in the online shopping sector but expect it to continue growing and reach new heights with the resources and integration with PayPal. This means big things for the future of Honey, ecommerce, and your savings!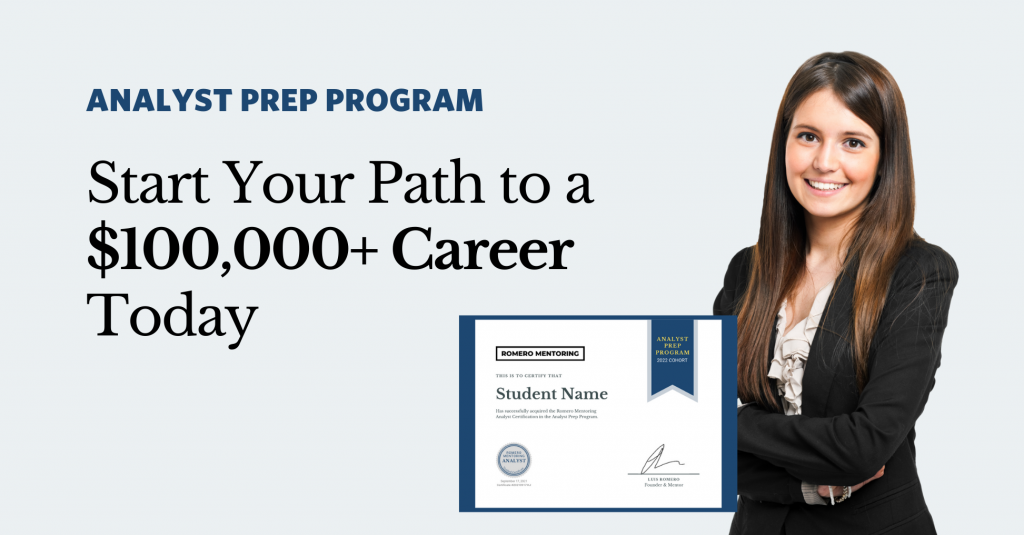 ---
Our Story
Luis Romero, founder of Romero Mentoring, spent five years developing an analyst training program that he wishes he had when he was in college – especially one that gave him access to a complete training and finance internship experience that could advance his career. Since no opportunity like this existed to him at the time, Luis went through a stressful recruiting process like so many others have. He successfully landed a full-time job offer upon graduation and worked as an M&A analyst at Credit Suisse in NYC for two years. He then moved to the buy-side as a junior trader and analyst. After gaining experience there, he created his own fund, Romero Capital, and later become an instructor in financial modeling and valuation. After working with hundreds of professionals and analysts, Luis became committed to creating his own mentoring program because he understood the crucial need for a hands-on, personal experience in the competitive world of finance.
References:
---