Whether you're considering a career in private equity, hedge funds, or consulting, or you're unsure which path to pursue; we break down everything you need to know about these lucrative career paths. We'll dive into the basics, as well as required skills, career progression, and much more.
Private Equity
Considering a career in private equity? Or you want to know more about what it is? Private equity is an alternative form of private financing, away from public markets, in which funds and investors directly invest in companies or engage in buyouts of such companies.
Only 1 in 300 students break into the top 10 firms. That's a less than 1% rate. So what does it take to be able to be the 1 in 300?
Strong fit with the firm
Highly relevant work experience
Networking and interview preparation
Critical thinking skills
Top academic credentials
Want to learn more? Look at the infographic for more in-depth information on getting into private equity and the typical career path of someone in private equity.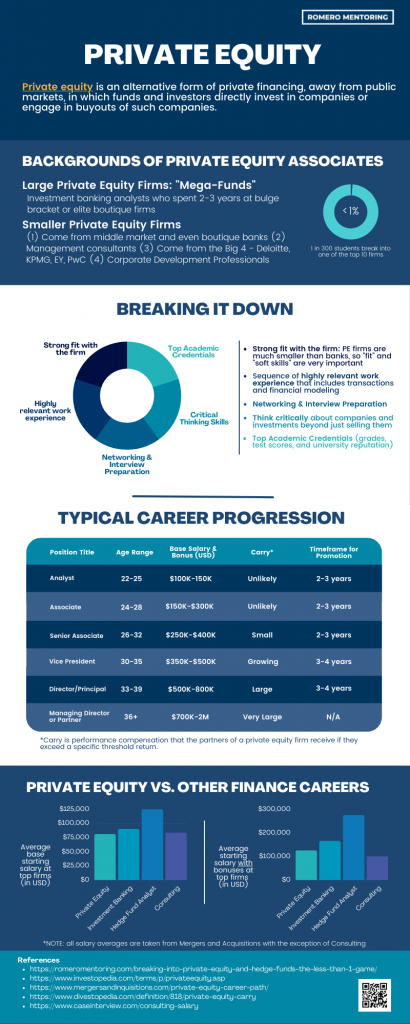 Hedge Funds
Many are familiar with investors, but aren't as familiar with hedge funds. Hedge funds are a type of investment fund that invests capital from institutional and accredited investors in financial assets – typically liquid, publicly traded assets.
What are some top skills required of hedge fund analysts?
Strong communication skills
Risk-tolerance
High initiative & tenacity
Confidence
In-depth knowledge of investment portfolio construction
In-depth knowledge of financial instruments and strategies
Interested in seeing if hedge funds are a good career path for you? Look at the infographic for more information on working in hedge funds and the typical career path of a hedge fund analyst.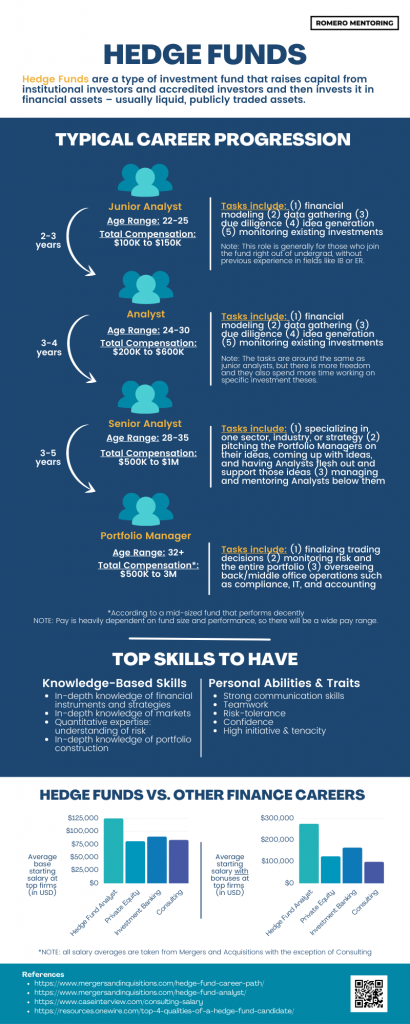 Consulting
If you aren't interested in pursuing a career in finance, you may be interested in consulting. Consulting is the business of providing expert advice to a specific group of people on various topics such as corporate strategy, operational improvement, marketing, and information technology. While there are three different types of consulting (management consulting, corporate consulting, independent consulting), the type most commonly referred to is management consulting.
What are some benefits of going into consulting?
Amazing exit-opportunities
Educational opportunities
Continuous learning
Travel (pre-Covid)
What are some drawbacks?
Long-working hours
Heavy travel (pre-Covid)
Inconsistent schedule
Inability to see the long-term results of your work
Learn more about consulting through the infographic and decide if consulting is the right career path for you.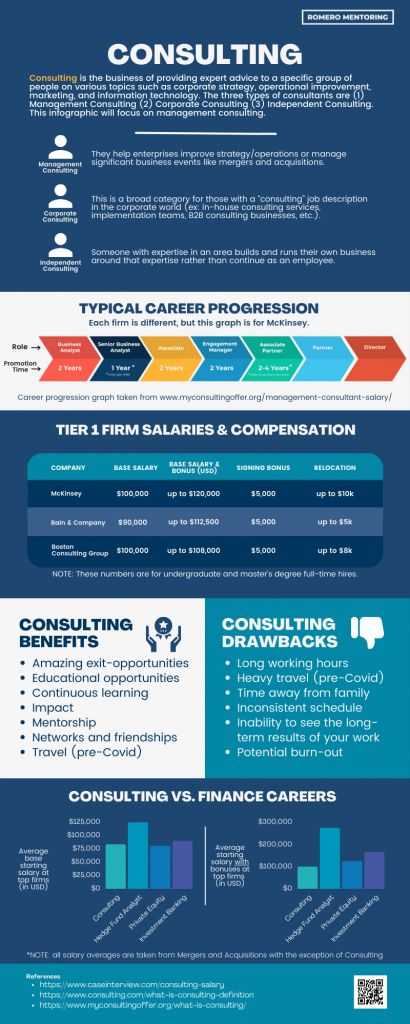 Romero Mentoring's Analyst Prep Program
The Analyst Prep Program teaches the technical and practical skills that investment banks, hedge funds, and private equity & consulting firms look for in a candidate. Students begin with little to no technical skills and develop into fully prepared professionals who can perform as first-year analysts from day one through the program's training and internship.
---
Our Story
Luis Romero, founder of Romero Mentoring, spent five years developing an analyst training program that he wishes he had when he was in college – especially one that gave him access to a complete training and finance internship experience that could advance his career. Since no opportunity like this existed to him at the time, Luis went through a stressful recruiting process like so many others have. He successfully landed a full-time job offer upon graduation and worked as an M&A analyst at Credit Suisse in NYC for two years. He then moved to the buy-side as a junior trader and analyst. After gaining experience there, he created his own fund, Romero Capital, and later become an instructor in financial modeling and valuation. After working with hundreds of professionals and analysts, Luis became committed to creating his own mentoring program because he understood the crucial need for a hands-on, personal experience in the competitive world of finance.