What is the SIE exam?
The SIE exam is a regulatory test required for all individuals entering the securities business, including but not limited to, wealth management advisors, equity research analysts, investment bankers, and securities traders. The SIE is an introductory-level exam, requiring those who take it to demonstrate they understand all the fundamentals of the financial industry. The Financial Industry Regulatory Authority ("FINRA") in 2015 to streamline its testing structure and consolidate all the core knowledge across the different series exams into the SIE. They had initially planned to roll the new testing requirements out in 2016, however, delays led to the actual rollout happening in October 2018. When the new structure was rolled out, other low-level exams, such as Series 42 and 62, were retired.
What makes the SIE such a big change in regard to FINRA's historical testing requirements is anyone over 18 years old can take it. Historically, if you wanted to take a securities exam and become a registered representative ("RR") you needed to be associated with and sponsored by a firm registered with FINRA. That is not the case for the SIE. College students, MBAs, career-changers, active military members, and anyone interested in pursuing a job in the financial services industry can take the exam. Passing the SIE is now the first step to a successful career in the securities business and a great way to stand out in a crowded field of job applicants.
However, passing the SIE does not make you an RR or allow you to engage in securities business. Instead, you have to continue to pass what is now referred to as a "top-off" exam, referring to the other Series exams which focus on specific roles in the securities industry. For many Romero Mentoring students who hope to break into the investment banking industry, this top-off exam would be the Series 79. There are also the Series 86 and 87 for research analysts, the Series 7 for general securities representatives, the Series 57 for securities traders, and many others depending on other representative categories. Unlike the SIE these top-off exams do require you to be associated with and sponsored by a firm registered with FINRA.
What does the SIE exam cover?
The SIE is a 75-question, computer-based, multiple-choice exam consisting of four answer options per question. You are given 1 hour and 45 minutes (A total of 105 minutes) to complete the exam and are required to obtain a 70% to pass. Although your score is calculated based on 75 exam questions, you will complete a total of 85 questions. The extra 10 questions are used by FINRA for possible inclusion for future exams but will not count towards your final grade, whether you answer them correctly or incorrectly. Unfortunately, you will not know which 10 questions are considered unincluded and they will be randomly placed throughout the exam.
The exam covers equity securities, debt securities, types of bonds, investment company securities, other managed products, options, suitability and investment risks, issuing securities, the secondary markets, economic and monetary policy, customer accounts, tax-advantaged accounts, FINRA registration, and business conduct rules. These concepts are allocated into four categories taking up varying percentages of the total exam and randomly mixed throughout the exam. The table below is comprised of data from Knopman Marks, a provider of licensing exam prep programs, which lists the four categories and their respective percentage of total SIE exam questions: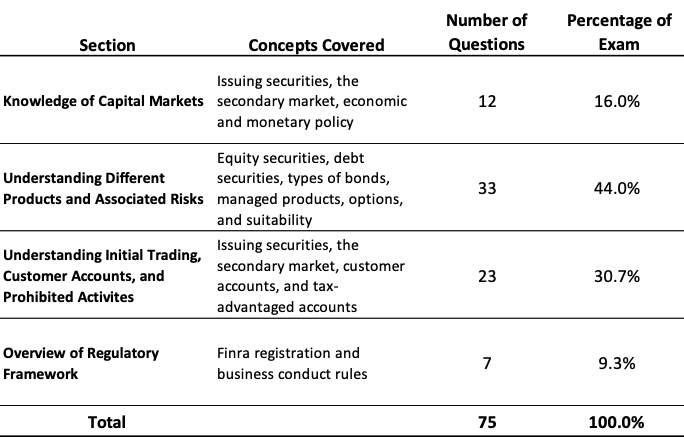 Who needs to or who should take the SIE exam?
As previously mentioned, anyone looking to become a RR in the securities industry needs to pass this exam. You don't have to pass the SIE prior to a top-off exam; however, many of the topics covered in the SIE are revisited in other Series exams, making it a good starting point. In regard to who should take it, college students interested in the securities industry should consider taking it before graduation. It is not a very demanding exam and, depending on your background, should require only 30-50 hours of study prep, which can be done within 4-6 weeks.
If you are interested in the securities industry, odds are you are majoring or minoring in finance, meaning the majority of the topics included in the SIE will not be new to you. As seen in the table above, the largest portion of the exam revolves around knowing different security products and their risks, a topic heavily discussed in collegiate finance courses. Furthermore, the industry is very competitive with thousands of college students applying to jobs every year. This is a way for you to stand out and show potential employers you are serious about becoming a RR and have already taken the first step in doing so.
How do you prepare for the SIE exam?
There are multiple groups offering study prep programs for the SIE and other Series exams, one example being Knopman Marks. Other groups include ExamFX, Solomon Exam Prep, Securities Institute of America, Inc., Securities Training Corporation, and Kaplan Text Prep. Many of them offer bundles which allow you to purchase study prep materials for the SIE as well as the specific top-off exams you are interested in taking. However, since you need to be sponsored by a registered firm to take those exams, I suggest staying away from bundles until you are hired by a firm (In many cases the firm will pay for your prep materials anyway).
Most of these prep programs offer lecture videos, a textbook, practice exams, key concept pages or slide decks, and notecards. Some allow you to purchase specific resources separately, while others only offer bundles of all these resources combined. If you are someone who prefers structure in their studies and has some extra cash in your pocket, I would suggest purchasing one of these prep programs. However, that is not to say you need to. There are plenty of free resources available online to take advantage of and FINRA even offers a free 75 question SIE practice exam on their website.