What is Investment Banking? What do Investment Bankers Do?
Investment Banking Jargon "Strategic Consideration"
A term often used in finance refers to investment banking advisory services. We share this concept with our analyst students to help them understand high-level finance. Below is an example of strategic consideration using Amazon's 20-for-1 stock split, and $10 billion buyback. Amazon's split-adjusted stock price is $115 assuming Friday, May 6th closing price of $2,295.
What is Investment Banking? What Do Bankers Do i.e. Strategic Consideration?
What Is Strategic Consideration?
To keep it simple, it refers to strategic advice offered by investment bankers and sometimes consulting firms relating to business operations and financing sources to help grow a company.
Capital structure – is a target company's balance sheet capitalized according to the industry?
Valuation – is your company stock fairly valued? Is your PE multiple high enough to issue stock with a low dilution impact to shareholders?
Mergers & acquisitions – should we acquire or merge with xzy company?
Share buyback – Should we buy our company stock at these valuation levels? How should we finance our buyback program?
Other ideas include foreign exchange risk, hedge strategies, human capital, IPO, debt financing, etc.
Amazon Strategic Consideration Stock Split and Share Buy Back Example:

In their 8k filing on March 9, 2022, Amazon made public that they will (1) Issue a $10 billion share buyback program and (2) 20-for-1 stock split scheduled to take place on May 25, 2022. If we use Amazon's stock price at close on March 9, the split-adjusted new stock price would be $139 ($2785/20).
Strategic Benefits:
(a) The stock split will increase liquidity
(b) Make the share price more attractive to new investors
(c) The $10 billion buyback will create share holdervalue by increasing Earnings Per Share
(d) The share buyback program will provide support to Amazon falling sharing price
SEC Source:
CNBC Article:
Romero Mentoring's Analyst Prep Program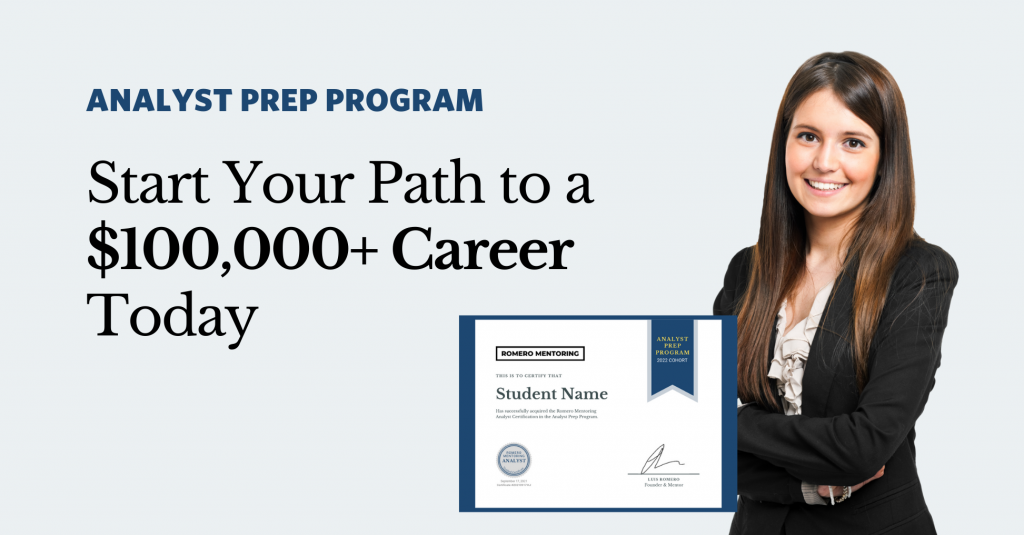 The Analyst Prep Program teaches the technical and practical skills that investment banks, hedge funds, and private equity & consulting firms look for in a candidate. Students begin with little to no technical skills and develop into fully prepared professionals who can perform as first-year analysts from day one through the program's training and internship.
---
Our Story
Luis Romero, founder of Romero Mentoring, spent five years developing an analyst training program that he wishes he had when he was in college – especially one that gave him access to a complete training and finance internship experience that could advance his career. Since no opportunity like this existed to him at the time, Luis went through a stressful recruiting process like so many others have. He successfully landed a full-time job offer upon graduation and worked as an M&A analyst at Credit Suisse in NYC for two years. He then moved to the buy-side as a junior trader and analyst. After gaining experience there, he created his own fund, Romero Capital, and later become an instructor in financial modeling and valuation. After working with hundreds of professionals and analysts, Luis became committed to creating his own mentoring program because he understood the crucial need for a hands-on, personal experience in the competitive world of finance.