Have you ever wondered if a Master 's or MBA degree is worth it? What are the benefits of pursuing a master's degree? What is the cost of a master's degree? Which program offers you the best return on investment? Considering the all-in cost and starting salary with a graduate degree, it is quite important to perform proper due diligence to find out if you are making a wise financial decision to invest in your education and if your ROE is high over the long run.
Topic Discussed:
Benefits of a graduate degree
The cost of a master's degree
The starting salary with a graduate degree
Cost of top Master and MBA programs
Calculating return on education

Online finance training program
Why Consider a Graduate Degree?
First and foremost, the monetary benefit of an income increase plays a significant role in making the decision of considering a graduate degree. According to ZipRecruiter, the 2022 national average master's degree salary is $70,689, compared with $51,212 for a bachelor's degree salary. However, there are also many other meaningful non-monetary reasons for someone to pursue a higher degree than a bachelor's degree. Below are some benefits of a graduate degree that candidates consider:
Set you apart from other candidates – In light of the pandemic, the job market becomes more and more competitive. To set yourself apart from your peers and gain more competitive advantages at your future job interviews, a master's degree can help you achieve your goals.
Specialize in your field – Obtaining a graduate degree enables you to acquire in-depth knowledge and essential skills in your career field. Hence, you will become more professional at your job.
Expand your network – not everyone pursues a master's degree, but those who do are determinants in the career field. Thus, you will meet people who have similar passions as you. You will build long-lasting relationships with your classmates, and they may become your potential business partners in the future.
Enhance your personal development – Students in graduate programs are more diverse from all around the world. You will meet different people and learn new perspectives from them. This will develop your social and communication skills. Moreover, a graduate degree enhances a student's self-motivation and independence as the program involves a lot of independent study and research.
Advance your career – Earning a graduate degree shows employers you have a strong passion for what you do and possess more knowledge than an undergraduate. As a result, you will bring more value to your employer and have more opportunities for career advancement.
Our Certified Investment Banking Career Program
Our certification program is designed to equip students with the necessary professional skills needed to become top performers on the job. Our goal is to help you become a first-rate professional who can successfully pursue and navigate a six-figure career, thereby dramatically increasing your future earnings potential. From day one on the job, you'll be able to perform like the MVP you are.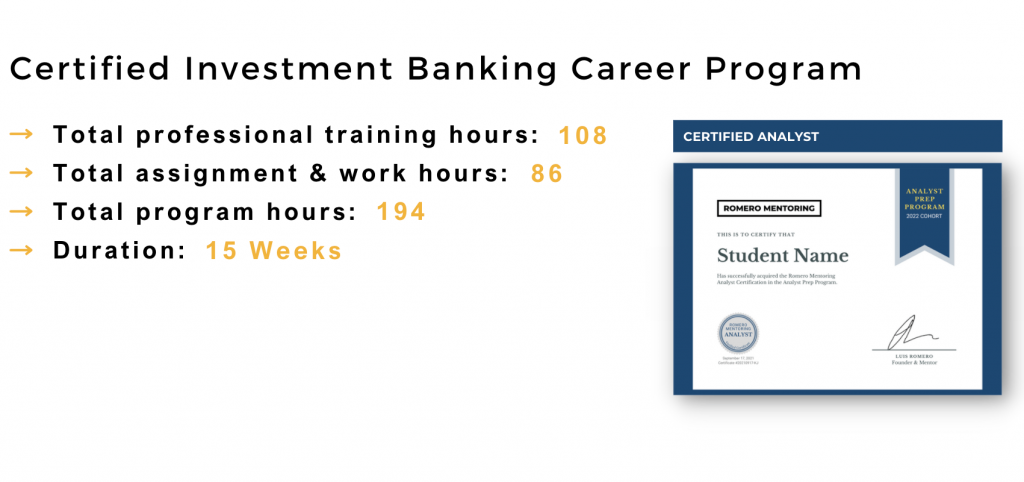 Our student in action
Our studnet in action
The Cost of a Master's Degree
Many people mistakenly believe that the tuition and fee constitute the whole cost of a master's degree. Sadly, that's not all the cost. Although tuition is clearly listed on the school's website, there are also other underlying costs a student should consider when selecting a master's program. For example, rents, food, miscellaneous, leisure, other expenses, etc. The costs vary case by case. In calculating the all-in cost of a master's degree, students need to include all possible expenses.
According to FinAid.org, the average cost of a master's degree for students is between $30,000 and $120,000.
The average cost of a master's program is in education costs about $55,200.
The average cost of a master's degree in art is about $72,800.
The average cost of a master's degree in science is around $62,300
The average cost of a master's degree in Business Administration is $66,300.
The average cost of a master's degree is approximately $64,150
Some factors that influence the cost of a master's degree:
On-campus vs. Online
In-state vs. Out-of-state
Public vs. Private
Full-time vs. Part-time
Profit institution vs. Non-profit institution
The Starting Salary With a Graduate Degree
In spite of the high cost of obtaining a graduate degree, the starting salary with a graduate degree is often higher as well. According to the National Association of Colleges and Employers, the average bachelor's starting salary for a biology major is $37,182, whereas the average master's starting salary for the same major is $69,353, representing an income boost of 86.5%. Moreover, students with a concentration in Business administration and management will earn an average starting salary of $82,372 after pursuing an advanced degree, almost $30k than students with only a bachelor's degree. Based on the following table, the average bachelor's degree starting salary is around $51,266, and the average master's degree starting salary is about $69,243. A higher degree leads to a higher salary.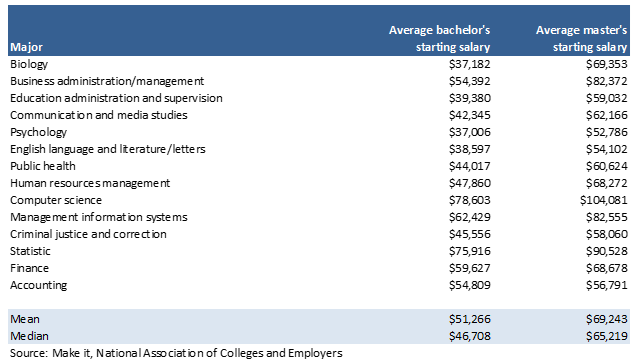 Cost of The Top Graduate Schools
In the top 13 business master's degree programs, the average all-in cost is about $133,217, and the average starting salary is around $95,255.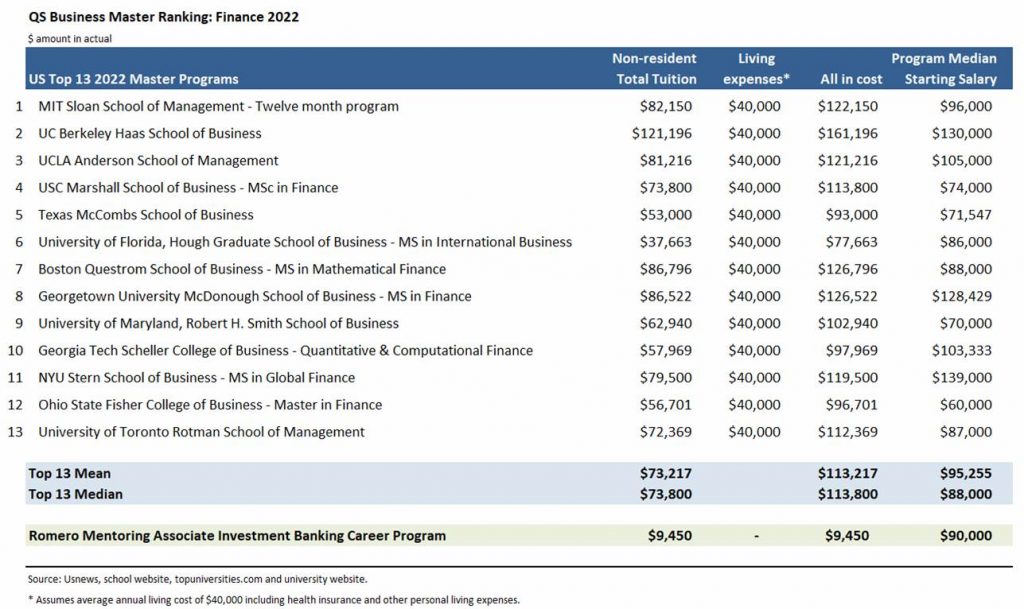 In the top 10 MBA programs, the average all-in cost is about $226,434, and the average starting salary is around $147,600.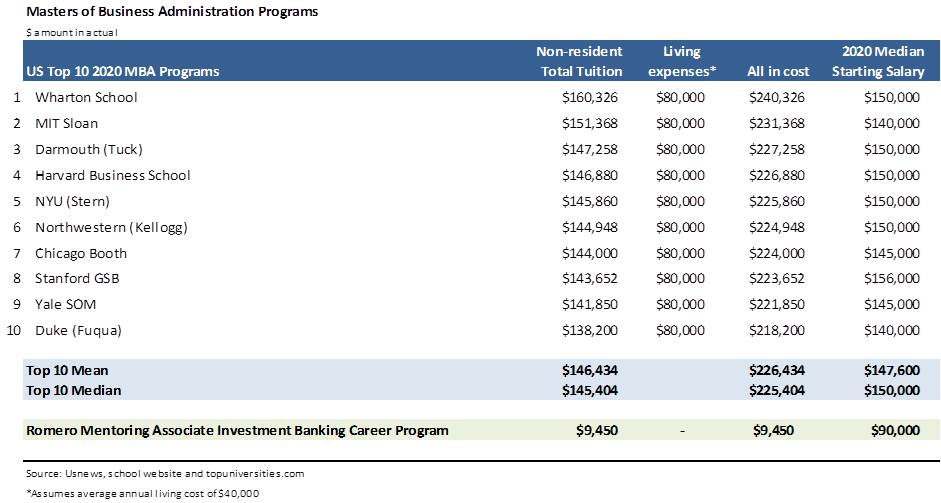 What's my Return on Education?
Hypothetically, after completing a Top 13 Master's degree program, your student loan amount will be about $113,217 (the top 13 master programs' all-in cost). If you're lucky you can expect a starting salary of $95,255 and it will increase by 8% constantly every year for the next five years based on our assumption. Taking into account tax expenses and individual living expenses, your discretionary income or savings will be left between 19%-26% of your annual salary in the first five years. For at least four years, you'll be in debt, and your discretionary income or savings income will grow slowly. Within the first five years your expected return on your education is negative. Below is a calculation example of a five-year financial return on a master's degree:
Master's degree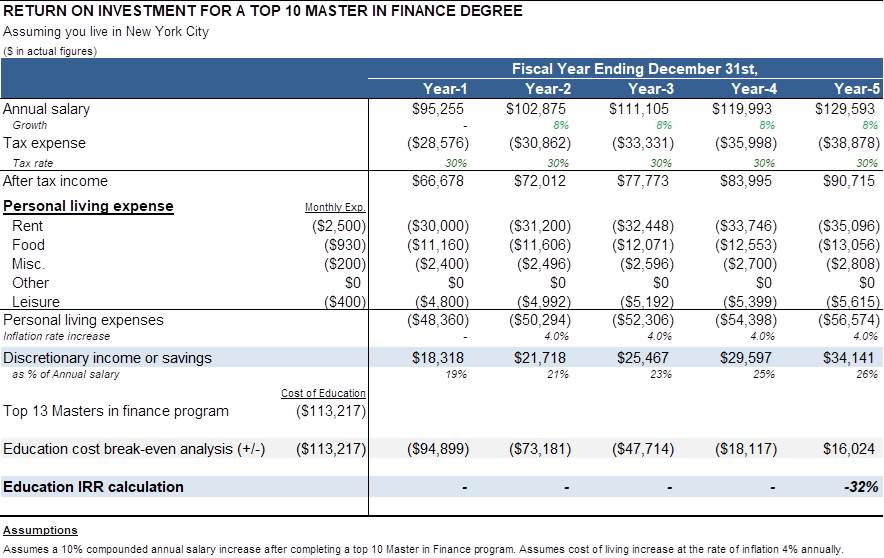 (Note: The Return on Investment for bachelor's, MBA, and other education programs can be calculated using the model above with different inputs.)
With Romero Mentoring's Associate Program (more info in the last section of the article), you end up with a similar competitive salary paying 90% less than a top 13 master's program.

Alternative Online Finance Training Program
As technology develops and academic environments change, more and more students pursue their degrees online. An online graduate program costs about half as much as a traditional graduate program. Alternative online training programs can not only give you the same skills and knowledge that you gain at graduate schools, but they can also provide you with practical professional experience and one-on-one mentorship to guide you along the way. In comparison with traditional online graduate programs, online finance training programs are less expensive and take less time to complete. They are especially valuable to industry professionals looking to make a quick transition to the finance industry with the critical technical skills and professional experience they need.
The Associate Program at Romero Mentoring helps recent college graduates, MBA students, or working professionals who are looking to gain real technical skills with hands-on internship experience to gain a competitive advantage on Wall Street. It offers the same or better results at a lower cost than other graduate programs. It is the most affordable professional finance program available.
Program Tuition: $9,450
Duration: 15 weeks (210 hours)
Starting Salary: $90,000
ROI: ~800%
Conclusion
Generally, people with a graduate degree earn more than those with a bachelor's degree. Obtaining a graduate degree will help you specialize in the career field you want and advance your career. Moreover, the program enables you to acquire in-depth knowledge, enhance soft and hard skills, gain practical experience, expand networks, etc. However, graduate education is costly with a slow return on investment. To make a good investment decision, applicants need to perform proper due diligence. You can calculate your return on investment by taking into account the cost of a graduate degree, the potential starting salary over five years, tax and personal living expenses, and other factors relevant to your finances. If you are a recent college graduate, MBA student, or working professional who looks for affordable and high-quality career training programs that can boost your career in 4-6 months. Check out Romero Mentoring's Associate Program. This program not only teaches you the essential skills but also provides one-on-one mentorship and a unique financial, practical internship like no other. Join the community and network with students from top universities and alumni who now work at the top investment banks and financial institutions.
About Romero Mentoring
Since 2016, Romero Mentoring investment banking training programs have been delivering career mentoring to job seekers, professionals, and college students pursuing careers in finance. We've helped over 400 students start their careers on Wall Street through our Analyst Prep and Associate Investment Banking Training Programs. Our graduates work at top-bulge bracket banks and consulting firms, including Goldman Sachs, JP Morgan, McKinsey, and many more.
---
Sources: