Different from the banks where we store and withdraw our money, investment banks assist governments, corporations, or other entities to raise or create capital. Investment banks may provide advice on how much a company is worth and how best to structure a deal on acquisition, merger, or sale. Investment banking analysts are experts who understand the feasibility of large projects. They help investors to identify the risks of their projects before they invest money and time.
Here's a list of the top 10 investment banks in the US ranked by Market Value of the firms:

1. JPMorgan Chase & Co – one of the world's oldest, largest, and best known financial institutions
2. Bank of America Corporation – the second-largest banking institution in the U.S., serving more than 10% of all American bank deposits[5]
3. Wells Fargo & Co – make money by lending out at a higher rate than it borrows.[7]
4. Citigroup Inc – expertise for companies within the energy, technology, financial intermediaries, and healthcare industries[9]
5. Morgan Stanley – an industry leader in wealth management across all channels and segments[13]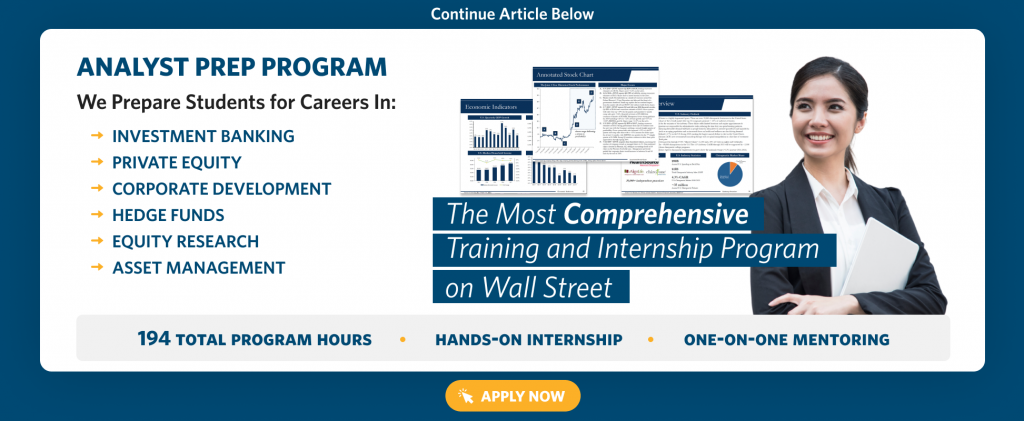 6. Charles Schwab – leading custodian for independent advisors
7. Goldman Sachs – one of the world's largest investment banks in the world by revenue
8. U.S. Bancorp – No. 1 in the Superregional Banks industry[20]
9. PNC Financial Services Group Inc – No. 2 in the Superregional Banks industry
10. Capital One Financial Corp – one of the largest credit card companies[23]
Closing
Top investment banks are prestigious and glamorous. They are the most desirable place where investment bankers want to work at. However, the companies are highly selective when recruiting. If you wish to work in one of the top 10 investment banks, then it is vitally important for you to gain your competitive edge and become a stronger candidate. You can start preparing yourself early by learning more technical skills and enhancing your soft skills.
Check out Romero Mentoring's Analyst Prep Program. It teaches the technical and practical skills that investment banks, hedge funds, and private equity & consulting firms look for in a candidate. Students begin with little to no technical skills and develop into fully prepared professionals who can perform as first-year analysts from day one through the program's training and internship.
Sources:
https://www.glassdoor.com/Salary/J-P-Morgan-First-Year-Analyst-Salaries-E145_D_KO11,29.htm#:~:text=The%20average%20salary%20for%20a,per%20year%20for%20this%20job.
https://www.investopedia.com/articles/markets/093014/how-wells-fargo-became-biggest-bank-america.asp
https://www.glassdoor.com/Salary/Wells-Fargo-Investment-Banking-Analyst-Salaries-E8876_D_KO12,38.htm
https://fortune.com/company/morgan-stanley/
https://www.investopedia.com/articles/markets/082515/how-morgan-stanley-makes-its-money-ms.asp#:~:text=Morgan%20Stanley%20offers%20products%20and,revenues%20and%20net%20interest%20income.
https://www.glassdoor.com/Salary/Morgan-Stanley-Investment-Banking-Analyst-Salaries-E2282_D_KO15,41.htm
https://www.usbank.com/about-us-bank/company-blog/article-library/fortune-names-us-bank-one-of-the-2021-worlds-most-admired-companies.html
https://www.glassdoor.com/Salary/PNC-Financial-Services-Group-Investment-Banking-Analyst-Salaries-E507_D_KO29,55.htm