Hiring new employees is one of the most expensive parts of running a business. According to SHRM studies, the US average expense per new hire is $4,425. Moreover, in more competitive industries, such as Finance and Tech, the hiring cost is between $42,500 to $63,750. On the one hand, the high cost is due to high turnover. In 2015, the average tenure for an investment banking analyst and associate was 17 months, compared with a 26-month average for those who depart the same position a decade earlier (2017 Wall Street Journal article). In tech, the average tenure is 1.8 years (Paysa report). On the other hand, they provide strong employment opportunities and immediate returns as the economy grows and technology booms. For example, an investment banking analyst's average salary is about $80,000 – 100,000 per year.
When hiring international students, firms also need to provide work authorization sponsorship, and the application process can be costly and time-consuming. Hence, to become a worthwhile investment for the companies, international students should gain more competitive edges by acquiring more soft and hard skills, gaining more professional experiences, and expanding their network to connect with potential employers.
This article will help international students learn about the common costs for hiring and other costs for hiring an international student full-time in the U.S. and why this information is important.
Internal HR team
For big companies, they would use their internal HR team to do everything in the hiring process. The average Associate Human Resources Director salary in the United States is $140,356 as of May 27, 2021. (1) The cost of HR manager per hire can be calculated in this way: (2)
HR manager hourly wage: $140,356 / 48 workweeks a year / 40 hours a week = $73.10. Say he spends 2 hours posting a job, 8 hours reviewing resumes, and 10 hours interviewing candidates for a specific job. The total hours an HR manager spends on the hiring process is about 20 hours. Hence multiply his hourly pay of $73.10 by 20 hours spent per hire. The result is $1,462 per hire.
External HR team
For small or startup businesses, companies would either use recruiting software or hire HR agencies to help them recruit. The price for such a service ranges from 15 to 25% of the employee's annual salary. According to one study, the total a firm can spend on recruiting adds up to $16,000 per year for a single placement. (3)
Employee referral bonuses
Studies have shown that employee referrals improve time-to-fill by 40%. Comparing with the tens of thousands of dollars of cost-of-vacancy, the referral bonuses only cost between $1,000 – $5,000 on average depending on the level of the position. (4)
Career events
Career events and job fairs allow employers to meet prospective new employees in person, hand out materials about their companies, interact with attendees, and put their names out there. According to Glassdoor, the cost of participating in a single event like this ranges from $125-225, which does not include other costs such as accommodation, travel, marketing materials, and so on. (3)
Job boards fees
Companies pay for job boards to market their job openings. It cost around $300 per month to advertise a position according to Glassdoor. (5)
Background checks
Companies can check for anything from verifying new employee's education, previous employers, to criminal databases. The cost can be as little as $5 and as much as $80 per single applicant, depending on how detailed companies want to go. (3)
Onboarding and training
The onboarding process is the period of learning and training after an employee joins the organization. According to a benchmark report from SHRM, the average cost to onboard a hire is around $4,129. (6) The costs after welcoming a new employee on board can include: (7)
The hours managers spend training new employees—$1,296 per employee on average (8)
Paper, printing, and office supplies—between $922 and $1,106 per employee annually on average (9)
Training and development initiatives—$1,252 per employee on average (10)
Tools and software employees need to do their work
New office equipment
First-day orientation and learning materials for the new employees
H-1B application fees
H-1B work authorization allows U.S. employers to hire foreign employees temporarily in special occupations, such as architecture, engineering, mathematics, physical sciences, social sciences, medicine and health, education, business specialties, accounting, law, theology, and the arts. An H-1B visa application can cost from $2,000 to $7,500 or more depending on attorney fees, optional fees, employer criteria, etc. (USCIS). (11) And it is paid by the employers. As of January 8, 2021, the original H-1B visa lottery which randomly selects candidates for work eligibility in the U.S. is replaced by a process that prioritizes those offered the highest salaries for their occupation and geographic areas. With that being said, international students with less work experience or competitive skills will be shut out of obtaining the H-1B visa. (12)
H-1B cap
Each year, there are 65,000 H-1B available for candidates who have completed undergraduate, and an additional 20,000 for those who have graduated with a master's degree or doctorate from a U.S. institution of higher learning. Non-profit employers are not subject to the H-1B cap numbers. (13)
Why this is important and how you can become a worthwhile investment for companies
U.S. companies invest a large number of assets and time to hire employees, and they are very selective in their recruiting process. International students face different obstacles when finding a full-time job in the country. Thus, it is important to do thorough research about the company and learn about the skills international students need to be prepared early to become a good fit for the position.
If you are a business student and interested in pursuing an investment banking career, Romero Mentoring's Analyst Prep Program helps international students outperform their peers and be stronger applicants when applying for finance jobs. The program teaches the technical and practical skills that investment banks, hedge funds, and private equity & consulting firms look for in a candidate. Students begin with little to no technical skills and develop into fully prepared professionals who can perform as first-year analysts from day one through the program's training and internship.
Romero Mentoring's Analyst Prep Program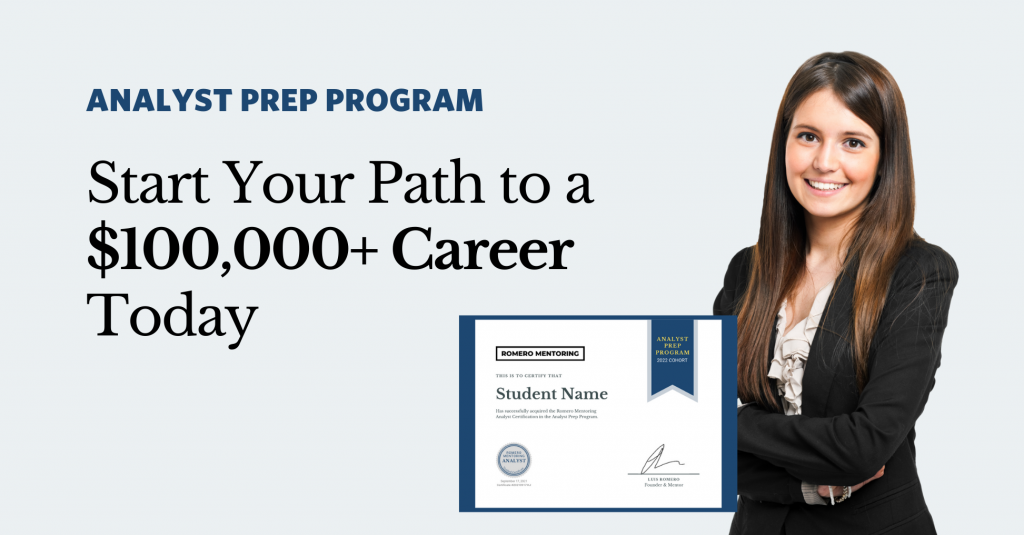 The Analyst Prep Program teaches the technical and practical skills that investment banks, hedge funds, and private equity & consulting firms look for in a candidate. Students begin with little to no technical skills and develop into fully prepared professionals who can perform as first-year analysts from day one through the program's training and internship.
---
Our Story
Luis Romero, founder of Romero Mentoring, spent five years developing an analyst training program that he wishes he had when he was in college – especially one that gave him access to a complete training and finance internship experience that could advance his career. Since no opportunity like this existed to him at the time, Luis went through a stressful recruiting process like so many others have. He successfully landed a full-time job offer upon graduation and worked as an M&A analyst at Credit Suisse in NYC for two years. He then moved to the buy-side as a junior trader and analyst. After gaining experience there, he created his own fund, Romero Capital, and later become an instructor in financial modeling and valuation. After working with hundreds of professionals and analysts, Luis became committed to creating his own mentoring program because he understood the crucial need for a hands-on, personal experience in the competitive world of finance.
Sources
WorkoPolis. "How to calculate cost to hire (and why it's important)." Workopolis, March 26, 2018
Mile Zivkovic. "The True Cost of Hiring an Employee in 2021." Toggl hire, May 22 2018.
Bailey Reiners. "11 WAYS TO OFFER AN EMPLOYEE REFERRAL BONUS." Built in, January 12, 2021.
Glassdoor Team. "How Much It Costs to Post a Job Online." Glassdoor, September 19, 2019.
SHRM. "Average Cost-per-Hire for Companies Is $4,129, SHRM Survey Finds." SHRM, August 3, 2016.
Brian Anderson. "What is the Cost of Onboarding an Employee?" BambooHR, May 16, 2019.
ATD Research. "State of the Industry."ATD, December 2018.
Barbara Bean-Mellinger. "The Average Cost Per Month for Office Supplies." Chron, March 8, 2019.
ATD Staff. "ATD Releases 2016 State of the Industry Report." ATD, December 8, 2016.
FRAGOMEN. "DHS Delays Rule That Replaces Random H-1B Cap Lottery with Wage Level Selection Process."
---