Despite its hectic and volatile market, political dubiety, and immense sovereign risk. Latin America is a sector many times overlooked, which has much potential for economic growth, expansion, and development. Latin American banking systems present an immense opportunity for growth as financial intermediaries. Foreign Direct Investment (FDI) is a primary source of capital for Latin America; currently, FDI accounts for approximately two-thirds of all financial flows to the region. The Latin American region comprises 33 countries, out of which the most prominent in the Investment Banking Industry are: Brazil, Mexico, Chile, Colombia, Peru, Argentina, Panama, amongst the top contenders. Brazil is the strongest country representing 57% of all deal volume in the region in 2020 LTM. The country has the Top-5 spots for Latam's ten largest banks ranked by assets in 2021, followed by Mexico, Colombia, and Chile. Brazil and Mexico being the countries with the largest GDP.
The following are Latin America Top-10 Banks and the Caribbean by total assets:

There is still a diversity in terms of what type of banks are involved in the region. Bulge Brackets Investment Banks (BBs), Domestic Banks, and Elite Boutique Investment Banks (EBs) play a significant role in a wide arrange of transactions. Of course, to what degree of involvement varies depending on the bank. The Bulge-Bracket banks generally tend to be involved in the most significant M&A deals. Domestic Banks tend to participate in IPOs, debt issuances, and regional M&A deals. Banks such as J.P. Morgan and Citi Group have decisive participation as well. As for Latin American Banks, Brazilian is the most prominent contender here, with the Top 3 of the country in terms of Investment Banking being: BTG Pactual, Itáu, and Bradesco. The elite boutique banks have much smaller participation when compared to Europe, Asia, and the U.S., amongst them are Evercore – only in Brazil and Mexico, Lazard – with offices in Argentina, Brazil, Chile, Colombia, Mexico, Panama, and Peru, Rothschild – primarily conducting advising for European companies buying assets in the region. Lastly, the In-Between-a-banks (IBABs) who partake in the region are Santander, HSBC, and BBVA – with a strong performance mainly focusing on DCM (Debt-Capital Markets) & ECM (Equity Capital Markets). Latin America offers various banks, regional and International, with strong participation from the Investment Banking Division. We will explore more in-depth the primary drivers and industry's which composed the economic market.[2]
List of the top LATAM deals by size in 2020 & 2021:
Listed below we can observe the top deals for the region and their value by country. In 2020 Brazil alone accounted for 56.6% of all deal volume in the region. Followed by 14% by Mexico and 10.6% by Chile. Information Technology and Consumer Goods lead in deal volume, whilst Real State and Healthcare showing growth when compared to prior periods.
Deal Volume & Value by Country: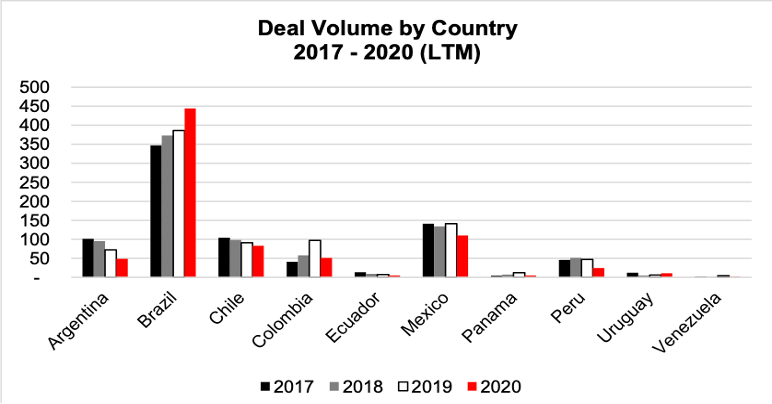 Deal Volume & Value by Sector: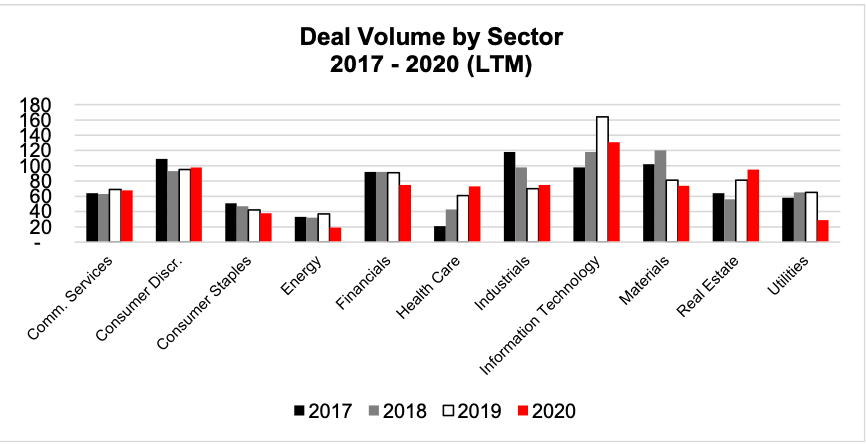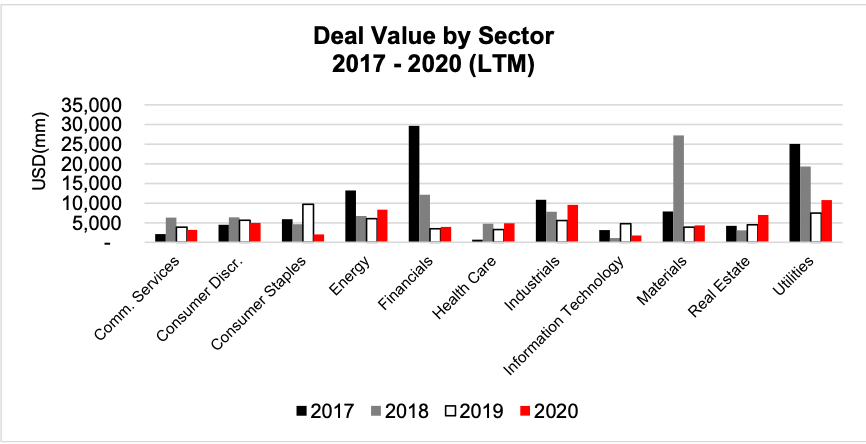 Leading Advisors to M&A in Latin America, 2021: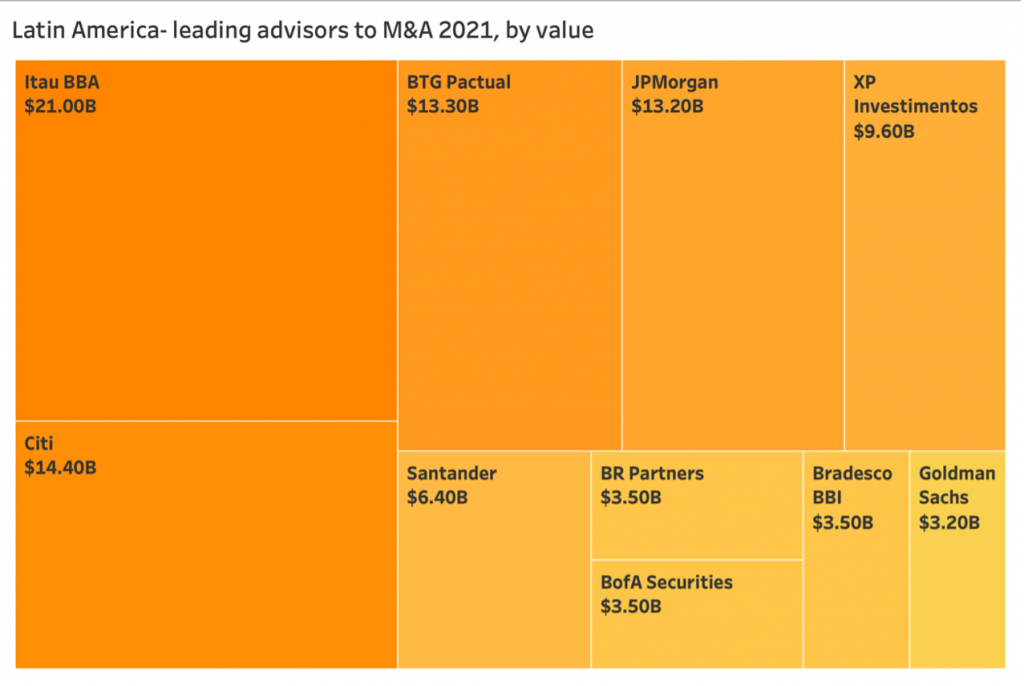 Top M&A Deals in Latin America, 2020: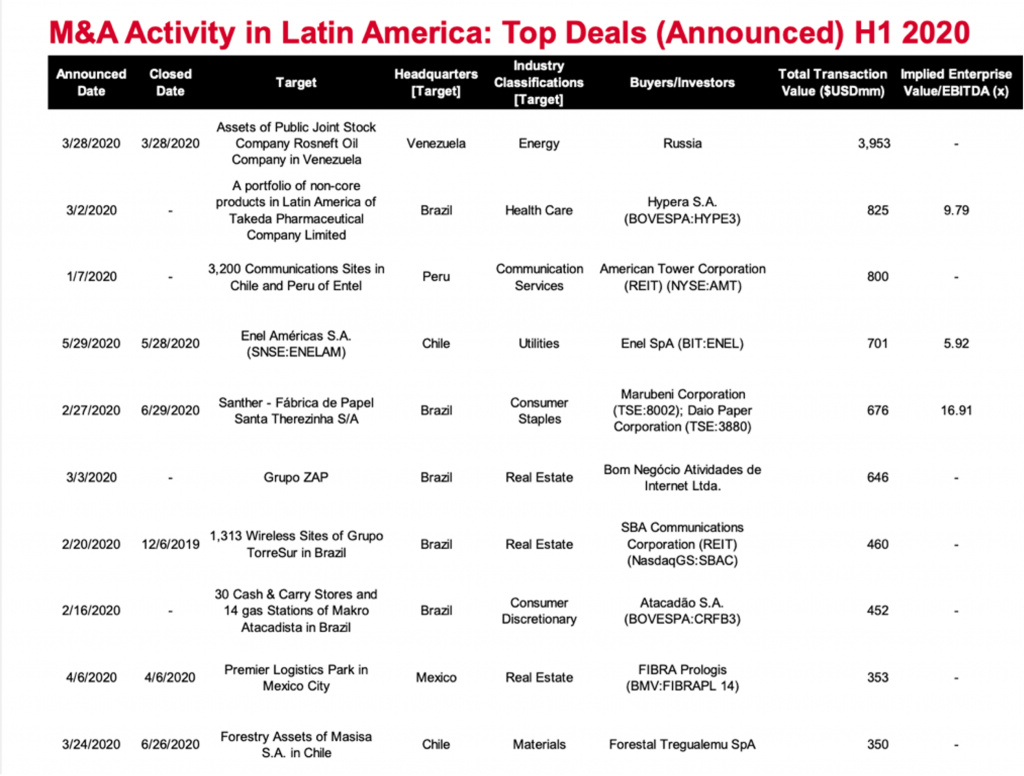 Cross-Border Intra Regional Deals 2020TLM
The majority of deals in the region are intra-regional, meaning that the targeted company is headquartered in Latin America. Over time there has been an increase in such deals, potentially indicating a decrease in foreign investors. As expected, Brazil continues to dominate, representing 68% of all intra-regional deals.

Foreign Interest in the Latin America:
Latin America as a region has much foreign interest. In 2020 alone, 34% of all deals involved a foreign buyer, out of which about 61% involved the U.S. and Canada. Information Technology is the heaviest invested sector by the U.S. Investors whilst the Material sector remains the primary interest of Canadian Investors. They also show foreign investments from Spain, China, and Others – making significant investments into industrials and Utilities.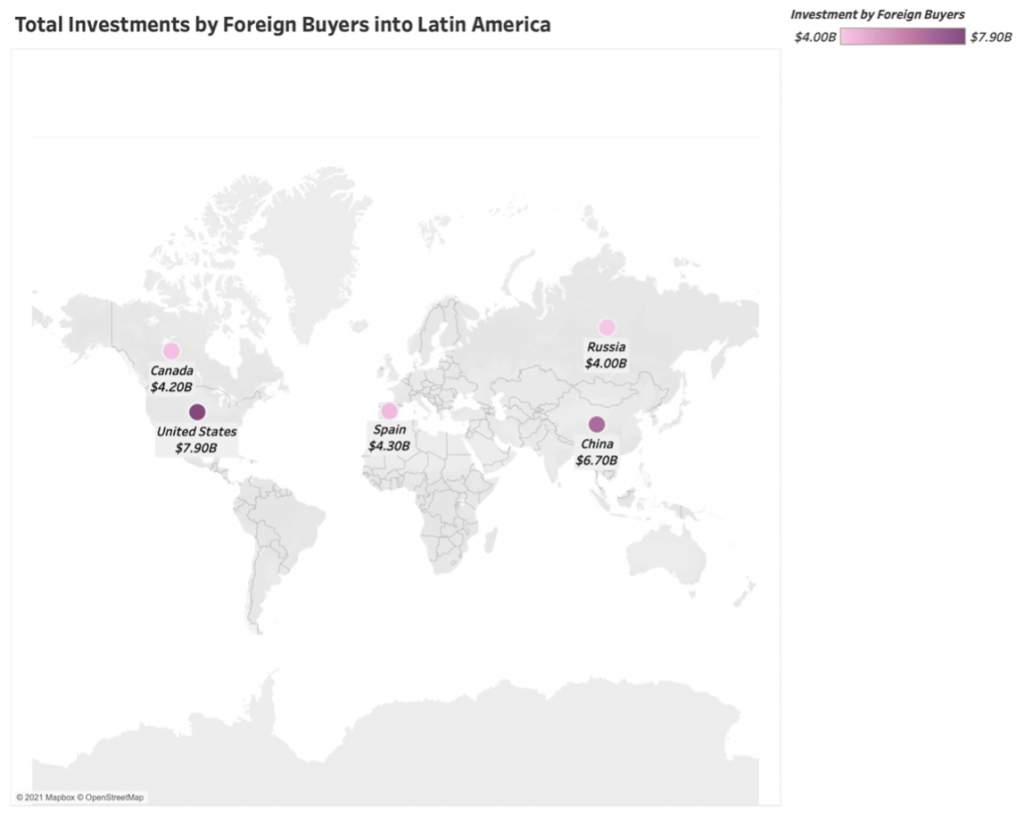 Highlighted deals of 2021 for Latin America:
Mercado Libre's sustainability bond issuance
Involved Banks: Bank of America, Citi, Goldman Sachs, JPMorgan, BNP Paribas
Mercado Libre is the greatest online business platform in Latin America, equivalent to China's Alibaba. It fills in as a coordinated supplier of online devices permitting organizations and people to exchange items and administrations the area.
In January 2021, this territorial titan appeared in the worldwide security markets, following a year where its CEO assessed the pandemic sped up its development by three to five years.
The organization acquired $14bn worth of orders from 330 financial backers from 30 unique nations within the two hours of its dispatch. This outcome places the organization in a competitive place globally and in front of its local competitors.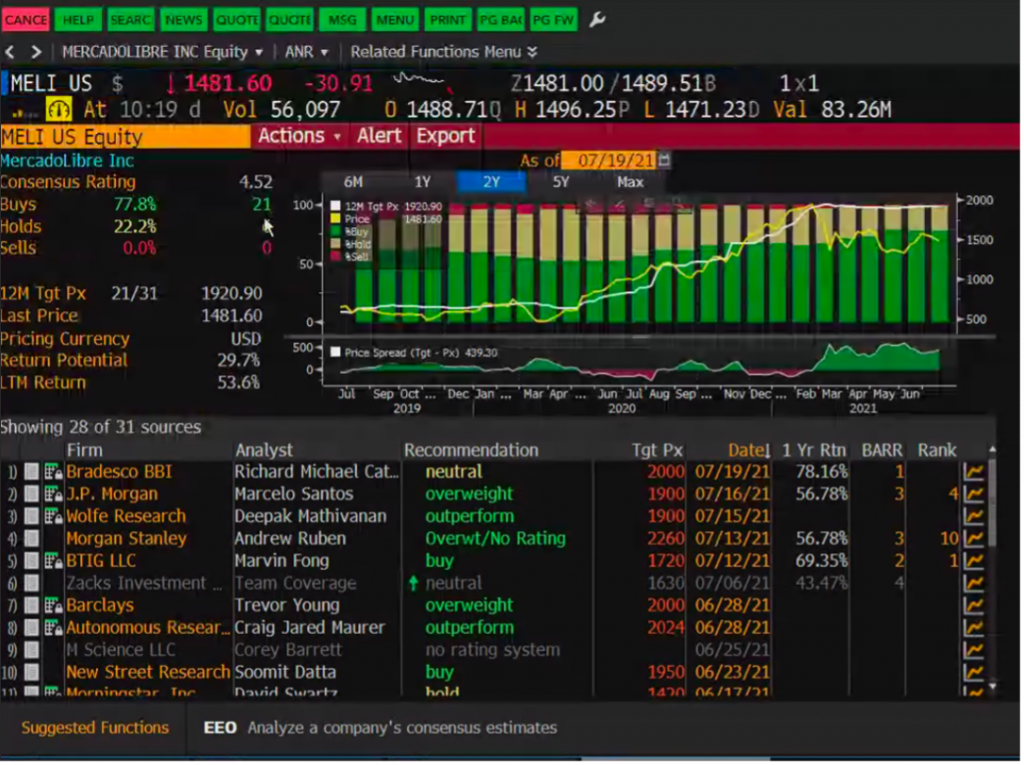 Peru's $4bn triple-tranche issuance
Involved Banks: BBVA, Citi, Goldman Sachs, Itaú BBA, and Morgan Stanley
Peru conducted a groundbreaking bond transaction in November 2020. Its largest-ever transaction was a $4 billion triple-tranche offering. Even though the sale came only days after President Martin Vizcarra was impeached on allegations of corruption and mishandling the Covid-19 epidemic, it received $14 billion in demand from 600 investors.
The transaction was a resounding success, with the government achieving the lowest 12-year coupon for an American Latin issuer and the lowest 100-year US dollar rate for an emerging market issuer. It was also a South American sovereign's largest and longest-term bond deal in 2020.[6]
Petz's 3bn reis IPO
Involved Banks: Itáu BBA, Santander, Bank of America, JPMorgan and BTG Pactual
Petz is a prominent pet shop and healthcare provider in Brazil, with more than 100 locations and over 100 veterinarian clinics. With a well-established digital platform, the firm was also able to build a solid omnichannel strategy — digital sales rose by a third year-over-year between 2019 and 2020. It also features a well-attended loyalty program that encourages repeat business, with the program accounting for 80 percent of all sales. Despite the Covid-19 epidemic, the company also claimed good financial performance and growth for the first half of 2020. All of this provided the firm with a solid basis ahead of its September 9, 2020, debut on the B3 stock exchange's Novo Mercado section.
The sale was over seven times oversubscribed, with 195.92 million shares sold at a price of 13.75 reais ($2.48). The total amount raised was $3.031 million reais, which will be allocated towards its Capital Expenditures (CapEx) to provide additional stores and healthcare facilities and the continued growth of the company's digital platforms.[6]
What is the role of an Investment Banker in LATAM?
We must keep in mind a few things when considering Investment Banking in Latin America, for example, the most common deal types and industries. We must understand that the size of deals are significantly smaller when compared to the rest of the Global Market. Billions of dollar deals are abnormal, apart from Brazil at times. While a $1-3 billion (USD) deal may be common for the United States, it is massive for Latam.
The average deal can be from $20 to $50 million (USD), with a sporadic deal of over $100 million. Of course, This is entirely dependent on the industry and country the deal is being made in. The economy in Latin America is primarily commodity-driven. However, infrastructure and natural resources are still present, composing a high percentage of deals in the region. Vital performing industries in Latin America are industries such as metal and mining, alternative & clean energy technology, oil & gas, water, Industrial (textile, chemical, plastic, auto manufacturing), and General (Health care, education, information technology, and financial services) to name a few and better exemplify my point.
Infrastructure is a big industry in Latam as most countries lack basic infrastructure; private equity firms have been deeply involved in this sort of deal – keeping in mind said deals are difficult to find and close. Consumer goods is a solid industry for Latam with significant deal flow. In this area, you cover both hard goods (durable) and soft goods (non-durables). The focus here is M&A, which is the typical driver of transactions for this sector. The real estate sector is emerging, and there has been an increment in those deals being prevalent in other countries such as Mexico, Chile, Brazil, Colombia, and Panama.[7]
In Latin America, there are few real hedge funds and relatively few Private Equity firms, except for in countries such as Brazil and Mexico, so investment banking is to be considered a long-term career, as exit options are limited. As compared to the U.S., where the banking industry is facing new challenges to keep and recruit new talent from competition coming from PE firms, hedge funds, and even its biggest threat yet technology companies – such as Google, Microsoft, and Apple, to mention a few, which juxtaposed to the financial industry offers the same benefits with less demanding hours. In Latin America, banks have significantly more dominance, and opportunities might be more limited than in developed countries.
Not to worry, as many banks have offices in the U.S. – the majority located in New York, with several of them opening or at least strongly considering the possibility of branching operations to South Florida. Here, in my opinion, is a better opportunity as we can still work and advise on the Latam region whilst not limiting our exit opportunities. As well as provides us with a great opportunity as we could potentially get exposed to even more markets as if we were on a regional office and have a localized approach to said region.
Even though Latin America is an emerging economy, it has a strong potential for growth and presents an opportunity for anyone interested in infrastructure, real estate, consumer goods, IT, and Industrials Industries.
Top investment Banker Executives in Latin America: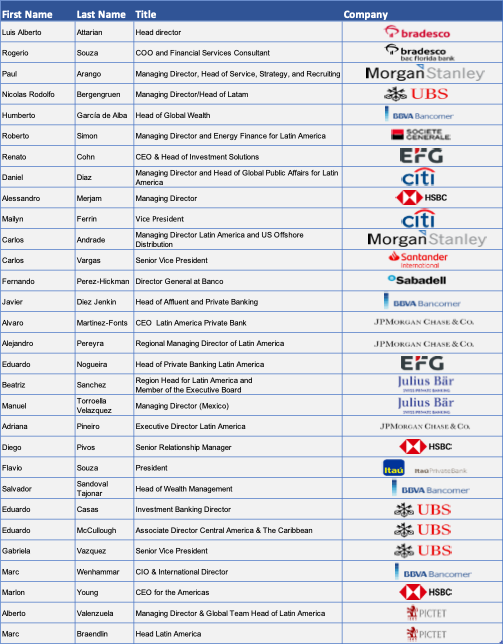 Romero Mentoring's Analyst Prep Program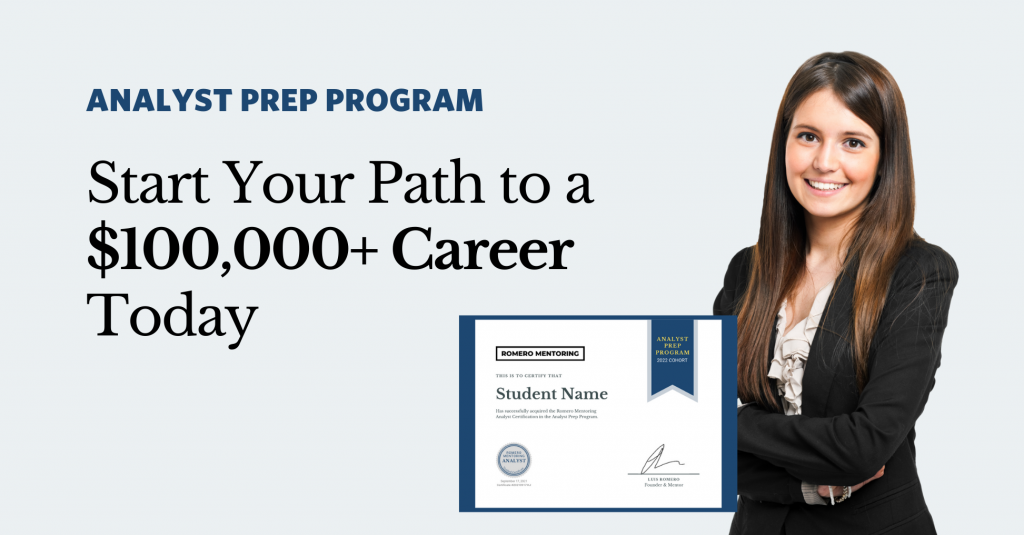 The Analyst Prep Program teaches the technical and practical skills that investment banks, hedge funds, and private equity & consulting firms look for in a candidate. Students begin with little to no technical skills and develop into fully prepared professionals who can perform as first-year analysts from day one through the program's training and internship.
About Romero Mentoring
Since 2016, Romero Mentoring investment banking training programs have been delivering career mentoring to job seekers, professionals, and college students pursuing careers in finance. We've helped over 500 students start their careers on Wall Street through our Analyst Prep and Associate Investment Banking Training Programs. Our graduates work at top-bulge bracket banks and consulting firms, including Goldman Sachs, JP Morgan, McKinsey, and many more.
---
Sources: