The Current State of Affairs
As millions of people all around the world shelter in their homes to stop the spread of the coronavirus, global economic markets have come crashing down. With most non-essential stores closed for the time being, many are beginning to get laid off and investors are anxious.
As of March 23rd, the Dow Jones Industrial Average was down 30% from its highs only a few months ago. Although the fall is partly because markets had looked somewhat overextended, the situation has been significantly exacerbated by the coronavirus. As mentioned, it has slowed down the global economy because many people are quarantined and not able to maintain their normal spending habits. Some have even taken to stores like this is an apocalypse and have bought all the toilet paper and canned food they can find. While this example is rather anecdotal and the actions are inadvisable, it shows a shift in public rationale from fear to panic.
This panic has also appeared in the movement of the stock market as people desperately sell off their shares, fearing impending market failure. Newsfeeds are clogged with information pertaining to the drop in stock prices, as well as general information about the disease and how it is spreading. With the overwhelming amount of information, which sometimes contradicts itself, many are confused and uncertain. They are not sure how much longer they are going to need to quarantine and keep living like this, and they are nervous for the future of the economy.
         In this article, I will present the history of the virus, as well as expert opinions on how it will most likely progress. I will also offer the opinions of several investors about the future of the stock market and make an argument as to why I believe they are right given the predicted spread and implications of the virus.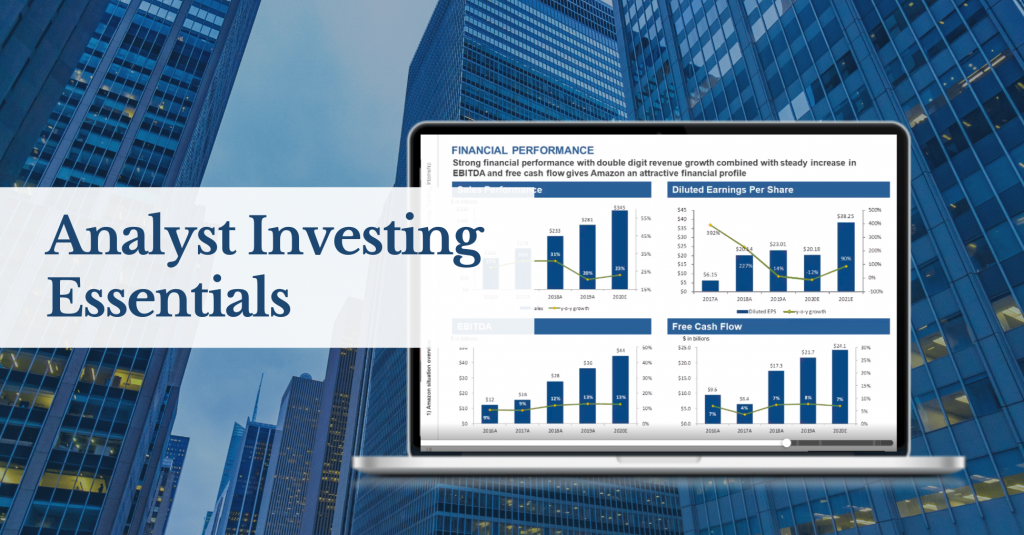 What is COVID-19 and How Did it Develop?
Coronaviruses are a family of viruses. They cause diseases in animals, and previously there had been six of them, including MERS and SARS, that had transferred to humans.1 COVID-19 is the seventh in the group, and what makes it so dangerous is the fact that it is so readily transferrable. The symptoms of the respiratory disease, which include aches and pains, sore throat, and fever, are similar enough to the seasonal flu that people who initially had it traveled around and unintentionally spread it to others.
While COVID-19 has a lower mortality rate than MERS and SARS, at around 3.5%, it is still much higher than that of the seasonal flu which is 0.1%.2 The true danger of this situation is not necessarily the coronavirus' death rate, but the threat that healthcare systems could be overwhelmed with patients. In that scenario, people with potentially more fatal diseases or in dire conditions could be turned away due to a lack of space and available medical staff.
Health officials believe that this outbreak of COVID-19 originated in a "wet market" in Wuhan, China that sold both dead and live animals, including birds and fish. Out of those who went to the market, 27 contracted the virus, but it takes between two and fourteen days to show symptoms if you have COVID-19.3 Thus, many went about their lives as usual and unknowingly spread the disease to others.
Within weeks it had spread through much of China, and by January 11th, China reported its first death from the coronavirus. By January 30th, there were almost 10,000 worldwide confirmed cases of the disease and the World Health Organization declared a global health emergency.4 Since then the disease has continued to spread around the globe, and there are now over 350,000 confirmed cases worldwide.5
How Has the Stock Market Been Impacted?
The Dow had been doing very well in 2020. It started the year off with record highs and continued the pattern, crossing the 29,000 threshold for the first time ever on January 15th. It reached its standing all-time high of 29,551 on February 12th, but everything came crashing down shortly after that. By March 23rd, it hit lows of 18,308, which is a more than 30% drop from the high set only a little more than a month before.6
There have been a few stocks that have been doing well despite all the downward pressure on the market. With everybody staying inside, Netflix has gotten a lot more business, and consequently its stock has only dropped about 10% from highs set in February. Meanwhile, Zoom Video Communications is also doing impressively well, its stock hitting a record high of $175 per share, which is an increase of 150% from lows in January. The company has benefited from the quarantining, as many businesses and schools use their service for online communication.
The US government has been understandably concerned about the drop and has been trying to mitigate the losses. On March 15th, the Federal Reserve announced a $700 billion quantitative easing program and said that it would cut its benchmark interest rate for mortgages to 0%.7 This followed a move the Fed made on March 3rd to cut its benchmark federal funds rate by half a point to a range of 1% to 1.25%.8 The Fed has also announced a plan to inject $1.5 trillion into the stock market in an effort to prevent "unusual disruptions."9 So far, the market has continued to plummet, and it remains to be seen if it will continue to drop or if it is time for a pullback.
What Does the Future of the Disease and the Stock Market Look Like?
One possible scenario is that a huge portion of the world could become infected. Harvard epidemiologist, Marc Lipsitch, has predicted that it is plausible for 20% to 60% of adults around the world to catch the disease.10 This is a likely outcome because experts such as Anthony Fauci, the director of the National Institute of Allergy and Infectious Diseases, predict that the earliest a COVID-19 vaccine could be deployable is "in a year to a year and a half."11
The best-case scenario is that a vaccine is developed before that, and we are able to end the epidemic. The worst-case scenario is that we are not able to "flatten the curve," meaning that we are not able to slow the spread of the virus so that it does not overwhelm our healthcare system. If this happens, doctors will be forced to choose who to save and who to shut out. Going with the most likely scenario, though, coronavirus cases in the US will probably peak around mid to late May.12 This means that we might have to fight the virus for several more months and that we might not have seen the end of this economic contraction.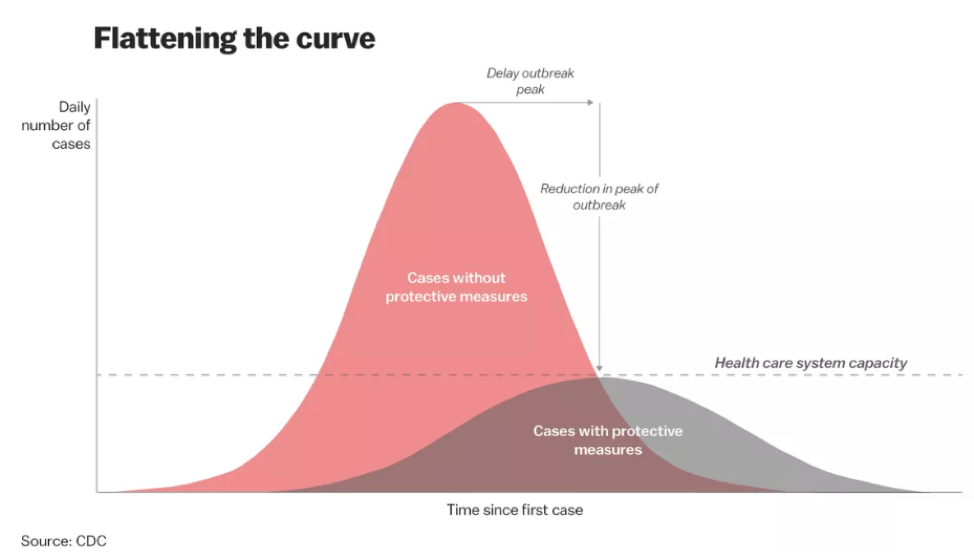 As far as the future of the stock market, Goldman Sachs predicts that we haven't seen the bottom of the drop yet. They predict that the S&P could hit a low of about 2,000, which is a 41% decrease from its all-time high. They believe that this will happen around the middle of the year, which corresponds with the predictions for when the coronavirus will peak.13
         I agree with this assessment, as the 2,000 mark of the S&P is a strong support, and the markets have already dropped significantly due to coronavirus fears. I doubt that investor sentiment will continue to deteriorate at such a magnitude, although it is very likely that the coronavirus epidemic will get slightly worse from here. Thus, it is possible the markets will continue to drop at least a little more. After the summer, as cases of coronavirus start to drop and people begin to resume life as usual, the market will likely begin a slow recovery. It may not record highs again for quite some time, but it will become more stable and start another upward climb. That being said, markets are always unpredictable, and, in the end, it is up to individual investor discretion to determine what to do.
Romero Mentoring's Analyst Prep Program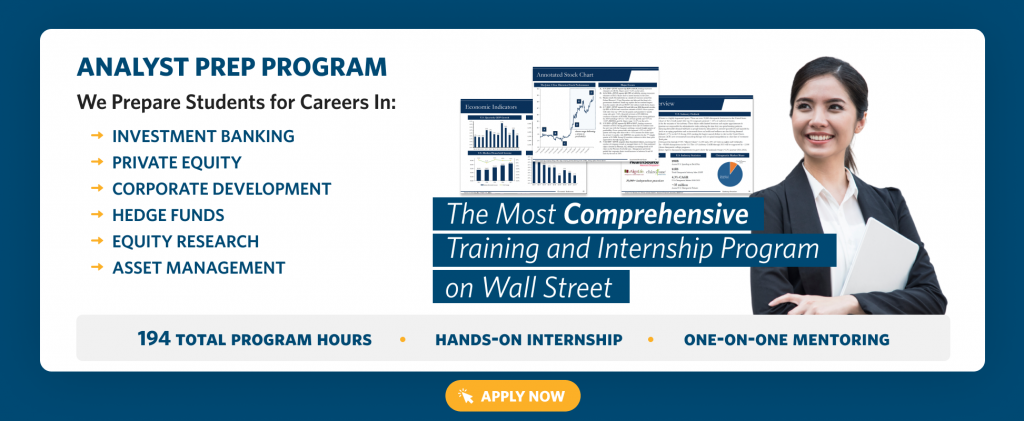 The Analyst Prep Program teaches the technical and practical skills that investment banks, hedge funds, and private equity & consulting firms look for in a candidate. Students begin with little to no technical skills and develop into fully prepared professionals who can perform as first-year analysts from day one through the program's training and internship.
---
Our Story
Luis Romero, founder of Romero Mentoring, spent five years developing an analyst training program that he wishes he had when he was in college – especially one that gave him access to a complete training and finance internship experience that could advance his career. Since no opportunity like this existed to him at the time, Luis went through a stressful recruiting process like so many others have. He successfully landed a full-time job offer upon graduation and worked as an M&A analyst at Credit Suisse in NYC for two years. He then moved to the buy-side as a junior trader and analyst. After gaining experience there, he created his own fund, Romero Capital, and later become an instructor in financial modeling and valuation. After working with hundreds of professionals and analysts, Luis became committed to creating his own mentoring program because he understood the crucial need for a hands-on, personal experience in the competitive world of finance.
---
References
---