The world of finance is vast; composed of various areas with the job role of a financial analyst becoming increasingly popular today in finance. People from all age groups make millions of searches online every day to get a finance internship.
As we all know, having an internship is the first step towards building a successful lifelong career. Internships help you combine classroom knowledge with practical experience and build upon your skill set. To work in finance, internships are even more important given the complicated nature of the job. For finance majors, the right internships will provide you with practical experience in conducting stock analyses and financial modeling.
A financial analyst makes all types of predictions based on current market trends and business fundamentals. Analysts assist their firm in making critical business decisions according to their industry, location, and economic trends.
In this article post, we'll discuss the benefits and several other aspects of a financial analyst internship to give you a detailed idea of how a typical entry-level finance internship works.
We'll start first by discussing the steps to get a finance internship.
How to get a finance internship in 3 simple steps
You've done some Googling on how to get a finance internship and have applied to countless job postings, but no response. Here's some things you may be missing that employers are searching for in potential candidates:
Step 1: Education
If you're looking to work in finance, you need education – a good college education. By having a college education, you learn the fundamentals of finance and how to execute essential financial processes. Employers are typically looking for a bachelor's degree in finance or a finance-related field.
Step 2: Develop your skills
Congrats! You're working on your finance degree and made it to step two. To make the most of your finance education become involved in student clubs relating to finance. Be proactive by participating in stock pitch competitions and have a simulated trading account where you can test your ideas. This is where you fine-tune your fundamental finance skills and knowledge as you continue to learn throughout your college education.
Step 3: Get a finance internship
Start applying as early as your freshman year. With technology on the rise, there are several ways to get a finance internship. You can search job sites, LinkedIn, and even ask people in your network for opportunities. Top social media platforms like Facebook, Twitter, and Instagram are also excellent options to find these jobs opportunities. Once you find a suitable opportunity, send them your glowing resume and prepare well for the interview. There are many types of entry-level finance internships, but the role of a financial analyst seems to be the standard role for young professionals looking to break into finance, however there are many different types of financial analysts.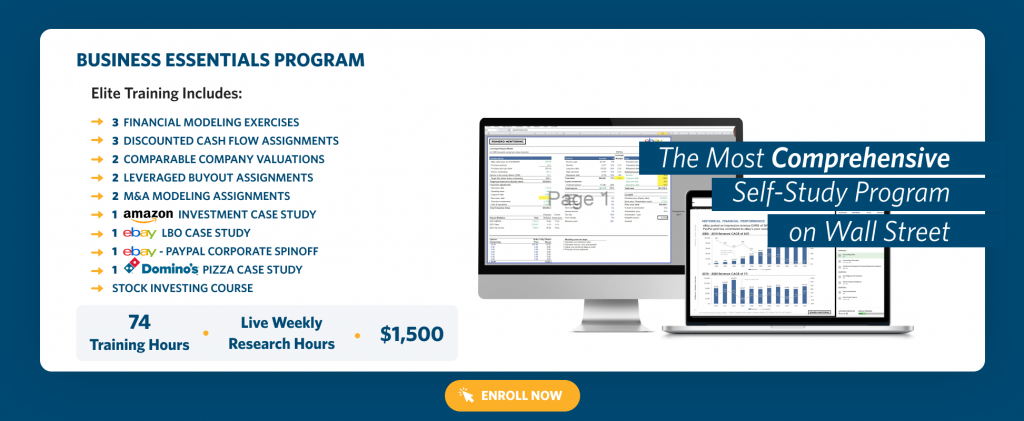 Content Preview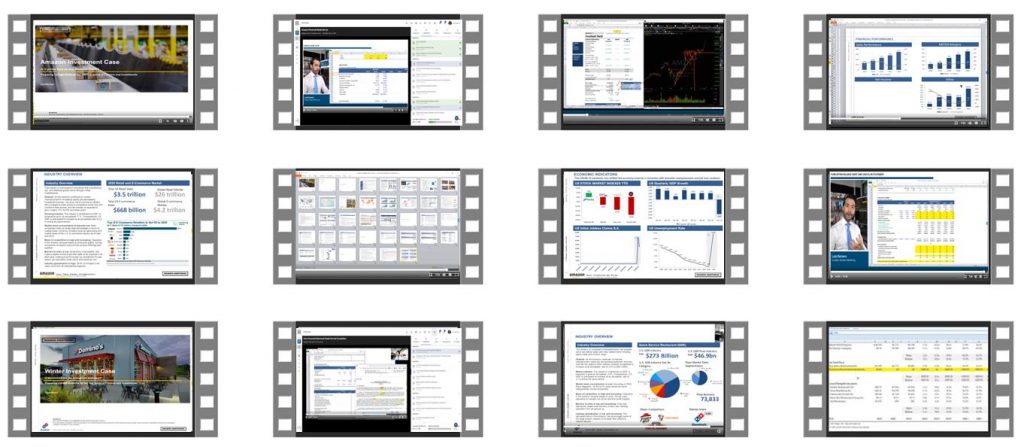 What are the main types of financial analysts?
These are the common types of financial analysts:
Investment Banking Analyst
Investment banking analysts review and analyze financial data for investment decisions. Investment analysts typically use these investment decisions to increase their clients' and firms's investment banking portfolio growth. These analysts work primarily in bulge bracket banks and go through extensive training. At the end of their training period, these analysts are capable of creating pitchbooks, financial models, discounted cash flow analyses, and much more. While the work of an investment analyst is demanding, the rewards are well worth the hard work. Analysts in this field are compensated generously and their career is developing while working.
Equity Research Analyst
Equity research analysts work in both the buy-side and sell-side of the financial services industry. These analysts produce research reports on specific industries to provide recommendations for buying or selling companies' stocks. To work in this field, these analysts specialize in a particular industry or group of companies. By doing so, an equity research analyst can develop the necessary skills and expertise to provide accurate recommendations.
Portfolio Managers
Portfolio managers help employers build an investment portfolio by determining industries and products to focus on. They typically supervise a team of analysts who are responsible for the overall performance of a project. The team is also responsible for discussing matters with stakeholders and conducting interviews of candidates looking to get a finance internship.
Hedge Fund Managers
Hedge Fund managers are responsible for making split-second decisions to buy or sell products depending on current trends of the industry. These professionals typically deal with hedge funds and mutual funds. To become a successful fund manager, you need to possess strong decision making and analytical skills.
Credit Analysts
The job of a credit analyst revolves around helping employers to pay their debts or bonds. They make these decisions by evaluating the financial ability of a company and the varying market trends.
Risk Analysts
These professionals evaluate risk in investments by managing unpredictability and limiting potential losses. A risk analyst usually makes these decisions by selecting dissimilar stocks or using a combination of stocks, bonds, and mutual funds to diversify their clients' portfolios.
What skills do you learn when you get a finance internship?
By now, you've probably learned that becoming a finance analyst requires skill and education. Education helps you understand the economic climate while the technical skills help you take on the challenging nature of the job.
According to various studies, having finance internship helps you build the following professional skills:
Financial analysis
Research
Economics
Microsoft Excel
Budgeting
Financial reporting
Accounting
Financial modeling
SAP (Systems Applications and Products)
Where do financial analysts work after an internship?
The majority of interns end up getting hired by the same company they get a finance internship at. Companies hire professionals based on their performance and skill set. Individuals that don't get hired, do multiple internships until they have the required expertise to apply for finance jobs.
Typically, financial analysts work in large financial institutions such as bulge bracket banks, boutique investment banks, hedge funds, insurance companies, and other similar places.
These professionals spend most of their time doing the grunt work senior analysts don't want to do. This involves financial modeling, forecasting, and company valuations.
What are the basic skills required to become a financial analyst?
To get a financial analyst internship easily, these are the must-have skills:
Analytical Skills
An aspiring financial analyst should have good analytical skills to find profitable investments ideas and be able to analyze and interpret data.
Communication Skills
Communication is essential for almost any business. Without communication, no one on your team will be able to know what tasks have been completed and what needs to be done. The job of a financial analyst continually requires them to explain reports and recommendations to clients and their firm clearly. This is why you must have good communication skills to excel in this line of work.
Computer Skills
Financial analysts use various software applications for analyzing data, searching for trends, and making predictions. Therefore, having good computer and technology skills is a must to do this job effectively.
Decision Making Skills
Financial analysts that work as fund managers are responsible for making quick decisions on buying, holding, or selling assets. Your decision-making skills must be extremely strong to succeed as a fund manager.
Eye For Detail
If you have an eye for detail, you will make an excellent financial analyst. The job of a financial analyst revolves around close monitoring of possible investment opportunities and potential risks. Detail-oriented people can make the best out of worst situations and therefore have a high demand in this industry.
Math Skills
Having a working knowledge on mathematics is necessary for financial analysts as it is needed to accurately report earnings, create financial models, and make recommendations.
What are the education requirements to get a finance analyst internship?
Most companies require a candidate to be pursuing a bachelor's degree in finance, economics, accounting, or a related field. Having a finance certification like the CFA is a great plus! Companies prefer candidates that have additional training so focus on improving your qualifications to become more appealing to the employers.
How much does a financial analyst earn?
The salary of a financial analyst depends on their experience. The median wage of financial analysts in 2018 was close to $86,000. The lowest percentage was close to $52,000 while the highest percentage was over $167,000.
Here's a salary breakdown of financial analysts based on their expertise according to a 2018 study:
Job Type                                                                                  Salary
Securities and commodities                                                               $101,000
Scientific and technical services                                                        $84,000
Company management                                                                    $83,000
Credit intermediation and similar                                                       $81,000
Insurance careers and similar $79,000
Meanwhile, fund managers get paid in commission based on their performance.
Typically, financial analysts work full time with work weeks going well over 60 hours a week. A large part of their work is done after office hours as their days are filled with client appointments and meetings.
What are the benefits of finance internships?
Today's market is fiercely competitive due to which companies only hire the best. Your chances of getting an internship become significantly high if your resume is filled leadership experience, skills and interesting hobbies.
These are the benefits of finance internship you can't ignore:
Valued Industry Knowledge
Every financial services firm operates differently and demands a separate expertise. Gaining practical experience at a firm in your preferred category will prepare you for future interviews and job challenges. Landing an internship will also help you determine whether you're in the right field or not.
You Get To Know The Company Culture
Spending a few months at a company helps you learn about their culture and decide whether or not you'll want to work for the same company after completing the internship. With that said, remember that a company which likes you and your work is more likely to hire you than a company that you haven't worked for before.
Helps You Develop Professional Skills
A college education can only take you so far. The real place to develop skills and move ahead in your career is in the workplace. After you get a finance internship, you will gain knowledge of the industry and learn how to deal with certain situations by working at a top firm. There you get to meet top experts who will help you polish your skills and become the best version of you as a finance professional.
Your Network Will Grow
With a finance internship, you get a chance to grow your professional network and build relationships with top industry experts. Having a broad network has many benefits such as you can easily gain career advice, job recommendations, and even job offers. Moreover, developing a professional network can be very useful when your career is just starting out.
You'll Gain Confidence
Adjusting to an office environment takes time and exposure. Once you get an internship, you'll learn what's expected from a financial analyst in a professional setting. You will also gain confidence and complete your tasks more efficiently through working at your internship.
Final Thoughts
So, this was the necessary knowledge for those hoping to get a finance internship at a top-tier firm. We here at Romero Mentoring hope you learned some valuable lessons in this blog post.
Good luck in your internship search! We hope you get a finance internship soon!
Romero Mentoring's Analyst Prep Program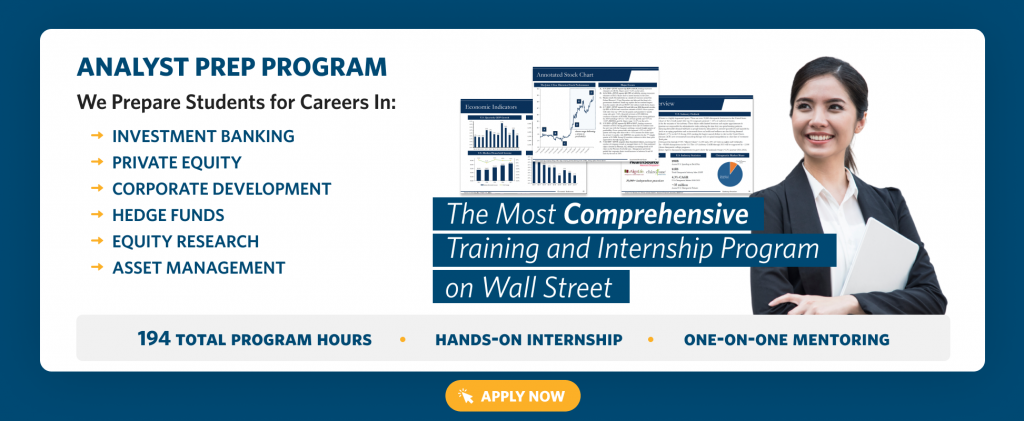 The Analyst Prep Program teaches the technical and practical skills that investment banks, hedge funds, and private equity & consulting firms look for in a candidate. Students begin with little to no technical skills and develop into fully prepared professionals who can perform as first-year analysts from day one through the program's training and internship.
---
Our Story
Luis Romero, founder of Romero Mentoring, spent five years developing an analyst training program that he wishes he had when he was in college – especially one that gave him access to a complete training and finance internship experience that could advance his career. Since no opportunity like this existed to him at the time, Luis went through a stressful recruiting process like so many others have. He successfully landed a full-time job offer upon graduation and worked as an M&A analyst at Credit Suisse in NYC for two years. He then moved to the buy-side as a junior trader and analyst. After gaining experience there, he created his own fund, Romero Capital, and later become an instructor in financial modeling and valuation. After working with hundreds of professionals and analysts, Luis became committed to creating his own mentoring program because he understood the crucial need for a hands-on, personal experience in the competitive world of finance.