Your college education is a serious business decision
As an incoming college student, what factors do you usually consider when choosing which university you would like to enroll in? Is it the ranking of the school? Does it have to be among the top 10 universities? Or perhaps the financial factors like the tuition fees and cost of a degree? If you try to search on the internet about what factors to consider in choosing a college degree, it will provide you with a lot. But did it ever cross your mind to consider the school's return on investment and the degree you will choose based on the average starting salary? Or which program has the best return on education? As an incoming college student, it is essential to consider the return on investment of your college choice and major to know if it's worth enrolling in.
Why Do You Need A College Degree?
The short answer is, it depends on your career path. Education has always been one of the most valuable assets for upward mobility. Many careers require a college degree to be considered for a job like in investment banking, private equity, becoming a doctor etc. It is a lifetime investment and preparation for a great and bright future.
A school's quality, however, should also be considered. Colleges often charge quite expensive tuition fees without knowing the assurance of a return on investment for the degree or college chosen. We've listed the top 100 US universities based on the average college degree cost, and the average starting salary at each university. This can help you decide if your major choice is worth the take.
What Is The Cost Of A US College Education?
Going to top universities in the United States has a lot of advantages since it helps you land high-paying jobs at large, prestigious firms. Here's everything you need to know about the total cost of a college degree and the expected starting salary of undergraduate students at the top 100 universities in the United States.
Northwestern University is ranked #1 among the top 100 universities in the United States with the highest tuition fee with a total annual cost of $81,831, while Florida State University has the lowest tuition fee for residents with a total annual cost of $17,181.


The median annual cost of attending one of the top 149 US universities is $46,168. Because there are numerous factors to consider, the pricing varies from case to case. Food, rent, miscellaneous, and so on.
What Is The Expected Starting Salary for US College Students?
When choosing which college to attend, one of the most critical factors is your expected salary after graduation. To help you with this decision, we spent time researching and studying the numbers of various universities we have listed in the table below. You will learn that many degrees at some of the best-known schools are not worth the investment. Many degrees will result in lower salary earnings than the US national average, approximately $56,310, depending on which study you look at. You're objective as a student should be to avoid falling into a trap or a degree that will pay less than the national average, which can lead to borderline poverty. The poverty line in the US for a household of 4 is $26,500 depending on your state, according to the ASPE . For example, according to our research, the University of New Mexico has the lowest expected average wage of $33,000. Meanwhile,
Massachusetts Institute of Technology (MIT) has the highest average expected salary of $104,700. Not everyone will be accepted to such a competitive and prestigious school; however, there is plenty of great alternatives to consider for your college education.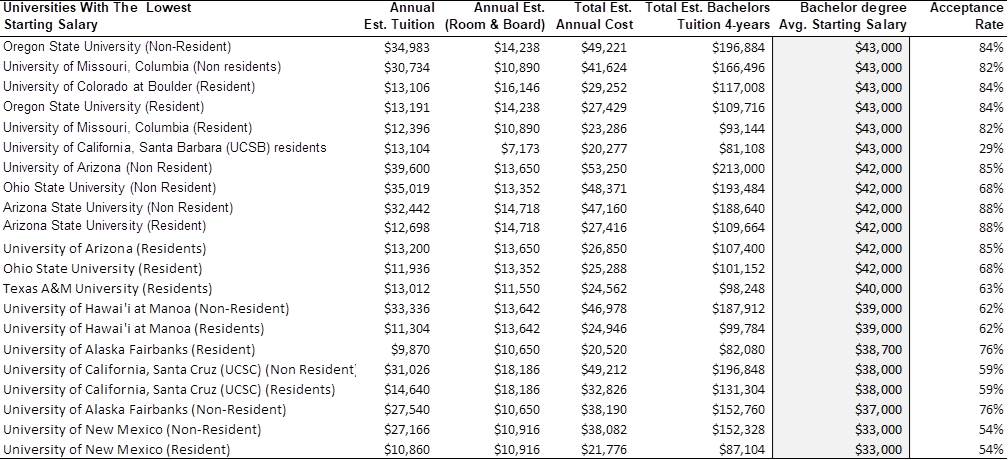 Which Programs Have The Best Return On Education?
A lot of college programs often lead to a negative return on investment. This leaves you wondering whether college is truly worthwhile. The price you paid in comparison to the salary you will receive straight out of college makes you question the value of a college degree. There are, however, programs that result in a higher return on investment.
According to the Foundation for Research on Equal Opportunity, the programs that have the greatest ROI are:
Computer Science

Mathematics
Finance or Business
Economics
2020 – 2021 Avg. Starting Salary For A Top 10 Business-focused bachelor's degrees
| | |
| --- | --- |
| Bachelor's in Marketing | Avg. Starting Salary – $49,844 |
| Bachelor's in Accounting | Avg. Starting Salary – $50,700 |
| Bachelor's in Economics | Avg. Starting Salary – $54,000 |
| Bachelor's in Health Management | Avg. Starting Salary – $56,000 |
| Bachelor's in Business Administration | Avg. Starting Salary – $58,166 |
| Bachelor's in Finance | Avg. Starting Salary – $58,464 |
| Bachelor's in Supply Management | Avg. Starting Salary – $59,180 |
| Bachelor's in Statistics | Avg. Starting Salary – $60,153 |
| Bachelor's in Management Information Systems | Avg. Starting Salary – $63,445 |
| Bachelor's in Actuarial Science | Avg. Starting Salary – $73,601 |
Making a choice between one of these degrees will have a huge impact on your life and career.
If you have already graduated from college and have not enrolled in these programs but wish to change your professional path, having another degree or considering graduate school does not guarantee that you will be able to succeed in your career path. It will cost you extra money, and you must carefully weigh your options. However, I have some good news. It is never too late to pursue these types of areas that yield the highest return on investment.
Alternative Solutions
Consider other alternatives, or better yet, apply to an online training program like Romero Mentoring Analyst Prep Program that will assist you in developing strong technical and soft skills with industry knowledge without spending too much of your time and money.
If you wish to start a career in finance, which is one of the programs with the highest ROI, Romero Mentoring's Analyst Prep Program can provide you with expert-level training. Romero Mentoring also assist you with career counseling, internships, and job possibilities with partner companies. The average starting salary of a Romero Mentoring alumni is over $100,000. In terms of higher ROI, we beat the majority of college universities.
Conclusion
Obtaining a college degree is one of the most critical decisions in your life. It is an essential investment in building your career. You must weigh the quality of education with the cost of the degree, the potential starting salary, personal living expenses, tax, and other factors relevant to your finances. Moreover, even after obtaining your degree, there is no guarantee that you can land a job with a salary enough to receive a return on all your investments. Thus, investing in something that could give you a competitive advantage would be a great addition to your college degree. One way to do so is by enrolling in professional career programs like Romero Mentoring's Analyst Prep Program. Through one-on-one mentorships and a unique, practical internship experience, the program can provide you with the necessary skills to nurture your growth and help you boost your career within four to six months.
In the end, there is no definite answer to which university is the best; it is dependent on your needs and where you believe your best interests lie based on your financial capabilities and career plan. However, if you want to secure your future, enrolling in a mentorship program that will help you stand out is one way to go.
---
About Romero Mentoring
Since 2016, Romero Mentoring investment banking training programs have been delivering career mentoring to job seekers, professionals, and college students pursuing careers in finance. We've helped over 500 students start their careers on Wall Street through our Analyst Prep and Associate Investment Banking Training Programs. Our graduates work at top-bulge bracket banks and consulting firms, including Goldman Sachs, JP Morgan, McKinsey, and many more.