Investment banking is a well-compensated field of work that comes with many responsibilities. An investment banker provides investment services to multiple clients, helping them raise the resources required for investments. Investment bankers might spend one day listing an IPO and the next financing deals. To become an investment banker, you need to have a diversified skill set.
This article will provide you with step-by-step guidance on how to become an investment banker.
5 Steps to Become an Investment Banker
We have consolidated all of the actions one needs to take to become an investment banker into five digestible steps that will help you build your finance career.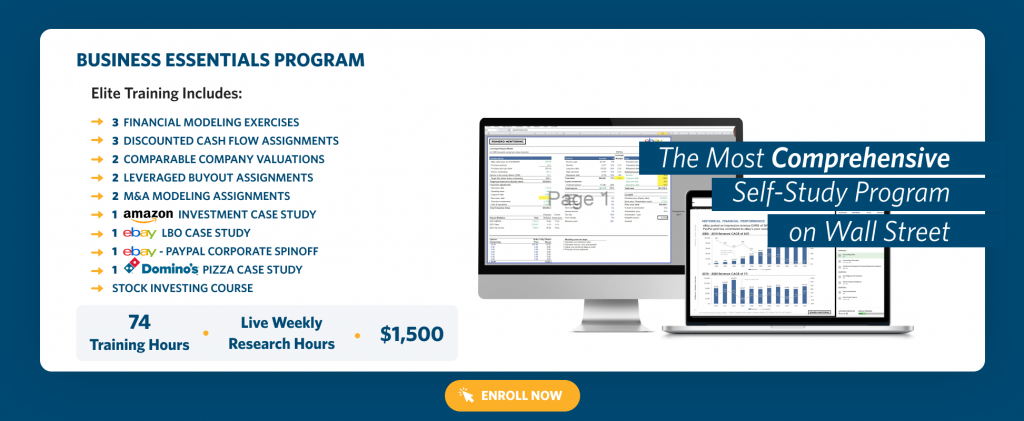 Content Preview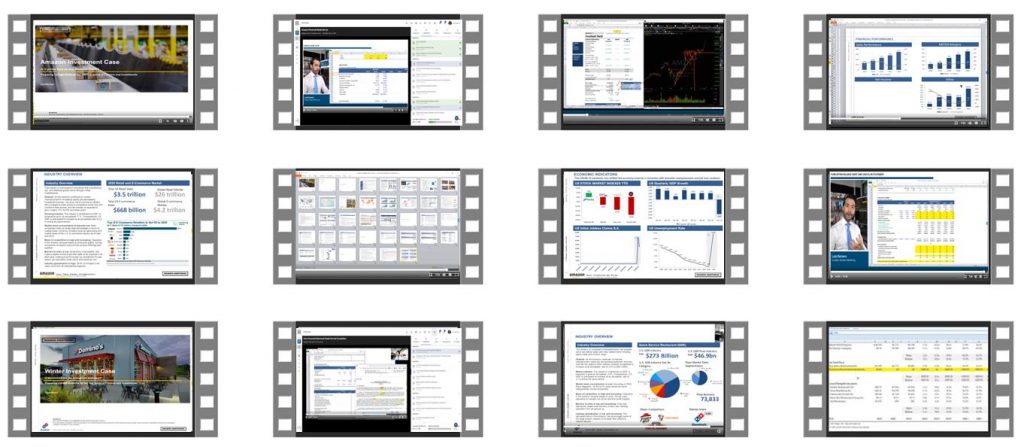 Step 1 – Get a Bachelor's Degree
If you're considering a career in the financial markets, applying and going to college is the first step in your future investment banking career. Investment banks are interested in hiring graduates from all financial areas, not just securities. Specific degrees, like in Finance and Economics, can help give you essential expertise and understanding. Mathematics and business degrees can also serve as appropriate degrees for the world of finance.
Step 2 – Get an Internship
Many times, the track to becoming an investment banker is somewhat parrot fashion, meaning students memorize how to do things accurately but without actually understanding the concepts behind what they do. Although students learn financial concepts and principles in school, they aren't generally exposed to the actual application of these concepts. For a student interested in finance, an internship is necessary. Some would even say a finance internship is crucial to your future success in the finance world. If you're interested in investment banking, you might start off in an analyst internship role before moving up the ladder to an investment banking position. You'll spend at least one semester there, working and developing your skills along with the team at that financial institution. By doing so, you will enhance your early career with skills and knowledge not taught in the classroom. This will make you more desirable in the eyes of employers.
Step 3 – Networking
The best way to make yourself and your abilities more visible to others is through networking. Networking is not just a skill for landing your first job. It is a valuable long-term skill that exposes you to people in different circles, to new opportunities, and to people in various fields of work.
Network with Experienced Professionals:
Choosing to network with the right group of people is just as important as the skills and information you learn in college. For the young and eager finance professional, you may want to consider reaching out to junior-level bankers and analysts on LinkedIn who are working at firms you're interested in. Talking to finance professionals online and in-person is a great way to get your name out there and could give you future opportunities to become an investment banker.
Step 4 – Find a Job in the Finance Industry
By now, you have already started an internship in the finance industry and are well on your way to graduating college. As you get closer to graduation, you need to start looking for a job. Many firms that give students internships also offer jobs after graduation. These entry-level jobs are typically financial analyst positions. If you don't receive one or want to look for other opportunities, you can search on job sites like Indeed or through your college's career center. However, make sure to create the perfect resume and cover letter before applying to these jobs; this is your first impression, so make it count if you want to become an investment banker.
Step 5 – Climb the Corporate Ladder
It isn't easy to become an investment banker without an MBA from a top-grade university. But it isn't impossible. As you work within a firm, you will be able to showcase your skills and possibly climb the ladder to become an investment banker. That being said, if your firm is willing to pay for your continued education, you should consider pursuing an MBA. This will improve your credentials and possibly put you ahead of others when going for the same promotion within your firm.
Soft Skills Needed to Become an Investment Banker
Investment bankers need to have an arsenal of skills ready at their disposal. It is crucial to develop both technical and soft skills in order to be successful in this field. While you have learned and applied the technical skills throughout college and your internship experience, the soft skills you need to develop are just as important.
Become a Great Salesman:
The art of sales and being comfortable with talking to clients and higher-ups is an essential skill to have. This skill can be transferable and useful in your daily life as well, making it a skill that is worth learning. As an investment banker, you will handle deals from small to big on a daily basis, but one thing always remains the same – it is on you and your abilities to make the sale. The more proficient you are in sales, the more you earn at the end of the month.
Work on Your Communication:
If you want to be an investment banker, you must have excellent communication skills. You should be an extraordinary communicator who can deliver great presentations and persuasive sales pitches so the buyer believes they should buy from you. You need to be a very strong communicator.
Technical Skills Needed to Become an Investment Banker
As you have or will learn throughout your internship, these are the critical technical skills for an investment banker:
Extensive knowledge in mathematics
Business knowledge
Logical problem solving
Reflective decision making
Excellent debating skills
Ability to forecast projections
Ability to analyze and interpret data
What are the Duties of an Investment Banker?
An investment banker's duties include:
Profit estimation and risk analysis
Underwriting deals
Buying and selling securities
Verifying that government regulations have been followed when raising capital
Agreement and valuation financing
Characteristics Needed to Become an Investment Banker
The personality of someone who is suited to work as an investment banker includes the following characteristics:
Analytical
Ambitious
Attentive
Cooperative
Precise
Quick Learner
How Much do Investment Bankers Make?
Here are the averages of how much you can earn as an investment banker, including commission and end-of-year bonuses. It should be noted that there can be a wide range of salaries based on the bank, the year, and the city you work in.

Job Salary
Analyst $100,000 to $150,000
Associate $150,000 to $300,000
VP/Director $300,000 to $1,000,000+
What Type of Jobs can an Investment Banker Have?
Investment bankers may serve as portfolio managers or financiers. These professionals usually work in an office setting but may move to a client's company to manage meetings and presentations.
Portfolio Managers
Investment bankers working as portfolio managers use collaborative money from multiple clients to buy and sell assets to earn a profit. Portfolio managers may handle a portfolio individually or as part of a team of investment professionals. Duties include investigating market trends and deciding where to invest capital. They are responsible for inspecting multiple investments in the portfolio to balance the possibility of loss against possible profit.
Financiers
Investment banking financiers work with companies to help them with financial problems. This may include raising money for new volunteers or modernizing business costs by identifying areas of lavish expending. These professionals usually specialize in an industry like technology, energy, or healthcare.
The Bottom Line
Investment banking is a lucrative career provided you have the necessary skill set to become successful in the field. The hours are long, but the compensation might balance that out for you. If you're contemplating a career in investment banking, you should consider our Analyst programs. Our students have accelerated their finance careers and now work at some of the top firms in the nation.
---
Romero Mentoring's Analyst Prep Program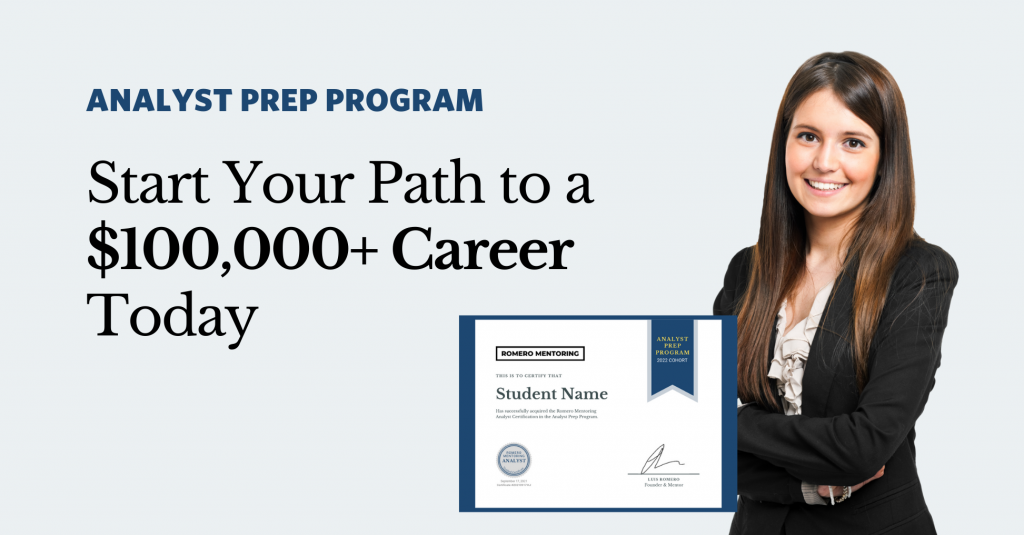 The Analyst Prep Program teaches the technical and practical skills that investment banks, hedge funds, and private equity & consulting firms look for in a candidate. Students begin with little to no technical skills and develop into fully prepared professionals who can perform as first-year analysts from day one through the program's training and internship.
---
Our Story
Luis Romero, founder of Romero Mentoring, spent five years developing an analyst training program that he wishes he had when he was in college – especially one that gave him access to a complete training and finance internship experience that could advance his career. Since no opportunity like this existed to him at the time, Luis went through a stressful recruiting process like so many others have. He successfully landed a full-time job offer upon graduation and worked as an M&A analyst at Credit Suisse in NYC for two years. He then moved to the buy-side as a junior trader and analyst. After gaining experience there, he created his own fund, Romero Capital, and later become an instructor in financial modeling and valuation. After working with hundreds of professionals and analysts, Luis became committed to creating his own mentoring program because he understood the crucial need for a hands-on, personal experience in the competitive world of finance.