Did you know Investment Banking is the second most competitive job in the world?
With the advent of technology, the job market is more competitive than it was ever before. Competition for a particular job relies on the simple economic theory of supply and demand. The demand for Investment Banking jobs always outmatches the supply. One of the main reasons for this economic theory to reach its equilibrium is because of the Investment Banking salary structure. The Investment Banking salary structure is provided below:
Investment Banking Salary for 1st Year Analysts: $150,000-$170,000[1]
Investment Banking Salary for 2nd Year Analysts: $160,000-$180,000[1]
Investment Banking Salary for 3rd Year Analysts: $170,000-$210,000[1]
Hence, Investment Banking is considered one of the most competitive jobs in the world. During a 2016 presentation, Goldman Sachs reported a 3% acceptance rate, which includes summer interns as well.[3] Therefore, in order to make it into this industry, applicants must do everything in their power to make themselves stand out from the herd.
Understand the importance of career programs
Career training is paramount to both getting your foot in the door and thriving in this industry. Investment Banking is infamous for having a steep learning curve as the university curriculums do no teach you the skill sets required by industry professionals. Hence, in order to stand out, one must acquire the skill sets necessary to make it into this industry.
According to Human Resource Management, companies spend an average of 42 days to fill a position and $4,129/employee to hire.[4] Having said that, the cost of hiring increases significantly for International Students. International Students have to be sponsored in order for them to get on board. Hence, banks are not looking for just good candidates. They want their employees to stand out from the crowd.
What can you do to make yourself stand out?
Contrary to the generic belief, which your school's career departments may have, polishing your resume and networking is just not enough. In the current day and age, one must work on developing the necessary skill sets required in the industry. One way to learn the required skill sets is through internships. An internship as a Business Analyst, Private Equity Analyst, Equity Research Analyst, or Consulting Associate can go a long way in building your case. Since these industries are also extremely competitive, one can use professional career programs that can help you acquire those skills to get those internships. However, there are only a few which are a good value for money.
Romero Mentoring:
It is the premier finance career program that's transforming college students into skilled professionals, one student at a time. Their Analyst Prep Program provides in-depth training, case studies, and real-world deals to help you master your technical skills. The topics covered include Financial Modelling, Valuation, M&A, and LBO, among others.[5]
Additionally, this program also offers internship experience and 1:1 mentorship from professionals already working in the industry. During the internship, interns will get an opportunity to use the skills learned on real-time projects. This helps one fully understand the concepts.[5]
This is a program like no other as you get to hone your technical skills and get to be a part of a growing community. The program has scored a 97% satisfaction rate and their alumni cohorts work for megabanks like Credit Suisse, Citi, JP Morgan, Morgan Stanley, etc.[5]
Their Finance Success Track and The Stock Investing Community helps students interested in the capital markets get their foot in the door. The ideas published in the Stock Investing Community can help you trade like a professional.[5]
Moreover, the Finance Success Track is meant to give a big picture overview of the Finance world. This program can help you understand which areas within Finance excite you the most. The best thing about this program is that it is FREE of cost. Romero Mentoring definitely provides one of the best career programs out there.[5]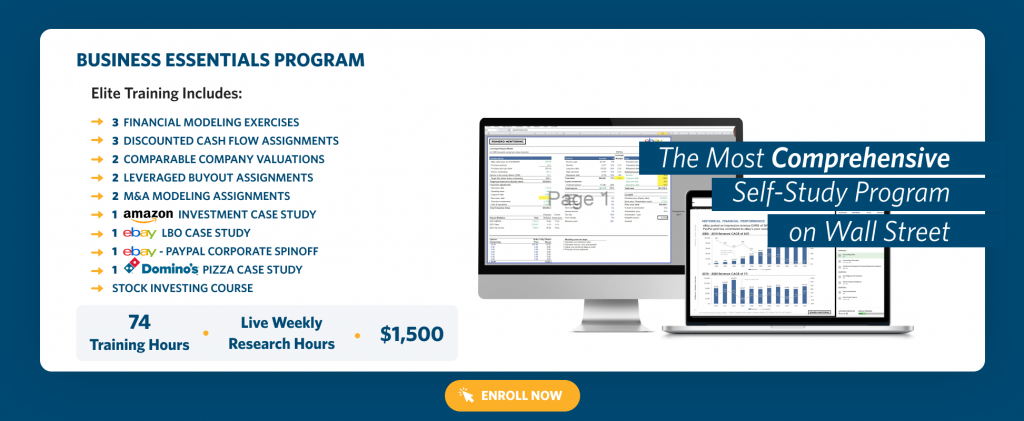 Content Preview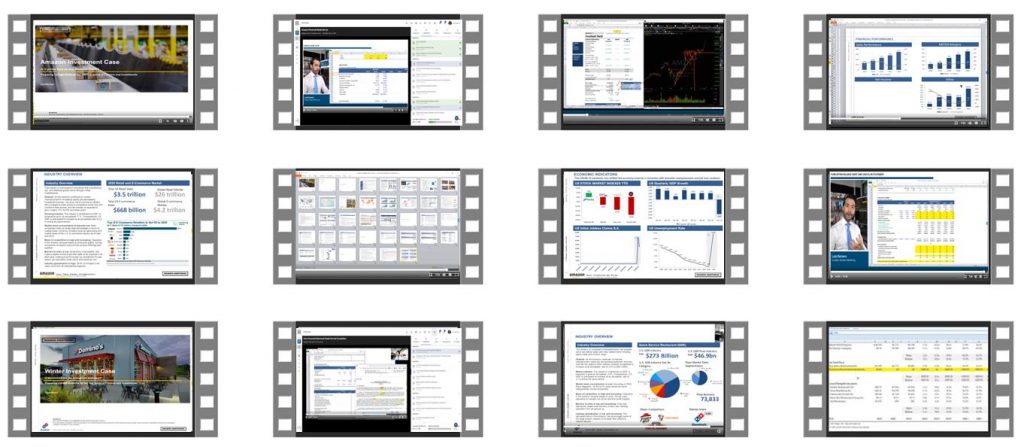 Investment Banking Certification from NYIF:
This program is for students interested in breaking into Investment Banking. This certification is laser-focused on IB and will probably give you the edge you need. Also, this program is self-paced and fully online. The course covers topics like modeling, valuations, derivatives, structuring, and deal-making. The program runs for 70 hours and could be a great way to understand the world of Investment Banking.[6]
Certified Financial Modeling & Valuation Analyst:
This is a pretty versatile course, which is suitable for all financial roles. Certified by CFI, this program offers electives that can help you understand different fields within Finance. It takes around 120-200 hours to complete and is ideal if you want to keep your options open and get a feel of every industry. CFI is a popular name in the industry and this program is their flagship program. Hence, doing this program can boost your resume as well as get you the skills needed to break into the industry.[6]
Mergers and Acquisitions Professional Certificate:
This program is specifically designed for students interested in M&A. Mergers and Acquisitions is one of the hardest fields within Investment Banking. This program is a healthy mix of academic insight, real-world experience, solid resume-building opportunities. This certificate will give you insights into deal-making, transactional due diligence, documentation, legal issues, etc. This program runs for 40 hours or 5 days and is laser-focused on M&A.[6]
The Complete Investment Banking Course:
This program is ideal for beginners as it provides a solid understanding of Investment Banking core principles and concepts. The topics covered include M&A, Debt and Equity Capital Markets, Restructuring, Asset Management, Valuation, etc. The time spent on this course is around 10 hours plus additional reading materials and excel models.[6]
Conclusion
The investment made in any of these programs can help you get your dream job. If you dream about earning the six-figure Investment Banking salary, then you must work in order to earn your dough. Moreover, these programs can also help you develop skill sets that can help you become a Business Analyst, Private Equity Analyst, Venture Capitalist, or Hedge Fund Mogul. These programs offer many resources that are particularly tailored towards the role of a Business Analyst, Private Equity Analyst, Venture Capital, etc. For example, the Associate Program at Romero Mentoring is the best out of the lot for students competing for a Business Analyst position. The case studies published in this program can help you take a deep dive into the world of a Business Analyst. The eBay case study offers an in-depth analysis of what executives should do in order to protect themselves from corporate spin-offs and better utilize their funds. Just talking about this case study in your Business Analyst interview can go a long way in building your case.
These days, it is not about having the best resume or cover letter. Companies are looking for the entire package. Having said that, it is really important for candidates to also brush up on their behavioral skills as being a good fit for the company is more important than anything. Hence, students must do their due diligence and see for themselves if they actually like working for the company they are applying for.
Romero Mentoring's Analyst Prep Program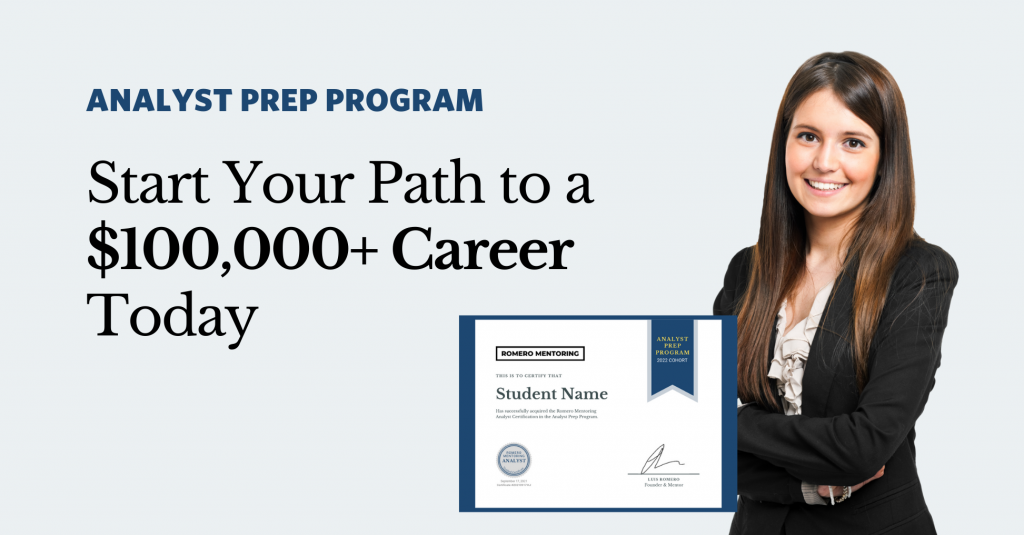 The Analyst Prep Program teaches the technical and practical skills that investment banks, hedge funds, and private equity & consulting firms look for in a candidate. Students begin with little to no technical skills and develop into fully prepared professionals who can perform as first-year analysts from day one through the program's training and internship.
---
Our Story
Luis Romero, founder of Romero Mentoring, spent five years developing an analyst training program that he wishes he had when he was in college – especially one that gave him access to a complete training and finance internship experience that could advance his career. Since no opportunity like this existed to him at the time, Luis went through a stressful recruiting process like so many others have. He successfully landed a full-time job offer upon graduation and worked as an M&A analyst at Credit Suisse in NYC for two years. He then moved to the buy-side as a junior trader and analyst. After gaining experience there, he created his own fund, Romero Capital, and later become an instructor in financial modeling and valuation. After working with hundreds of professionals and analysts, Luis became committed to creating his own mentoring program because he understood the crucial need for a hands-on, personal experience in the competitive world of finance.
---
Other Helpful Articles:
Sources:
1. "Investment Banking Analyst Salary Guide." Wall Street Prep.
2. "Investment Banking Associate Salary Guide." Wall Street Prep.
3. "The 10 Most Competitive Jobs in America." Jobs, Company Reviews, Career Advice, and Community. Accessed June 8, 2021.
4. Mueller, Annie. "The Cost of Hiring a New Employee." Investopedia. Investopedia, May 19, 2021.
5. "Analyst Prep Program" Romero Mentoring, March 3, 2021.
6. Sharma, Gaurav. "Best Investment Banking Courses Ranked by Bankers (2021)." BankersByDay, May 8, 2021.