Program Overview
Romero Mentoring's Analyst Prep Program is a career skill development and finance internship program like no other. We teach highly motivated and competitive college students the technical and soft skills that are missing in college classrooms. Students learn practical skills that investment banks, private equity firms, hedge funds, and consulting firms look for in a candidate. Although college students who are accepted into our program often begin with little to no technical skills, they soon develop into fully prepared professionals who can perform as first-year analysts.
The Analyst Prep Program is competitive. We work primarily with college freshmen and sophomores who are highly motivated and hard-working. As of 2016, 300 plus students have been accepted into the program, most have received finance internships and full-time offers at top investment banks and consulting firms. Moreover, we score a 97%+ satisfaction rate from our students year after year. Our students fully understand the exceedingly competitive nature of investment banking and careers in finance, as they treat their educational development as a professional sport. Read: The 1% Game – Getting Into Private Equity And Hedge Funds Is Harder Than Being Drafted By The NBA.
The dedication and investment our students make in themselves are worth the price, as the average starting salary of an Analyst Prep Program alum was $120,000, according to our 2019 internal survey. Compensation and upward mobility are significant in careers in finance.

Our Formula: The Three-Phase Development Process
To help college students develop into highly efficient professionals, Romero Mentoring's Analyst Prep program is divided into three phases. Each phase includes a structured curriculum, assignments, and dedicated one-on-one review sessions.
Phase 1 – Training Modules
During this phase, students develop core technical skills with a foundation in corporate finance, accounting, financial modeling, valuation, leveraged buyout, and merger & acquisitions analysis. There are 27 lectures spanning six modules, totaling 29 video hours of analyst training curriculum.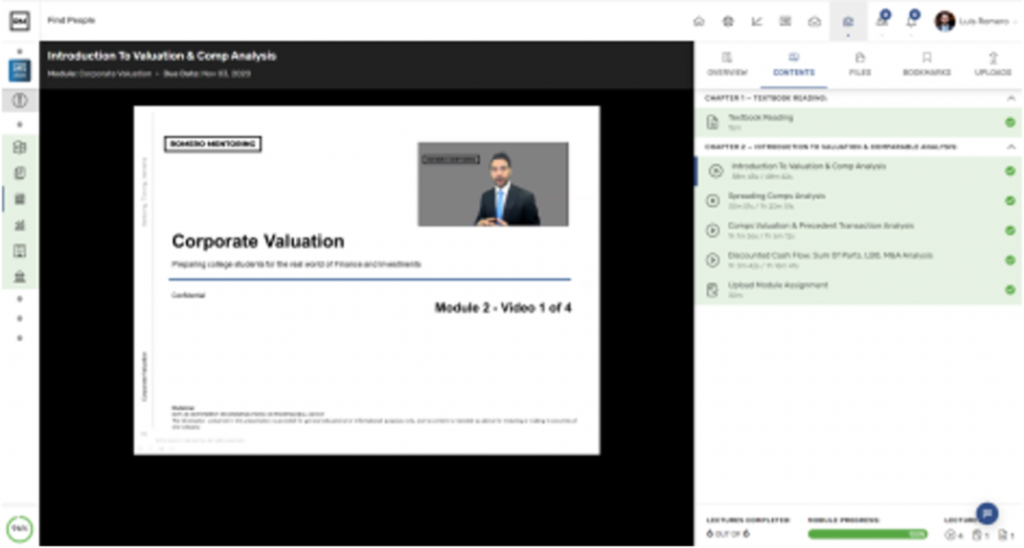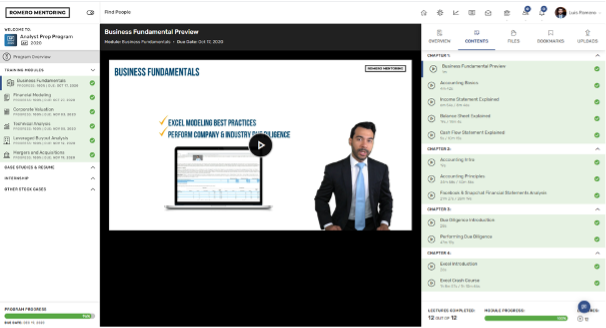 Phase 2 – Presentation Skills & Case Studies
In this phase, students apply what they've learned in Phase 1 to develop their soft skills with our featured Amazon investment case study and presentation assignments. This phase also includes lectures covering interview prep, resume building, and careers in finance. The career development lectures are designed to help students navigate the rebranding process as they continue to gain more skills and experience in our program. Phase 2 includes one module with three lectures and two case studies with twenty lectures, totaling 22 video hours of curriculum.
Phase 3 – Finance Internship
Only students who have successfully completed both Phase 1 and 2 of their analyst training curriculum and have excelled in their training will receive a summer internship offer within our Romero Research team. These Equity Research Analyst Interns will begin their real-world finance internships and be responsible for:
Conducting extensive business and financial due diligence
Identifying and presenting the company market share, industry size, and growth prospect data in their competitive market
Researching data to identify major industry drivers and develop valuation metrics
Building a detailed and flexible scenario-based financial model with Wall Street estimates incorporated inside
Performing valuations such as discounted cash flow, comparable trading, and precedent transactions analysis
Presenting a well-formatted and structured investment presentation
This fully immersive finance internship experience is the power behind the third phase in our Analyst Prep Program. It gives students a deeper understanding of what it's truly like to work as a professional in investment banking, on the buy-side as an investor, or at a consulting firm. Moreover, it places responsibility on their shoulders as they earn a part in driving key investment decisions at Romero Capital and educating Romero Research clients.
Content Preview
Mentoring and One-on-One Sessions
Romero Mentoring's primary focus is on mentoring and providing one-on-one support to its members. The Analyst Prep Program compresses our founder's industry experience as a former M&A Analyst, Junior Trader, Instructor, and now as an entrepreneur with the goal of passing down this knowledge to the next generation of analysts.
During each phase, students receive one-on-one review and mentoring sessions to ensure that they have mastered each assignment and any questions they may have are answered.
Typically, other competing training programs focus on one phase by providing only self-study lectures with an average time of 4-6 hours and with little to no support.
Program Interview Process
Romero Mentoring's Analyst Prep Program is competitive. The median GPA of accepted students is 3.75. We only accept serious students who understand the level of commitment that the program requires.
We have a three round interview process:
Round 1 – Complete a financial modeling test (a lecture video will be provided)
Round 2 – Video call interview and a review of Round 1's modeling test
Round 3 – Interview by a program alum, Research Analyst, and/or a Community Leader
Once all three rounds have been completed, our team will come together to decide if the candidate will receive an offer.

Scholarships & Free Training
Romero Mentoring offers scholarships to qualifying students who need financial assistance. We also have a tuition-free program, the Finance Success Track, which offers students the opportunity to learn business and analyst fundamentals and develop a strong foundation. Learn more about the Finance Success Track here.
Fellowship Program
For outstanding high school and college students from low-income and minority backgrounds, Romero Mentoring offers an Analysts Fellowship Program, which allows these individuals to participate in the Analyst Prep Program 100% tuition-free.
Learn more about our fellowship program here.
Romero Mentoring Reviews
Reading through our students' stories and reviews better explains the impact that our Analyst Prep Program has had on their professional development. Below are a few examples of our alumni success stories and their Romero Mentoring reviews.

Joshua Prentice enrolled in our 2020 program as a freshman at the University of California, Los Angeles. After completing our program, he received a summer internship offer at Oaktree Capital Management. Joshua sums up his program experience in our Romero Mentoring Reviews page in one sentence,
I can say without a doubt that this internship helped propel my growth and accelerate my learning.

Matthew Cueto enrolled in and successfully completed our 2018 program as a sophomore at Northeastern University. After the program, Matthew received a finance internship offer at Select Equity Group as a summer investment analyst. After graduating college, he joined FT Partners as an investment banking analyst. Matthew sums up his program experience in our Romero Mentoring Reviews page in one sentence,
Without the program, I wouldn't be where I am today. Romero Mentoring is challenging but extremely rewarding if you put the time in.

Helen Chen enrolled in our 2020 program as a freshman at Duke University. During her program experience, she had multiple interviews with investment banking firms. The training and one-on-one mentoring sessions she received helped her prepare for the intense interview process. Helen was successful and received her finance internship offer with Rothschild & Co. as an investment banking summer intern. Helen sums up her program experience in our Romero Mentoring Reviews page in one sentence,
The one-on-one mentorship was probably my favorite part of the program. During the one-on-one sessions with Mr. Romero, I could ask questions about the training material, get feedback on my work, and get advice on my own finance journey.

Montgomery Ngan enrolled in our 2017 program as a sophomore at The University of Pennsylvania, The Wharton School of Business. After completing the program, he received an internship offer at McKinsey & Company as a summer business analyst. He later joined McKinsey as a full-time business analyst after graduation. Montgomery sums up his program experience in our Romero Mentoring Reviews page in one sentence,
The one-on-one mentorship with Mr. Romero has been invaluable to me as he has been a constant source of advice to me throughout college.

Adam Kaplan enrolled in our 2017 program as a sophomore at the University of Maryland, College Park. While completing his analyst training, Adam lined up multiple interviews in investment banking. The training and mentoring he received helped Adam secure a summer internship offer at Stifel Financial as an investment banking summer analyst. Upon graduation, Adam joined KPMG full-time as a valuation associate. Adam is now a full-time investment banking analyst at Berkshire Global Advisors. Adam sums up his program experience in our Romero Mentoring Reviews page as,
I attribute every internship and full-time job I have received to this program. Understanding what I do now, I know the university I went to does not teach students the information necessary to be successful in finance in the real world. Without this program, I would not have the technical skills or professionalism that I've gained.
Jason Yang enrolled in our 2020 program as a freshman at the University of North Carolina, Chapel Hill. He received advance technical training and one-on-one mentoring to prepare him for the program's finance internship phase. He successfully completed the program and secured a finance internship offer at Truist as a Financial Services summer analyst. Jason sums up his program experience in our Romero Mentoring Reviews page as,
Initially, when I joined the program, I was nervous about my lack of financial knowledge and my performance, but Mr. Romero was very respectful and willing to go the extra mile for my success. The mentorship of the program is an excellent first step into the finance world for any student.
About Romero Mentoring
Since 2016, Romero Mentoring investment banking training and internship programs have been delivering career mentoring to job seekers, professionals, and college students pursuing careers in finance. We've helped hundreds of students start their careers on Wall Street through our Analyst Prep and Associate Programs. Our graduates work at top-bulge bracket banks and consulting firms, including Goldman Sachs, JP Morgan, McKinsey, and many more.
In just 15-weeks you can become a world-class finance professional with our fully immersive internship and Investment Banking Training Programs.