The Finance Career Life Journey of an Analyst
Looking for a career in investment banking or finance in general?
If you're a college student or junior level professional and want to pursue a finance career, first do your homework and research the industry. Like anything else, preparation is key.
Start by taking control of your own effort. Don't be lazy!
Take initiative to at least learn the industry and the profession. You can enroll in an online course to learn financial modeling and valuation. You can sign up for professional analyst certification programs like the Analyst Prep Program. You can control your own effort to be best prepared for the competitive journey ahead. Read: The 1% Game – Getting Into Private Equity and Hedge Funds Is Harder Than Being Drafted By The NBA
Getting started
I recommend you take a big-picture view to understanding our economy and career opportunities. For example, if you want a career in investment banking, research each job title, their hierarchy level, and the type of strategic advice senior bankers offer corporate clients.
Developing technical and soft skills
Spend the time to study and develop the correct professional skills required for the job. Be proactive and read about the most recent M&A deals, capital raises, IPOs. Use the public deals as a case study to better understand the reasons behind the strategic transaction. Understanding all of this will get you one step closer to becoming a professional. For example: Amazon 20-For-1 Stock Split, $10 Billion Buyback
Career journey
Below is a simple representation of our economy ecosystem and the different career paths for finance professionals. We explain the framework in great detail to students in our Analyst Prep and Investment Banking Career programs. The objective is to help students understand their career journey.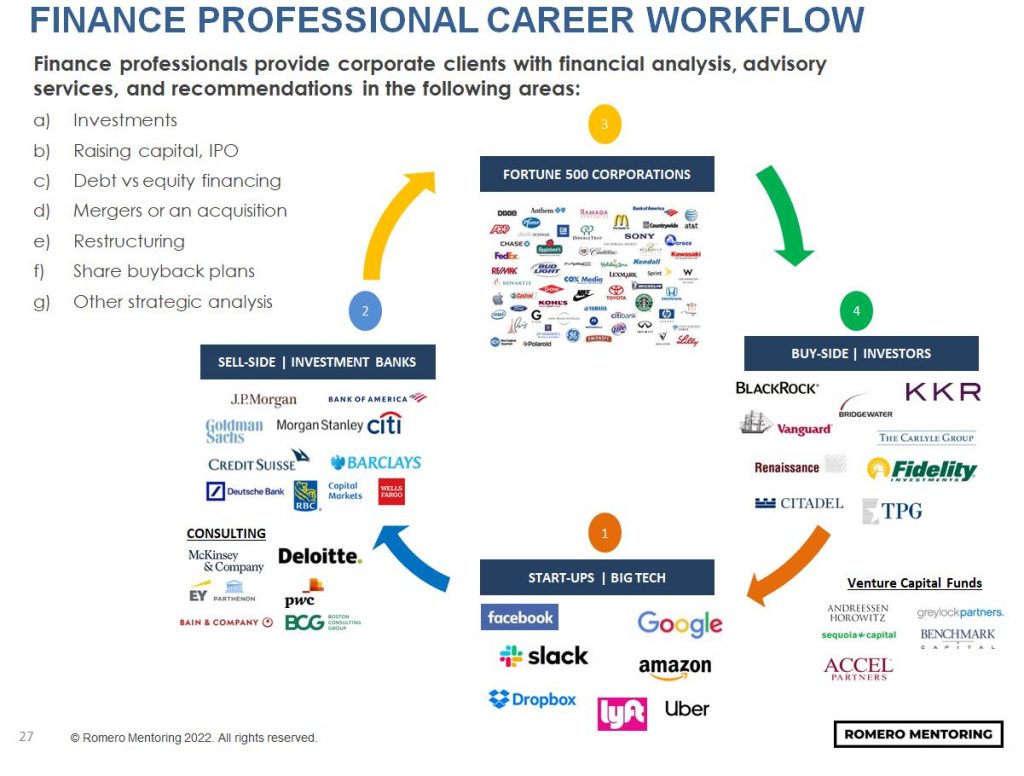 Simple explanation
1. Venture Capital funds: invest in entrepreneurs with ideas to solve a problem. Capital helps facilitate the growth of a company at the start and later the company engages in more investment rounds, e.g., Series A, B, C, D, E, F…. and Exit via IPO or acquisition. In some cases, there is no exit but failure or bankruptcy.

2. Startups: Big Tech are examples of simple ideas that now have a massive economic value, offering a solution to a problem.

3. Sell-side: Investment banks offer advice, provide capital, and facilitate access to capital markets, e.g., IPO and issuing debt. Banks provide liquidity and financing to companies—the life blood of our economy, i.e., capital flow.

4. Consulting firms: also act as strategic advisors to companies but focus more on the operations of the business.

5. Fortune 500: corporations at one point followed the lifecycle explained above. They started with an idea, raised capital, went public via an IPO and continued growing till one day, they became a fortune company.

6. Buy-side: Investors manage money on behalf of clients and sometimes, their own capital. They make investment decisions and perform analysis on the fair market value of the company stocks.
Take your career serious. Start early and prepare for the journey ahead. We hope you found the content valuable and that it helps you get started.
Romero Mentoring's Analyst Prep Program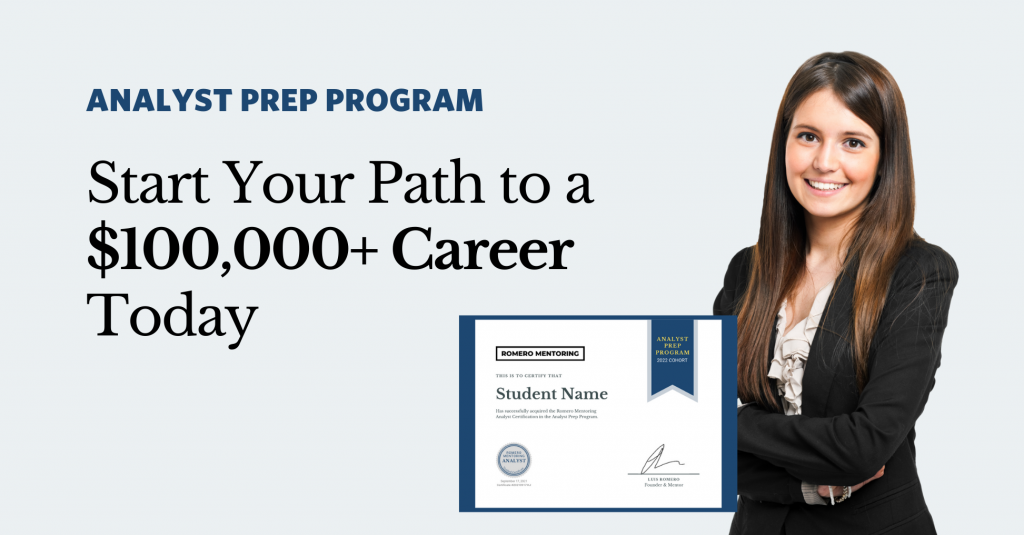 The Analyst Prep Program teaches the technical and practical skills that investment banks, hedge funds, and private equity & consulting firms look for in a candidate. Students begin with little to no technical skills and develop into fully prepared professionals who can perform as first-year analysts from day one through the program's training and internship.
---
Our Story
Luis Romero, founder of Romero Mentoring, spent five years developing an analyst training program that he wishes he had when he was in college – especially one that gave him access to a complete training and finance internship experience that could advance his career. Since no opportunity like this existed to him at the time, Luis went through a stressful recruiting process like so many others have. He successfully landed a full-time job offer upon graduation and worked as an M&A analyst at Credit Suisse in NYC for two years. He then moved to the buy-side as a junior trader and analyst. After gaining experience there, he created his own fund, Romero Capital, and later become an instructor in financial modeling and valuation. After working with hundreds of professionals and analysts, Luis became committed to creating his own mentoring program because he understood the crucial need for a hands-on, personal experience in the competitive world of finance.