There are a variety of finance careers out there, such as business analyst, investment banking analyst, management consultant, and more. While all roles are unique, we will focus on the roles of a management consultant and an investment banking analyst in this article. Management consulting and investment banking are both lucrative careers for undergraduates and MBA students especially given the six-figure starting salary and prestigious exit opportunities. However, they are not quite the same and differ in a variety of factors. It is important to understand the differences between management consulting and investment banking so you can choose a career that suits you best.
Salary
Salary is a major factor when choosing between a management consulting and investment banking analyst role. Although you can make six figures in both roles, investment banking is the way to go if you are looking for a higher salary.
For undergraduates joining as first-year investment banking analysts at bulge bracket investment banks such as JPMorgan Chase, Goldman Sachs, and Morgan Stanley and middle-market investment banks such as Jefferies, William Blair, and Raymond James, the starting base salary ranges from $85,000 to $95,000 and performance bonuses range from $35,000 to $115,00, bringing the total compensation to be anywhere between $130,000 to $200,000. For elite boutique investment banks such as Evercore, Moelis & Company, and Rothschild and Co, you can expect the compensation to be slightly higher.[1][2]
For undergraduates entering management consulting, top consulting firms such as Bain & Company, Boston Consulting Group (BCG), and McKinsey & Company have the highest starting base salary of $90,000 and bonuses ranging from $18,000 to $30,000 a year, bringing the total to $100,000 to $120,000. Big four consulting firms such as Deloitte Consulting, Ernst & Young (EY), and KPMG have base salaries ranging from $77,000 to $90,000, and notable boutique firms such as Accenture, Analysis Group, and Cornerstone Research have similar figures ranging from $79,500 to $85,000 and performance bonuses up to $8,500.[3]
To sum it all up, if you're looking for a higher paying role, an investment banking analyst is the better option as you can expect to make between $130,000 to $200,000 in your first year, whereas, for management consulting, the total compensation range is a bit lower ranging from $79,500 to $120,000.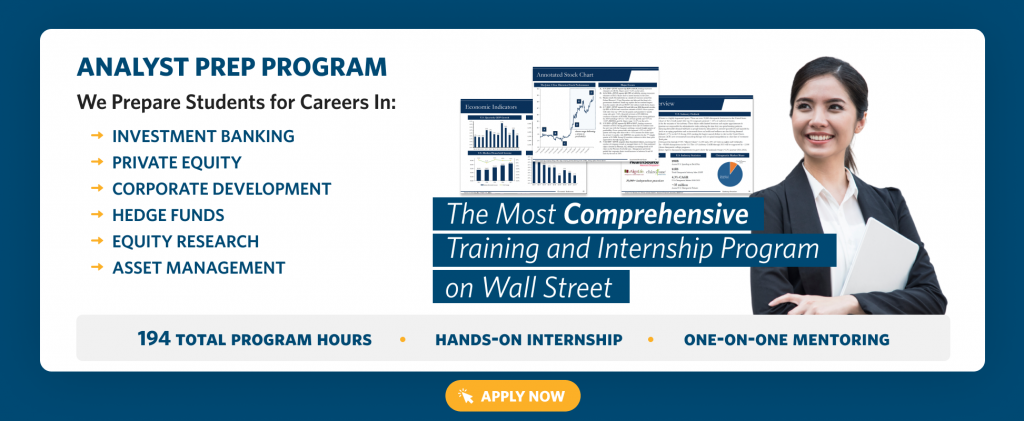 Duties and Responsibilities
The responsibilities of management consulting and investment banking analysts are quite different, with management consultants focusing on operational and strategic issues while investment banking analysts tend to work more with transactions and raising capital.[4]
The work of a management consultant is comparable to that of a business analyst. It revolves around advising a company or government entity with a project aimed to achieve a desired goal such as increase profitability, improve operational efficiencies, identify market opportunities, and more. Management consultants typically work in teams and collaborate with the leadership team and other business analysts of the company to better understand the company's operations, business model, and problems, and work towards identifying a solution that best meets the company's needs. Duties and responsibilities for a management consultant may include but not limited to:
Reviewing internal financial statements
Performing industry-specific research
Improving operational capabilities and technology implementation
Identifying market opportunities
Increasing company revenue and profitability
Communicating with internal and external stakeholders
Conducting training for employees
Project follow-up and evaluation
Assisting with mergers and acquisitions[5]
On the other hand, investment banking analysts focus less on the operational side of a company and revolves around completing transactions and issuing capital for the company. When a company wishes to raise capital through an initial public offering (IPO) or issuing debt, investment banking analysts typically assist with these processes through providing underwriting services, determining equity issuance prices, structuring bonds, and more. The bigger the transaction, the bigger the profit is for the investment bank.
If you are a first year analyst, your responsibilities may include but not limited to:
Building financial models
Corporate valuation analysis
Preparing PowerPoint presentations for meetings
Communicating with internal and external stakeholders
Taking notes and summarizing meetings
Organizing conference calls, meetings, and presentations[6]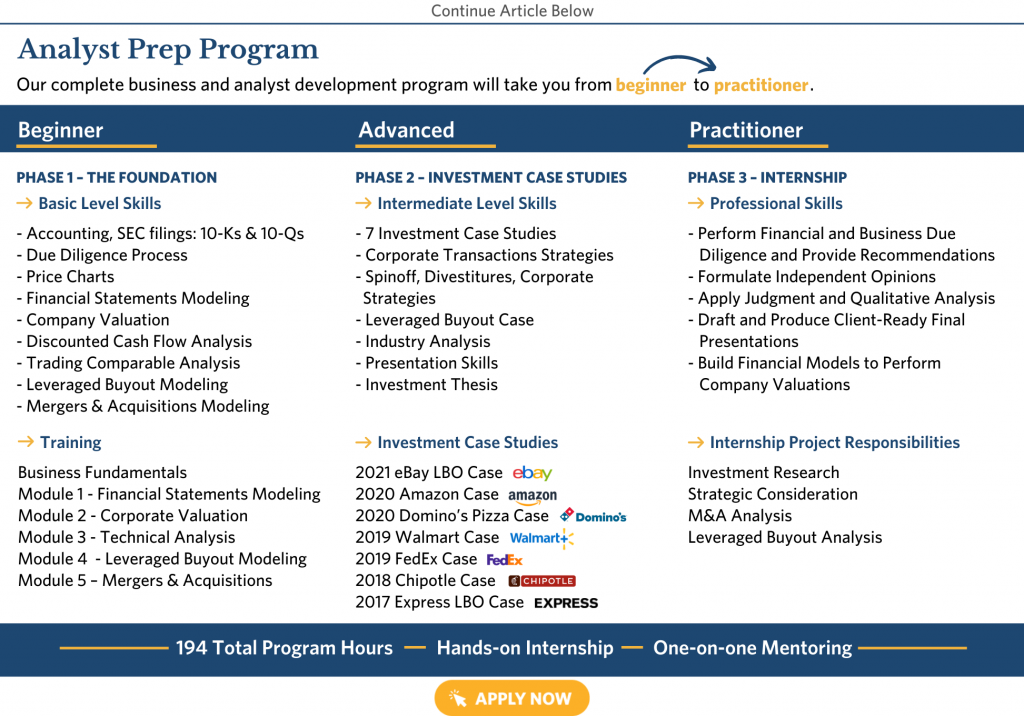 Work Hours
Work hours can be intense for both roles, but investment banking analysts typically work longer hours than management consultants and business analysts. For a first-year investment banking analyst in bulge bracket and middle-market investment banks, you can expect to work 80-100 hours a week on average depending on what deals are happening that week. As for first-year management consultants, the work hours are less intense, but you can still expect to work 60-70 hours a week on average.[7]
Exit Opportunities
The prestigious exit opportunities are a major reason why people go into management consulting and investment banking and take on the intense work hours. The skills and experience that a management consultant or investment banker develops after 2-3 years in the industry are incredibly valuable.
For management consultants, the most straightforward exit option is to go into corporate management. Consultants often join a client which they have previously worked and therefore understand the internal business operations well or leverage their industry-specific knowledge to join another firm. Another option is to go into banking. Because consultants develop strong financial skills and knowledge, they can choose to pursue a career in finance through working in private equity, hedge funds, equity research, and asset management. Finally, consultants also have the opportunity to freelance, work at startups, or become business analysts.[8][9]
As for investment banking, most investment banking analysts aim to transition to the buy-side after working a few years at an investment bank. Investment banking analysts are well equipped with financial knowledge and experience, making them prime candidates to work in private equity, hedge funds, venture capital, asset management, equity research, sales and trading, corporate finance, as well as startups. After transitioning to the buy-side, work hours are expected to be better and compensation typically increases as well.[10]
Conclusion
Management consulting and investment banking are both attractive and prestigious careers, but there are differences when it comes down to salary, work hours, and responsibilities. Work hours as an investment banking analyst tend to be longer than management consulting, but it's rewarded by higher compensation. If these roles are not for you, there are other options as well including business analyst, equity research, wealth management, and more. It is important to do sufficient research and understand your values and objectives before making a final decision.
Other Helpful Articles
Professional Training Programs for Careers in Finance: How to Stand Out
Finance Summer Internship Programs: The Recruiting Process, Sample Internships, and How to Land the Role
Top 10 Investment Banks in the U.S.
Romero Mentoring Business Essentials Program: Learn Financial Modeling & Other Skills Investment Banks Want
Career Opportunities for Finance MajorsThe Top 5 Investment Banking Books You Need to Read
Sources:
DeChasare, Brian. "Investment Banker Salary and Bonus Report: 2021 Update" Mergers & Inquisitions
CFI. "Investment Banker Salary".
Management Consulted. "Management Consulting Salary".
International Finance Institute. "What Does a 1st Year Investment Banking Analyst Do?".
Mckay, Dawn Rosenberg. "What Does a Management Consultant Do?" The Balance Careers, January 13, 2020.
Depersio, Greg. "Career Advice: Management Consulting vs. Investment Banking" Investopedia, May 18, 2021.
Butcher, Sarah. "Banking vs. consulting. – Which is really best?" Efinancialcareers, May 16, 2019.
MConsulting Prep. "Consulting Exit Opportunities".
MBA Crystal Ball. "Life after consulting: Exit options". December 18, 2019.
DeChasare, Brian. "Investment Banking Exit Opportunities: The Myth of the Buy-Side Job". Mergers & Inquisitions.
---