Investment Banking is a division of the financial services industry that helps companies, governments, and institutions raise capital (underwriting) and execute transactions such as M&A and Restructuring.[1] Investment Banks may also provide services such as market-making and securities trading for both equities and fixed income. The pursuit to become the 'Wolf of Wall Street' and become financially independent drives many college graduates towards the finance careers path of Investment Banking. Straight out of college, the Investment Banking salary for a first-year analyst can range anywhere from $130,000-$160,000. As one climbs up the ladder, Investment Banking salaries increase by 10% every year. Hence, making Investment Banking one of the most sought-after finance careers.
The soft and technical skills learned at an Investment Bank are extremely valuable. These skills are extremely transferrable as one can use these skills to enter the Private Equity, Business Analyst, Entrepreneurship, and Venture Capital spaces. The competitive landscape forces young professionals to develop the mental fortitude and the tenacity to withstand pressure and sometimes trains them to leverage pressure to their advantage. Moreover, the title of an Investment Banker adds a lot of credibility to one's name as bankers are synonymous with intelligence, hard work, and never giving in.
Having said that, all of this comes at a cost of sacrificing personal life to work 80-100 hours a week or sometimes more. As the saying goes, "All that glitters is not gold," similar is the situation with Investment Banking salaries. Hence, after 2-3 years, many feel burned out and look for exit opportunities which equal Investment Banking salaries but 'on paper' seem less rigorous. Below mentioned are some of the exit opportunities extremely common among Investment Bankers:
Private Equity:
In finance careers, this is the most common route taken by Investment Bankers as the work and intensity are congruent to Investment Banking. Moreover, Private Equity compensation is a little better than Investment Banking salaries. Hence, many bankers exit investment banking after 2-3 years and make their way into Private Equity. Since it is the most common, it is also the most competitive. Mega Private Equity funds typically recruit bankers from the elite boutique and big-bulge bracket investment banks with professional ratings higher than their peers. This field is for you if you enjoy working on deals but want to think about them more critically and pursue them over a longer period of time. The hours are as bad as Investment Banking and it is really hard to move up the ladder.[2]
Venture Capital:
This path is similar to Private Equity, but deals consist of minority-stake investments. This path gives you the flexibility to choose your hours, projects, and investments. However, this requires a huge amount of capital and astuteness to back start-ups yielding yield a high IRR for you.[3] Working for a Venture Capitalist can be a little mundane as there is less learning than Private Equity because VC's typically invest in early-stage companies. Hence, the work in which analysts spend most of their time analyzing the market, finding potential leads, and networking.[2]
Consulting:
Ex-Bankers typically go into Strategy Consulting and offer their expertise to executive boards on business challenges. However, the compensation may not match the Investment Banking salary structure.[3]
Hedge Fund and Asset Management:
In finance careers, this is a haven for people who have a strong passion for the stock markets. Hedge Funds typically follow and invest in individual companies rather than buying and selling entire companies. The work is more stressful as fluctuations in the market happen by the minute. Hence, analysts are required to be on their toes from the opening to the closing bell.[2]
Technology, Corporate Finance, and Entrepreneurship:
Ex-bankers who have covered the technology industry or were involved in quant trading or have the coding skills find it easy to levitate to the FinTech industry. Others try to make their way into Corporate Finance or try their hand at Entrepreneurship.[3]
Business Analyst:
Ex-Bankers who find themselves really attached to businesses find the job of a Business Analyst really rewarding. A business analyst works with organizations to help them improve their processes and systems. Business Analysts conduct research and analysis in order to come up with solutions to business problems and help to introduce these systems to businesses and their clients. Business Analysts can earn up to $100,000 annually. This may be a little conservative in comparison to the Investment Banking salary. However, many who make this transition are ready to trade off the high salary for their personal well-being. Students looking to enter the Business Analyst space can use the Business & Analyst Essentials Program at Romero Mentoring to develop the key skills required to break into this industry.
Conclusion
Having mentioned these exit opportunities, one should have the right reasons to exit Investment Banking. More often than not, people leave Investment Banking because of the long work hours and try to make their way into Private Equity. This is the wrong mindset to have as whichever field you decide to pursue the work hours are only going to be marginally better. An entrepreneur spends more time building his/her business than an analyst works on financial models.
The best way to think about exit opportunities is to make an informed decision based on your prior experience and conversations with professionals already working in the industry that you are trying to break into. One should test out different industries through internships and figure out what is best for them in the long run.[2]
One conclusion that could be drawn from this is that the world becomes an oyster for Investment Bankers as the skills developed 'on-the-job' are so transferrable that one finds it easy to move from one position to the other. Investment Banking is a great way for a young, competitive individual to launch his/her finance career but one should know what they are getting into and prepare accordingly.
Romero Mentoring's Analyst Prep Program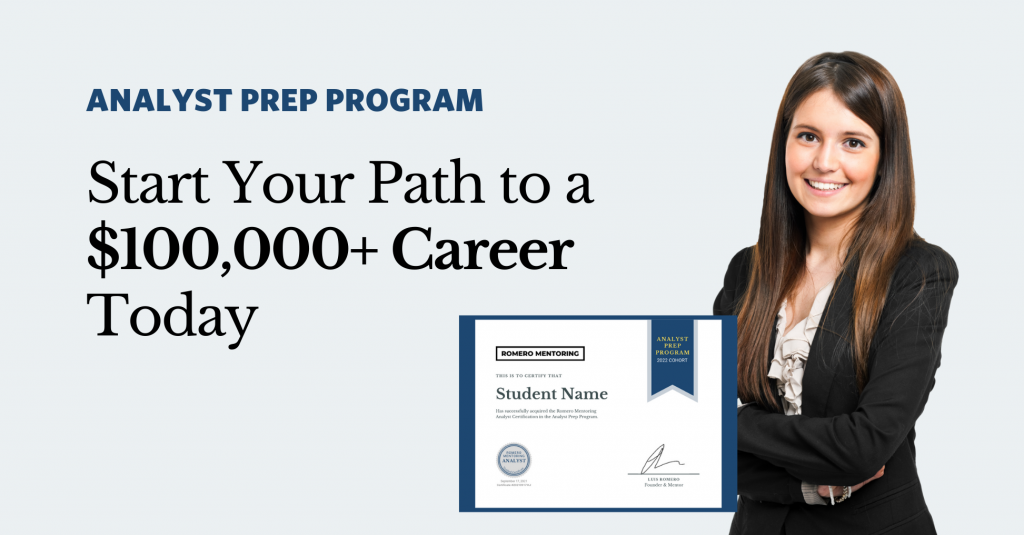 The Analyst Prep Program teaches the technical and practical skills that investment banks, hedge funds, and private equity & consulting firms look for in a candidate. Students begin with little to no technical skills and develop into fully prepared professionals who can perform as first-year analysts from day one through the program's training and internship.
---

About Us
Since 2016, Romero Mentoring has been providing job placement and internship opportunities in investment banking, hedge funds and private equity internships. Many of our graduates are hired by Goldman Sachs, J.P. Morgan, McKinney, BlackRock, and other prestigious firms. We've helped hundreds of individuals begin their careers on Wall Street through our Programs.
Other Helpful Articles:
Sources:
1. "Investment Banking In 2021: The Ultimate Industry Overview." Mergers & Inquisitions, March 3, 2021.
2. "Investment Banking Exit Opportunities: The Myth Of The Buy-Side Job." Mergers & Inquisitions, April 8, 2021.
3. Kamat, Sameer. "Life after Investment Banking: Top Exit Options." MBA Crystal Ball, July 16, 2020.
4. Fuchs, Jay. "Strategy Consulting: What It Is & How to Succeed in It." HubSpot Blog, October 15, 2020.
---